Get the Fibre Internet You Deserve
Execulink's Fibre Internet services use fibre-optic communication to bring you high bandwidth and the fastest Internet speeds ever! Unlimited usage with no contracts and no hidden fees, and the best customer service in Ontario. Check below to see if your area offers Fibre Internet, and sign up to stay updated as we keep expanding!
New faster packages released with up to 1 Gbps download & upload speeds!
Unlimited Usage $60.00 Monthly
An economical option best suited for light surfing & streaming, checking email, working from home and social media.
75 Mbps Download & 30 Mbps Upload Speeds
Unlimited Usage
Great for 2-3 person households
No contracts
No activation fees
Delivered over state-of-the-art fibre optic lines installed directly to your home
24/7 technical support
Unlimited Usage $70.00 Monthly
Great for streaming videos, downloading music & movies, working from home, and online gaming with friends.
200 Mbps Download and 40 Mbps Upload Speeds
Unlimited Usage
Great for 2-4 person households
No contracts
No activation fees
Delivered over state-of-the-art fibre optic lines installed directly to your home
24/7 technical support
Unlimited Usage $100.00 Monthly
Great for multiple devices being used at once, heavy streaming, downloading, working from home and online gaming
1 Gbps Download and 200 Upload Speeds
Unlimited Usage
Great for 5+ person households
No contracts
No activation fees
Delivered over state-of-the-art fibre optic lines installed directly to your home
24/7 technical support
Stay up to date on all the exciting Fibre news, webinars, and other events we have going on in our local communities!
Fibre is coming to Strathroy!
We're now installing Fibre in some areas of Ingersoll!
What is Fibre Internet?
Fibre Internet refers to its delivery method of optical fibre. Optical fibre is a flexible, transparent fibre made of glass or plastic, and is only slightly thicker than a human hair! Fibre replaces traditional, out-of-date copper wiring previously installed in homes and buildings with a more modern connection capable of delivering the next generation of Phone, Internet and TV services. Fibre Internet uses fibre optic communication to transmit information using pulses of infrared light. As a result, you get higher speeds and more bandwidth with less interference.
How is Execulink's Fibre different?
Execulink's Fibre connection is brought directly to your home or business, as opposed to other telecoms' methods which often only bring the fibre to your neighbourhood (where the connection and speeds are shared with your neighbours). We want you to experience true Fibre, a quality service that gives you only the best of the best Internet, TV and Phone. Our individualized service means that you get the cream of the crop when it comes to fibre optic technology – high speeds with less interference.
Higher Quality

Execulink's Fibre to network provides the most robust, secure and cost-effective solution for bringing truly high-speed broadband to individual homes and businesses.

Proven

Fibre optic technology has been used for years in large businesses and corporations to deliver voice and data services.

Powerful

It can manage a significantly higher data rate (bandwidth) over greater distances, and it is not subject to transmission interference like copper, coaxial cable, and wireless services.

Reliable

Execulink's Fibre network will be deployed underground, snow and rain precipitation will not affect the service. Also, since fibre is made of glass and does not conduct electricity, it is not affected by certain weather conditions such as lightning.

Scalable

Fibre has the capability to transport virtually unlimited bandwidth. This will accommodate today's demand for high speed connections as well as the advanced applications of tomorrow – whether voice, video or internet.

Convenient

Deploying a Fibre Network has not only allowed Execulink to improve our current Phone and Internet services, but we can now offer TV services in a variety of areas. Get all three services on one bill, complete with 24/7 local customer support.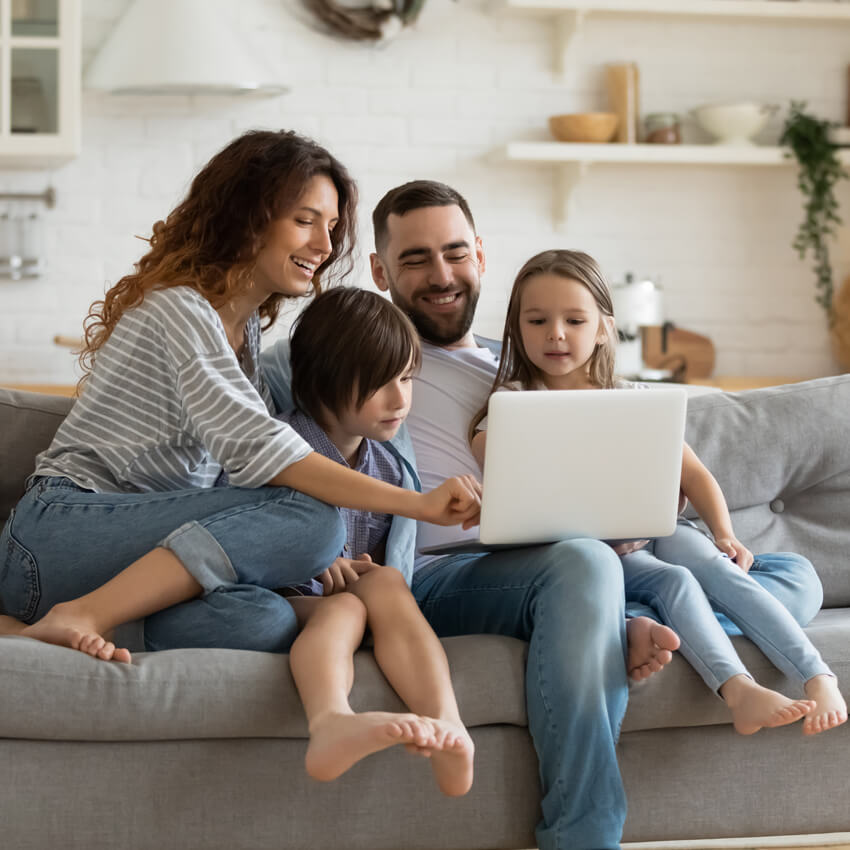 Uses of Fibre Optic
Internet
Execulink's Fibre Internet can be used in a variety of ways: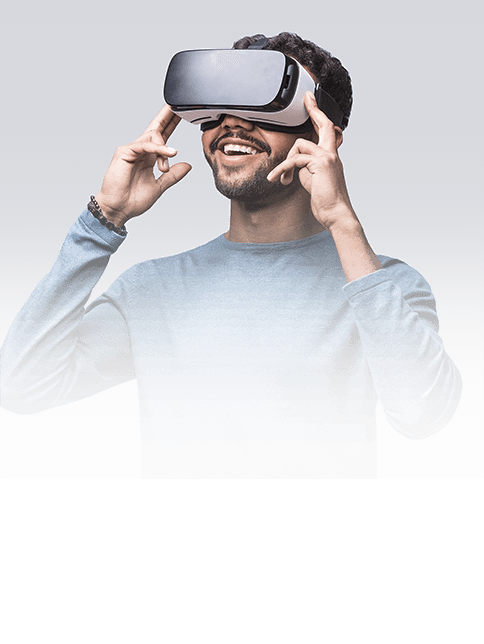 Entertainment
With the world at your fingertips, you can use your favourite movie or music streaming service, play games online, use social media, or simply surf the Internet for articles and recipes without sacrificing service speed or quality.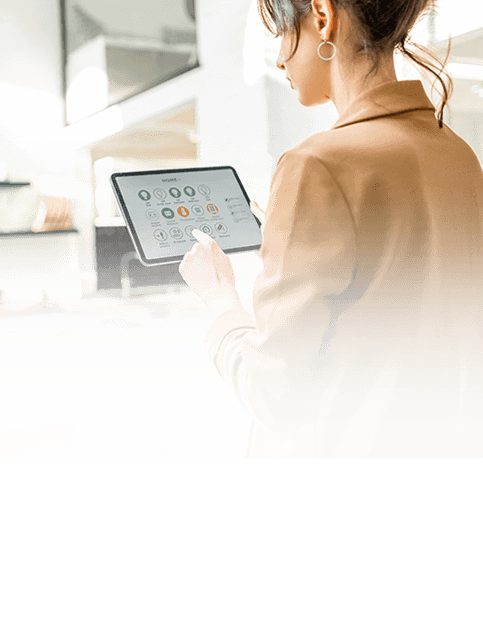 Smart Homes and Security
Smart Home technology is a fast-growing market. Every aspect of your home can be run from your smart device in real-time using Fibre Internet.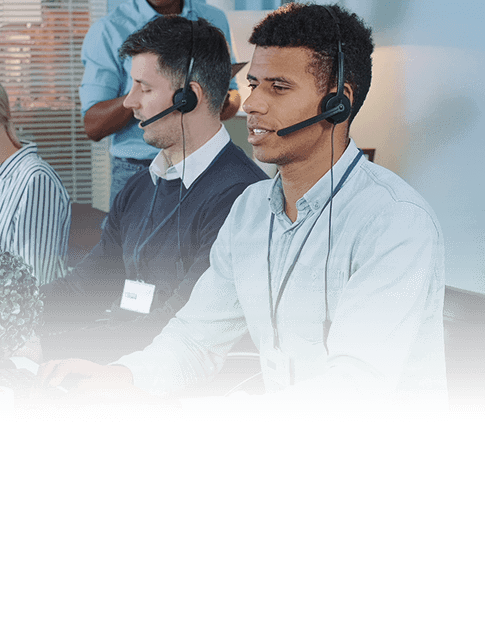 Telecommuting
In today's world, working remotely is becoming more popular, but sometimes it is necessary to interact with colleagues and clients. Telecommuting using Fibre Internet makes it possible for employees to live wherever they want without sacrificing career opportunities. Plus, Fibre Internet makes uploading documents and content for work quick and easy.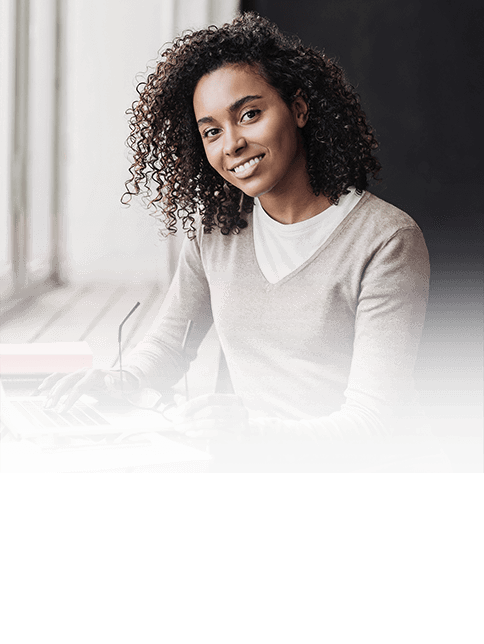 Education
Online learning is becoming normal for every age and level of education. Fibre Internet allows students to interact with teachers, access assignments and grades, and use educational resources.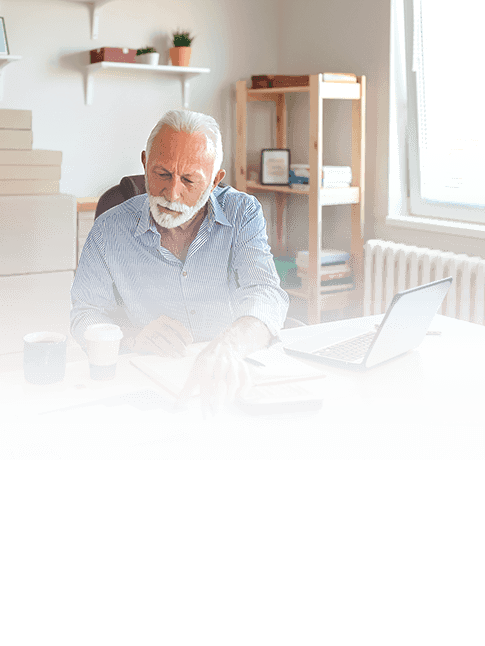 Independent Living
With Fibre Internet, a wide variety of resources are available that make it feasible to live independently, such as telemedicine and home automation products. These greatly impact the quality of life for everyone but especially for seniors, those who are physically disabled, and their caregivers.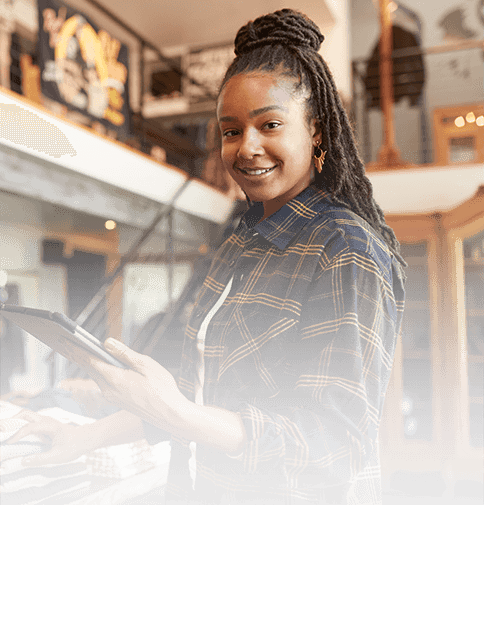 Reliability for Businesses
Execulink's Fibre Internet services allow constant connectivity and unlimited usage not only for homes and families but also for businesses. As a proud provider of Fibre Internet, your productivity will skyrocket thanks to faster uploads and downloads. Connect with colleagues and clients online in a matter of seconds, and never worry about performance or reliability.
Where Does Execulink Have
Fibre Internet?
We believe in the power of Fibre technology and we think you will too. That's why we are so excited to deliver Fibre Internet, TV and Phone to towns across Southwestern Ontario.
Check out the list below for all the local towns where we are building Fibre-connected communities.
Ailsa Craig
Andy's Corner
Brownsville
Burgessville
Carlisle
Centreville
Coldstream
Corrinth
Courtland
Culloden
Curries
Delhi
Delmer
Denfield
Dereham Centre
Foldens
Forest *select areas
Gilbertville
Greens Corner
Hickson
Huntingford
Ilderton *select areas
Ingersoll
Ipperwash
Kettle & Stony Point
Kerwood
Lambton County
Lambton Shores *select areas
Langton
Lobo
Long Point
Lynedoch
Melrose
Mt Elgin
Nairn
Napperton
Normandale
Norwich
North Hall
Old Cut
Ostrander
Otterville
Oxford Centre
Parkhill *select subdivisions
Pinegrove
Port Dover
Port Rowan
Port Ryerse
Ravenswood
Rural Bosanquet
Salford
Springford
St. Williams
Strathroy
Sweaburg
Thedford *surrounding area
Tillsonburg
Turkey Point
Verschoyle
Vittoria
Walsh
Walsingham
Watford *select areas
Woodstock *select areas
Wyecombe and more…
Stay updated on all the progress in your area!
Construction

and Cleanup Process
Curious about our Fibre installation process? Follow the slides below to see a step-by-step overview. We want to be
transparent about our Fibre construction, which potentially requires digging on your property.
However, we assure you that we are committed to cleaning up our mess to your satisfaction. We will repair any damage to your lawn by reseeding any ground where we have dug, so that your lawn grows back as beautiful as it was before!
PLEASE NOTE: If you would NOT like us to seed your lawn, or have any feedback about our process,
please contact us immediately at 1.866.765.2282 so we can make a note of that for future reference.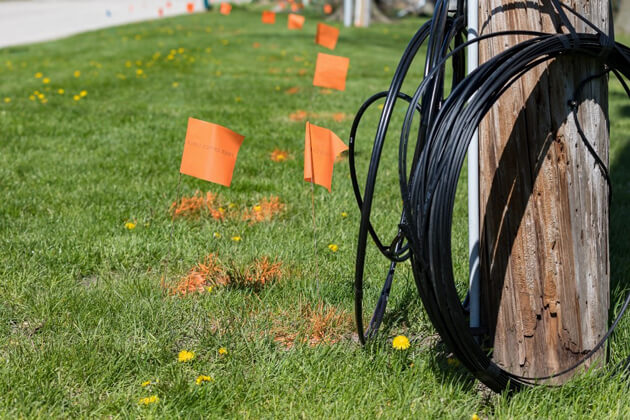 Planning
Our first step in the Fibre construction process is obtaining permission from the town to begin building our infrastructure there. If your home is located in an apartment or condominium, or on a private road, some additional work may be required to obtain permits.
Our contractor will mark your property with coloured paint or flags to identify any underground utilities such as gas (yellow), water (blue), hydro (red), or cables (orange), so you can rest assured they are not damaged during the construction phase. A pink paint line on the road indicates the side of your house where we will be stubbing the Fibre pipe.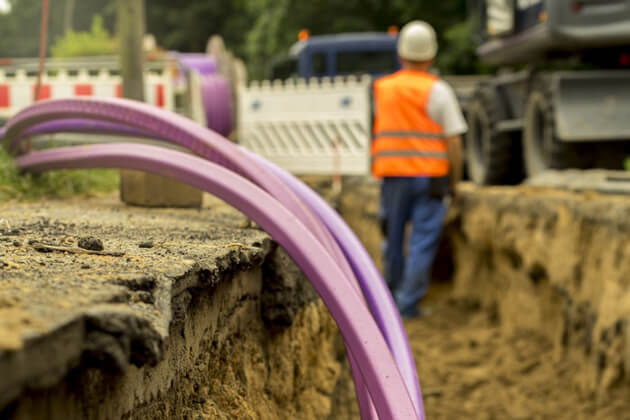 Construction: Digging
Our construction team, Weber Contracting, will begin building Fibre in your neighborhood. They use horizontal directional drilling and hydro extraction, which are minimally invasive and trenchless methods used to bury the Fibre cables underground along your street.
If you live on a road with no sidewalk, a non-invasive plow machine is used to install the Fibre cables underground through the ditches.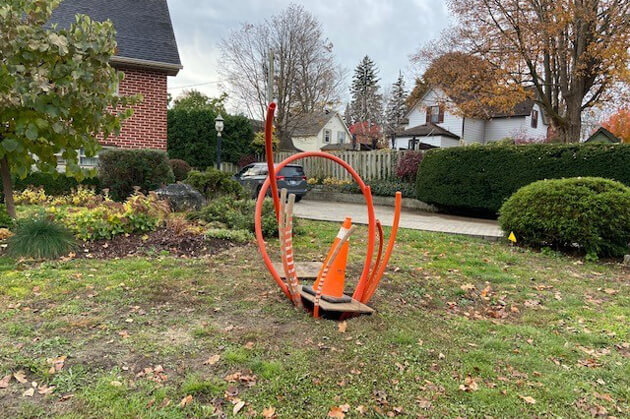 Temporary Pipes
You may notice orange or grey pipes sticking out of the ground; this is temporary and once we install underground access vaults, the pipes are buried, spliced, and then redirected to each property.
If we need to build across an underground gas or hydro utility, a small hole will be cut in the ground to view our progress and ensure nothing is damaged. We are committed to patching up these holes as quickly as possible, or if necessary, temporarily covering them with plywood and a pylon for safety reasons.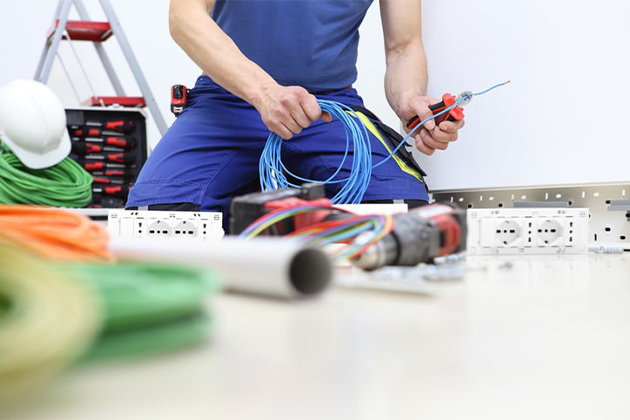 Installation
When you sign up for services our team will jet Fibre through the microduct and leave it coiled above ground by the road in front of your house, ready for your installation appointment. You do not need to be home for this to take place.
At your installation appointment, our technician will mount a small grey box on the side of your house; its job is to connect the Fibre outside to your internal home wiring. We will need to run a temporary Fibre line above ground from the street, directly to your home to provide you service as quickly as possible. During this time, we will also identify any additional underground utilities on your property, such as sprinkler systems, electric dog fences, and wires, and mark them with coloured flags so they are not damaged later during the burial process.
Then we will connect the Fibre internally at your hydro panel, utilizing your existing home wiring. This is also where we will mount the ONT (Optical Network Terminal) and any other hardware required to service your home. Finally, a modem/router will be installed on the main floor to ensure the best coverage throughout your home.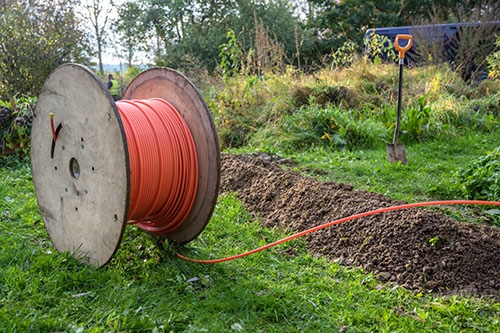 Fibre Line Burial
If a temporary line was laid during your installation, we will return 2-3 weeks following your final installation to bury your Fibre line underground. We make every attempt to minimize any disruption to the ground and are committed to burying all of our temporary Fibre lines as quickly as possible. Please note, it may take several months following the ground thaw to bury all lines that were laid over the winter and early spring months from November – April.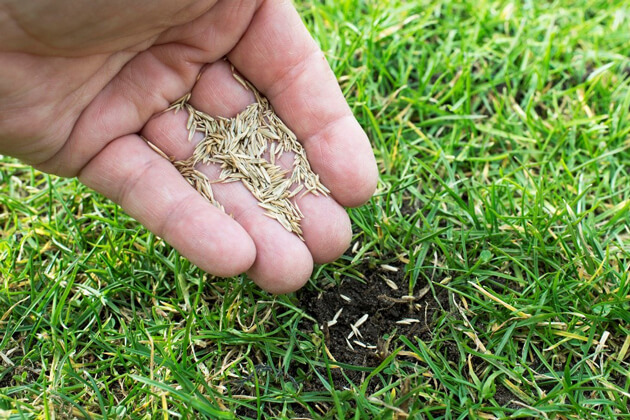 Cleanup
Your lawn is in good hands! Although our construction and installation processes may require us to dig on your property, you can rest assured that we are committed to cleaning up our mess to your satisfaction. This means refilling any outstanding holes and repairing all areas of your lawn that were disturbed, with topsoil and grass seed.
Grass seed requires optimal weather conditions and time to settle before it is fully established. Please be patient and allow Mother Nature sufficient time to work her magic before you can expect a full restoration of your property.
Testimonials From Our
Happy Customers
Far too often in our industry we hear stories of terrible customer service, high prices and false promises. We want to change the game and give you a better story to tell your friends.
"My family and I have enjoyed our new TV package and love our high speed Internet. Also the fact that when I call I actually […]
We love our Internet, it is fast and super crisp. Your company could sure teach a lot of other companies a thing or two about […]
If you are given the opportunity to get Execulink fibre, get it. Excellent service and fair prices. Love it!
Want to Learn More About
Fibre?
Do you live in one of our Fibre communities and want updates on our progress in your town? Or are you interested in one of our Fibre services and want more information about our packages? Great! Fill out the form below and we will contact you within one business day.
"*" indicates required fields