Execulink gives Huron House Boys' Home a Christmas donation
December 16, 2022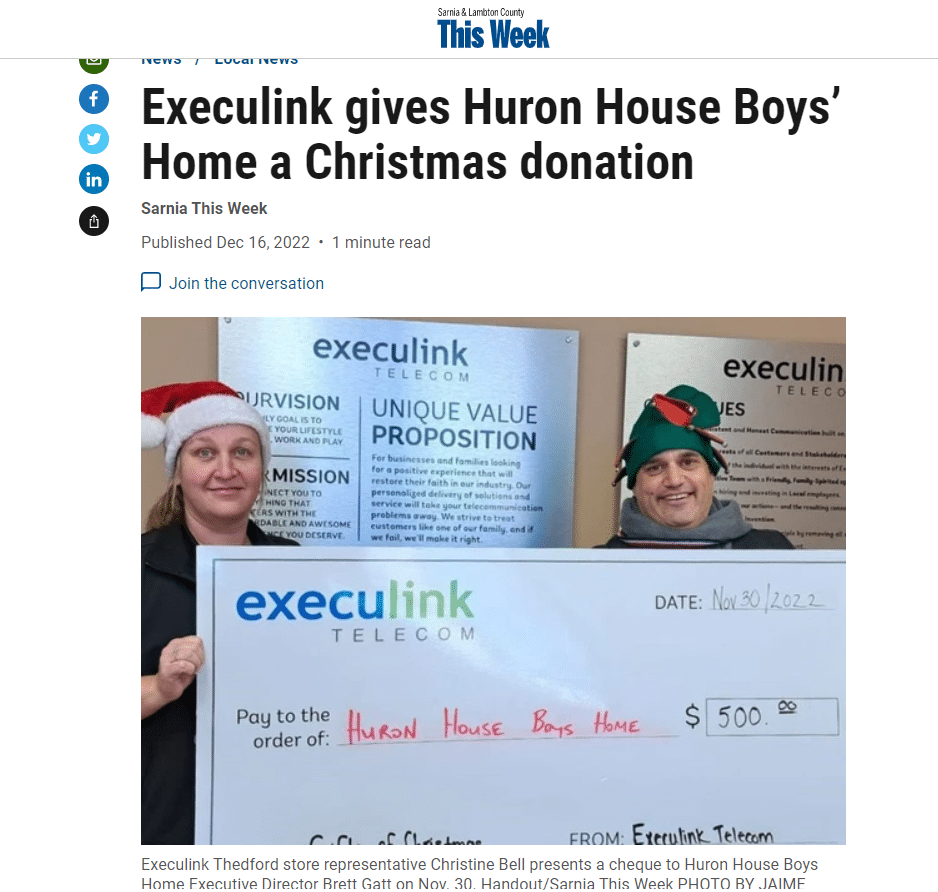 Huron House Boys' Home received an early Christmas gift this holiday season.
The longstanding Bright's Grove organization, which has provided programming, counselling, education and support to over 1,500 adolescents aged 12 to 18 as well as their families since it first opened its doors in 1970, was the recipient of a $500 cheque from Execulink Telecom on Nov. 30.
In handing over the donation Execulink President/CEO Ian Stevens lauded Huron House Boys Home for making significant improvements of the lives of so many youth over the years.
The donation was part of Execulink's annual The Gift of Christmas donation program, which consists of the company providing funding to charities and other community-minded initiatives in the communities where they serve. This year, the company will be handing out donations to 58 different organizations, charities and non-profits throughout the province. During their tenth day of giving, the company selected Huron House Boys to be one of the recipients.
"We are thrilled to help the amazing non-profit organizations, groups, and charities within the communities we serve," Stevens said. "We are proud to support their causes and hope the Gifts of Christmas program helps them to achieve their goals in the coming year."
https://www.sarniathisweek.com/news/local-news/execulink-gives-huron-house-boys-home-a-christmas-donation