SWIFT High-Speed Internet Project Expands Fibre -Optic Service in Middlesex County
January 13, 2023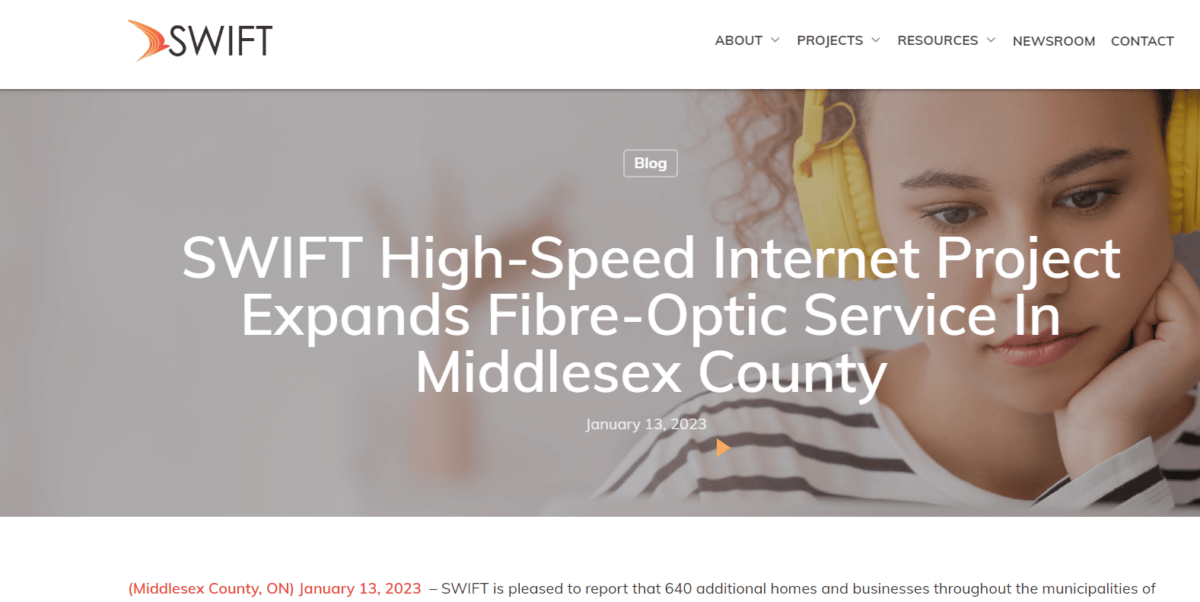 (Middlesex County, ON) January 13, 2023  – SWIFT is pleased to report that 640 additional homes and businesses throughout the municipalities of Thames Centre, Adelaide-Metcalfe and Strathroy-Caradoc, now have access to fast reliable broadband connectivity as the Southwestern Ontario regional broadband expansion program marks the completion of two high-speed fibre-optic projects in Middlesex County.
"It's great to see strong progress being made to expand high-speed internet service to more rural communities in Middlesex County through the SWIFT initiative," said Barry Field, Executive Director, SWIFT.  "With the new fibre-optic networks now in-service, more than 75% of the homes located in SWIFT's project areas throughout Middlesex County have access to fast reliable broadband service."
"Providing reliable internet access is especially important for rural communities to prosper in our increasingly digital world," said Peter Fragiskatos, Parliamentary Secretary to the Minister of National Revenue and Member of Parliament for London North Centre, on behalf of the Honourable Dominic LeBlanc, Minister of Intergovernmental Affairs, Infrastructure and Communities. "Today's announcement will ensure that hundreds of homes, businesses, and farms in Middlesex County can connect to essential online services and enjoy the additional economic opportunities made available through high-speed internet."
"I'm proud that our government continues to deliver on our commitment to expand access to high-speed internet in rural communities across the province," said Lisa M. Thompson, Minister of Agriculture, Food and Rural Affairs. "Building new broadband infrastructure in Middlesex County is helping to build rural Ontario and strengthen communities by helping people stay connected with loved ones and enable them to access supports they need. This critical infrastructure will have lasting benefits for the entire community."
"To remain competitive and grow, businesses need high-speed connectivity," said Rob Flack, MPP for Elgin-Middlesex-London. "The completion of this SWIFT project is opening the door for more families and businesses to expand into communities where there were previously limited resources. This investment complements our government's ongoing commitment to rural Ontario, and is allowing people to live, work, and farm, where they want."
In partnership with SWIFT, Xplore (formerly known as Xplornet) has completed construction of a 38-kilometre fibre-optic network in the Municipality of Thames Centre to provide more than 460 homes and businesses throughout the communities of Putman, Crampton, Avon, Mossley, Harrietsville and Gladstone with access to high-speed internet service.
Within the Townships of Adelaide-Metcalfe and Strathroy-Caradoc, Execulink Telecom has completed the construction of a 17-kilometre fibre-optic network to provide 174 homes and businesses throughout the communities of Kerwood, Napperton and Strathroy with access to high-speed internet service.
"These are exciting times for Middlesex County. The completion of the two high-speed internet projects is an important infrastructure service for our residents and business owners. These are fantastic steps forward to strengthening our rural communities and local economy. I would like to thank SWIFT for their continued investment in Middlesex County and their support for rural and small urban communities," said Middlesex Warden Cathy Burghardt-Jesson.
Today's announcement is part of SWIFT's $270 million regional broadband expansion plan that will bring high-speed internet access to nearly 64,000 homes and businesses throughout Southwestern Ontario.
For additional information on SWIFT funded projects, please visit: www.swiftruralbroadband.ca.
Quotes:
"Today's exciting announcement benefiting residents and businesses in Middlesex County is an important addition to our fibre network expansion plans already underway across the region," said Allison Lenehan, President and CEO, Xplore Inc. "Access to gigabit-speed fibre Internet will enable residents to more fully enjoy rural living and provide local businesses with an enhanced opportunity to participate in the digital economy."
"We are pleased to have brought Fibre Internet to the communities of Kerwood, Napperton and parts of Strathroy, which are located in the Townships of Adelaide-Metcalfe and Strathroy-Caradoc. We would like to extend a heartfelt thank you to these communities for their support and cooperation throughout this project. We look forward to continuing to serve your connectivity needs for many years to come," says Ian Stevens, CEO of Execulink Telecom.
Quick Facts:
SWIFT in partnership with the federal and provincial governments and private sector investors has committed a combined investment of $13.2 million to bring high-speed internet service to more than 1,800 underserved homes and businesses throughout Middlesex County.
In total, SWIFT has awarded 97 contracts to support the expansion of broadband infrastructure throughout Southwestern Ontario to bring nearly 64,000 homes and businesses across the region access to high-speed internet service. Local projects are underway, with 38 projects in the construction phase and 59 projects completed.
About SWIFT
Southwestern Integrated Fibre Technology (SWIFT) is a non-profit regional broadband project initiated by the Western Ontario Wardens' Caucus to subsidize the construction of high-speed broadband networks across Southwestern Ontario, Caledon and the Niagara Region.
The project was approved for funding up to $127.4 million under the New Building Canada Fund – Small Communities Fund (NBCF-SCF), a joint federal and provincial infrastructure funding program, and leverages additional funding from municipal partners and private sector investors to bring improve access to broadband services across the region.
Media Contact:
Melissa O'Brien
melissa.obrien@swiftruralbroadband.ca
Manager, Communications and Stakeholder Relations
Southwestern Integrated Fibre Technology
226.256.1640