The Difference Between Business Internet and Home Internet
January 12, 2022 Category: Business Services
There are so many uses for the Internet, and not having it can make you feel disconnected.  Depending on your circumstances, you may be wondering if you should invest in a business Internet connection or a home Internet connection. If you're running a business, then a slow Internet connection can be frustrating. This can put a stop to your productivity, collaboration, and sales. There are distinct benefits to both home Internet and business Internet; consider the differences of each below and think deeply about your present and future internet needs. To further help with your decision we have also provided some factors to consider when determining which type of connection will fit your needs.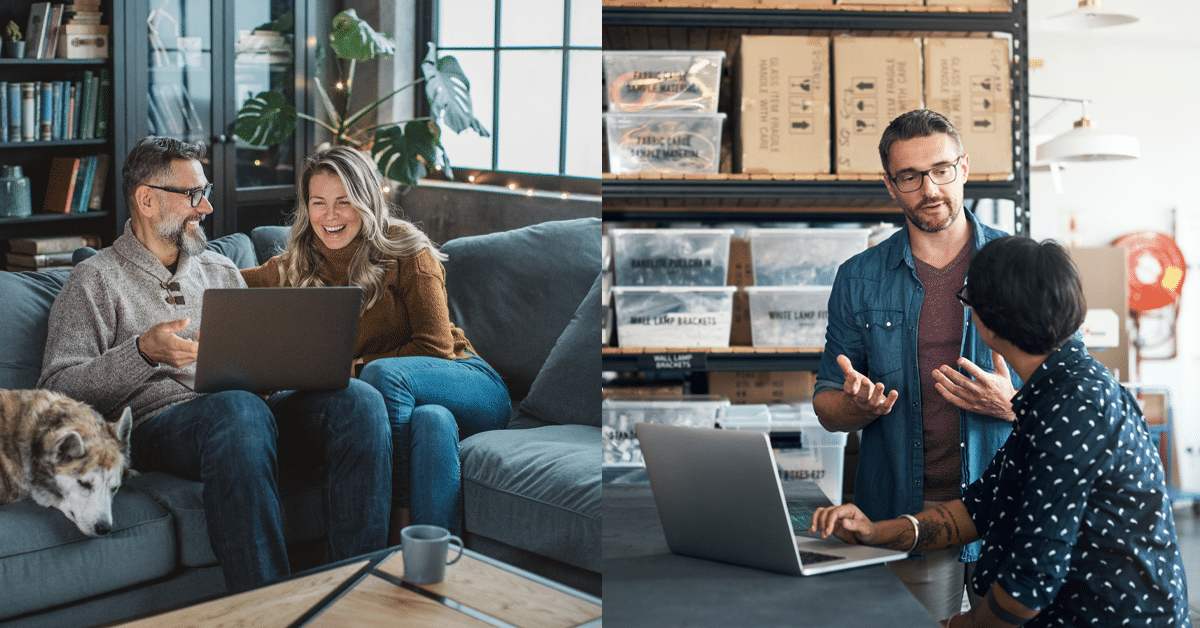 What is Business Internet?
Business Internet is a connection dedicated to helping keep your business online and connected to your consumer base and business network. Business Internet has features built in that work for these specific needs.
What is Home Internet?
Home Internet is a connection dedicated to keeping you online while you're home – whether it's your family, visitors, or basic work functions. Home Internet has features built in that work for these specific needs.
To understand what type of Internet connection will work for you, start by understanding the key differences between business Internet and home Internet:
Starting Speeds
Since businesses often need fast Internet to help their staff complete tasks and operate efficiently, business Internet packages typically have faster starting speeds. This usually ranges from 25 Mbps to 10 Gbps. Meanwhile, home Internet starting speeds typically range from 5 Mbps to 1 Gbps. Consider the types of activities you do online and how much bandwidth is required.
Dynamic vs. Static IP
Business internet typically comes with a Static Internet Protocol (IP) address, which is a fixed address that does not change, allowing other devices to identify it upon connection. Residential Internet comes with a dynamic IP address, assigned by the network when they connect and changes each time the connected device accesses the internet. Dynamic IP's are ideal for casual internet users, but for business having a static IP is ideal for hosting a website, servers, and providing remote access to a corporate network, among other things.
Service Level Agreement
Many business services come with a service level agreement (SLA). This is signed to ensure that the business has the level of service consistently needed to conduct business; low latency, 24/7 support, and uptime are most likely guaranteed as part of this agreement. If they don't meet these terms, then you can qualify for discounts or early contract termination. This option is not typically available to residential internet clients.
Cost
You'll often spend less on home Internet than you will on business Internet. This may be one of the reasons preventing you from taking the leap to secure a business Internet plan. Although, it's important to avoid choosing the less expensive plan simply because of the cost, ensure the plan you opt for has the features your business needs. For some, the cost of a business Internet plan will be worth it if the added features and reliability help you to run your business more efficiently and effectively.
Dedicated Line
Home Internet plans usually have an Internet line that is shared with other people who live in your neighbourhood. In contrast, business Internet plans can feature a dedicated line, which means they don't have to share their bandwidth with other homes or businesses in the area. This can be beneficial because your business Internet won't experience slower speeds during peak times.
Dedicated Customer Service
While both residential and business internet customers enjoy access to 24/7 support teams to assist when something goes wrong, many Internet service providers have a dedicated team to support their business clients, ensuring that they have expert knowledge on hand, when they need it. They can help to quickly troubleshoot any issues to avoid any disruptions to your business operations, ensuring that a service hiccup doesn't impact the productivity of your team.
Factors that you should consider as you're finding the best-fit plan for your needs:
Online Activities
If you use your Internet to mostly check emails, browse the web, or maintain a website, then a high-speed home Internet plan might be ideal. Yet, if you're constantly running complex software and video conferencing, then a business Internet package is likely more suitable.
Size of the Space
Business Internet can be set up to cover more ground and meet performance standards even if there are many floors in a building.
Number of Employees
If your business has a large team of employees, then you may need to support their Internet activities with a powerful business Internet connection.
Speed
One of the best ways to understand your internet needs is to run a speed test while you're using the Internet for your usual activities.
Whether you're interested in home Internet or dedicated business Internet, ensure that you're working with a trusted ISP that will put you first and will go above and beyond to ensure that you're not paying for more than what you need.  At Execulink, we provide high-speed Internet service across southern Ontario. We understand how important it is to our customers to receive reliable service without interruption.
With 24/7 support and a wide range of Internet options to suit every lifestyle, at Execulink we have the awesome services your home or business needs to stay connected to what matters the most! Call us at 1-877-561-6771 today or visit our Internet page to find the Internet package you've been looking for!
Check out your Business Internet Options