10 Tech Acronyms You Need to Know
August 23, 2019 Category: Pop Culture
Click here to see Execulink's Home Internet options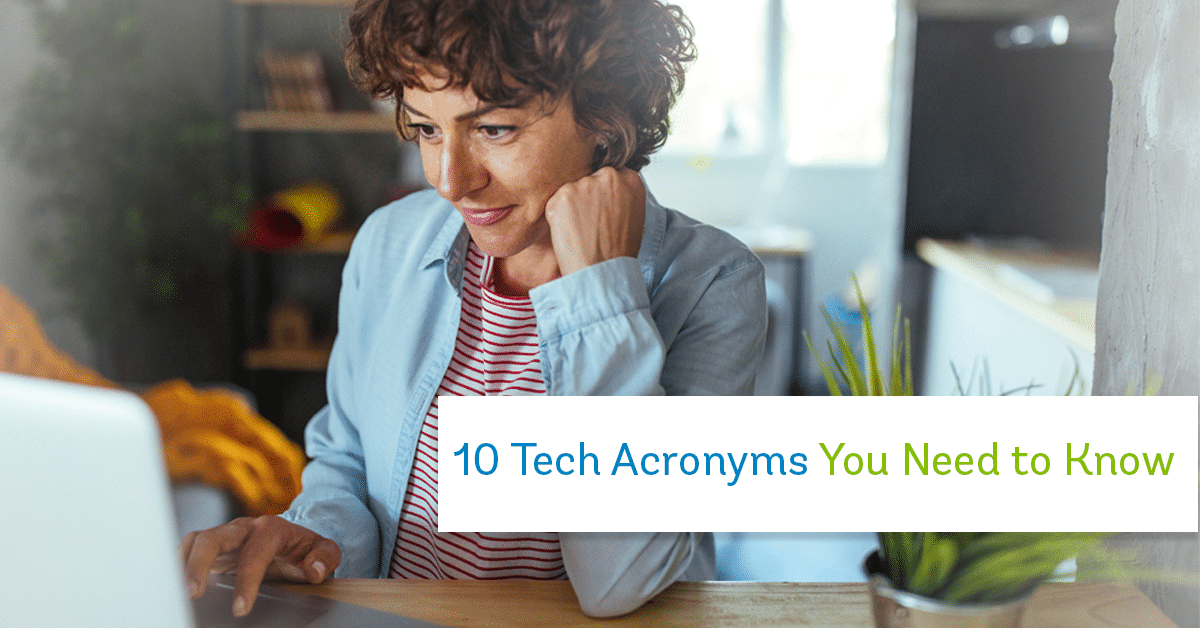 The world of technology can be confusing with many different acronyms flying around, sometimes it feels like it's complicated enough, why do we need to abbreviate every word or phrase when it comes to technology? Not to mention, the LOLs or OMGs used when texting.  That's why we developed this handy guide to help you navigate your way through the most common telecom-industry jargon. This will help you better understand the terms we use when discussing your plan, speeds and data usage limits. As well, an explanation of the awesome features we have included in your TV plans.
1. DNS – Domain Name System
DNS (Domain Name System) exists to help us access resources online. It is a collection of network servers that translate website names (e.g. www.google.ca) into IP addresses (e.g. 74.125.226.56.) IP addresses are what computers use to communicate with each other, but people prefer meaningful names. We would much rather type http://www.execulink.mywebpreview.ca than 199.166.6.11. We offer Hosting & Domain services, if you are interested in creating your own domain name for your business.
2. GB – Gigabyte or MB – Megabyte
On a fundamental level:
One Gigabyte (GB) is a billion bytes.
One Megabyte (MB) is a million bytes.
We use this method unit of measurement to quantify the data limits on our Internet and Mobility plans.  The technical background of what a byte is can become complicated. It is easier to comprehend when you think of Internet usage in terms of how much time you spend browsing, streaming or downloading and then correspond your plan limits to your internet usage behavior.
In terms of our internet plans, if you choose a plan with a 100GB, 150GB or 400GB data usage cap, it is likely that you have moderate or light usage behaviors and are not frequently streaming, online gaming and don't have smart home devices.  If you choose an unlimited plan, then you are likely a heavy usage internet user or just prefer to never worry about going over your data usage.
In terms of our monthly Mobility plans, if you choose one of the following, this is the equivalent in internet usage behavior, based on this blog's analysis of mobile data.
250 MB plan: 3 hours of web page browsing or download 50 songs or stream 7.5 minutes of HD video streaming
500 MB plan: 6 hours of web page browsing or download 100 songs or 15 minutes of HD video streaming
1 GB plan: 12 hours of web page browsing or download 200 songs or stream 30 minutes of HD video streaming
4 GB plan: 48 hours of web page browsing or download 800 songs or stream 2 hours of HD video streaming
10 GB plan: 120 hours of web page browsing or download 2000 songs or stream 5 hours of HD video streaming
3. Mbps – Megabits per second
As opposed to MB and GB which denote megaBYTES, Mbps refers to MegaBITS. These are a smaller unit of measurement than the byte, and refer to the amount of bits transferred over your Internet connection. A higher Mpbs plan means faster internet.  The higher your internet speed, the faster you can upload and download text, audio and video online.
4. FTTH – Fibre to the Home
A FTTH connection happens when Fibre internet is delivered directly to your doorstep.  Other methods bring the Fibre cables to your neighbourhood, from there speeds would be shared, resulting in a sometimes interrupted connection.  Fibre to your home provides you with faster internet speeds and more reliable internet.  The cables also run underground which makes them weather proof!
5. HaaS – Hardware as a Service
In the context of our services, this refers to when you rent a modem, router or set-top box from Execulink. You are renting the utility of the hardware rather than owning the hardware itself.  The biggest advantage of renting devices from us is you are also getting 24/7 technical support.
6. DVR – Digital Video Recorder
Our customers have the choice to rent set-top boxes that are equipped with a DVR, an electronic device that records video in a digital format.  As well, many of our DVR devices are cloud-based (aka Cloud DVR) – meaning the shows you decide to record for later are uploaded online rather than on your set-top box.  With our Link TV service you get 5 hours of Cloud DVR recording time included with your package, with the option to add more as you please!
Please note Cloud DVR is available isn't available in all areas.
7. STB – Set-Top Box
An information appliance platform that delivers TV services.  he set-top box can also contain a digital video recorder, like mentioned above, that allows you to record your favourite shows for later.
8. VOD – Video 'On Demand'
A form of video distribution that allows users to watch TV and movie content whenever they choose instead of at a regular broadcast time.  Check out our On Demand page here to see what new movies and shows you can catch on demand.
9. HDTV – High Definition Television
This has to do with the resolution of the TV service you are getting on screen.  This is becoming the industry standard of television image resolution.  HDTV provides about 5 times as many pixels as standard definition television.  With a higher number of pixels, this creates a clearer and more detailed picture with more lifelike images on screen.  HD also results in less flickering and better rendering of fast motion.
10. ISP – Internet Service Provider
That's us –Execulink! An ISP is an organization that provides services for accessing the Internet.  We provide and create the backbone of your Internet service through our cable, fibre, telephone line, wireless tower and server infrastructure.
These acronyms will hopefully help you figure out what your Internet, TV and Mobility plans are providing you.  If you are interested in what our latest plans are, check out our Internet page, TV page or Mobility page.  If you have further questions, feel free to reach out to our Sales team at 1-866-706-1994 or through live chat on our website!