4 Tips to Add Tech to Your Deck!
July 7, 2020 Category: Residential Services
Click here to learn more about Complete Wi-Fi

Given the current global circumstances, finding a way to create the perfect backyard oasis is top-of-mind for many people! The market is shifting as we all look to purchase new gadgets and toys to keep busy at home.  We thought it would be fun to share some tips for adding technology to your deck.  Spending time outside while still staying connected is a best of both worlds scenario.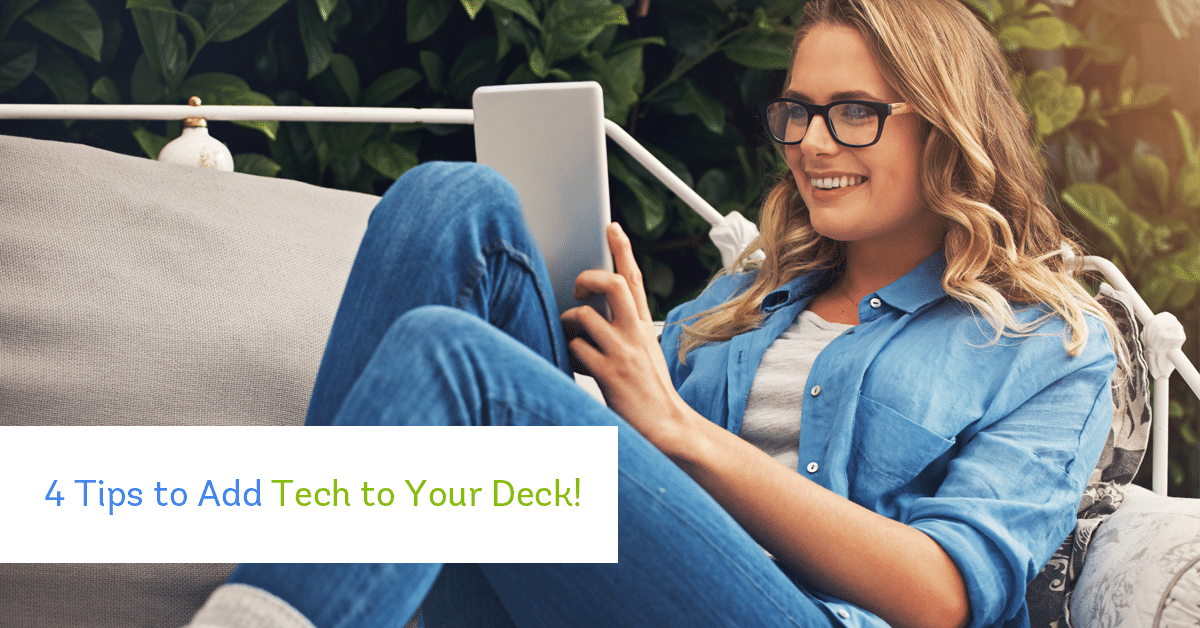 1. Adding a TV to Your Deck
This is a dream for many people who have the ability to shelter their TV from the elements.  You could add your TV just for the summer months and then move it back inside once the weather starts cooling down. If you prefer, you can purchase weatherproof shells such as this one from an Australian company called Seal TV. They provide some tips on their blog for installing an outdoor TV including installing it in the shade or have it face the south.
We recommend consulting with an electrician to ensure the outdoor outlet is safe for your TV and other devices you wish to connect, such as your Set Top Box with your Link TV service!
If you are looking to purchase a new TV check out Best Buy to see all the weather proof TVs available for your home. They are a bit costly but they have many features in their display that make them better suited for outdoor use.  If you own a restaurant, setting up some outdoor TVs on your patio may be something to consider!
2. Get Groovy with Outdoor Speakers
If you are looking to have some socially distant gatherings this summer at your place, having some background music will certainly improve the ambiance.  Getting speakers set up in your deck is the best way to create a surround sound experience.
Check out this article in the New York Times explores the best outdoor speakers on the market!  They recommend the  OSD Audio AP650 because it "delivers an even mix of bass, mid range and treble than other speakers".  There are many different speakers available from Best Buy, sometimes you can get them disguised as garden objects like rocks.
Finding a simple Bluetooth speaker or even Alexa or Google, is another way to quickly improve your deck gathering. Just remember to bring them back inside if they're not water proof!  Something to consider when setting your expectations for an outdoor speaker purchase is that they rarely sound better than indoor speakers due to the different materials and construction.
3. Heat Things Up
Spending time on your deck in the evening is an alluring prospect but as the weather cools down when the sun disappears, it can be uncomfortable. Getting a patio heater is the solution! It will also extend the time you can spend on your deck into the fall.  When considering your patio heater think about where people will gather and how the seating will be arranged.
Some heaters use propane and others use electricity.  If you choose an electrical heater, consider the cord clutter that could develop with many different devices depending on where your outlets exist.
4. Lighting
Landscape lighting is a great way to elevate your backyard's look!  If you are redesigning your backyard consulting with an electrician is very important, they can sync the backyard lighting you install to your home's electrical panel or create a separate transformer for outside. There are also solar powered systems available to make use of a natural resource, sustainable choices are always appealing!   These solar lights from Neloodony, available on Amazon, have nearly a 5-stars and are reasonably priced!
Choosing the right locations for the backyard lights is important, consider lighting paths or steps to prioritize safety.
Click here to learn more about Complete Wi-Fi

Many of us will be spending more time at home than usual during the summer, so creating a better backyard ambiance is a good alternative to travel.  Consider these tips when adding tech to your deck! To keep your entire home connected check out our awesome Internet packages perfect for your needs!