5 Facebook Privacy Tips to Keep Your Profile Secure
March 20, 2017 Category: Pop Culture
Click here to see Execulink's Home Internet options

Facebook has over 1 billion active users! Wow, that's lot of people!  Facebook has become a common place for most people to get their news or see what their friends are up to. Since so many people have Facebook and use it to gather information, you might be wondering how to make sure what you are sharing is not available for the world to see. Here are 5 tips to help make your Facebook profile more private and secure.
1. Public information:
Some information on Facebook will always be public such as your name, profile picture and your cover photo. But there are some privacy settings that can you can set that can keep any other information from your profile private, like your posts and pictures.  You are able to select whether your information will be public for everyone in the world to see or whether only your Facebook friends can see what you post.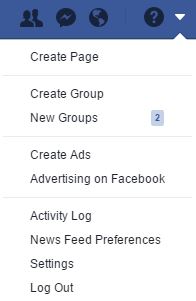 Settings → Privacy → Who can see my stuff → Who can see your future posts → Edit: choose Public, Friends, Friends except, Specific friends or Only me.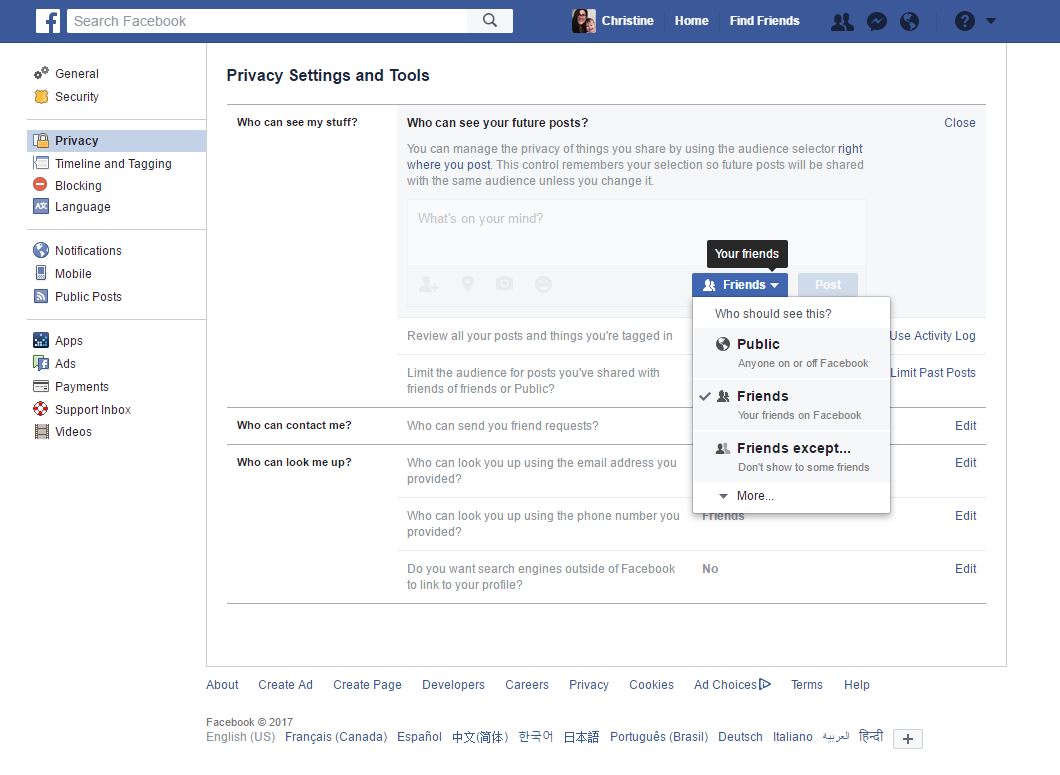 Other settings you can select here are who can contact you and who can search for you. If you don't want to be searched publicly, change your settings to 'Friends'.
2. Check what personal info you are sharing publicly
If you are a little unsure about what settings you have and want to check what other people can see on your profile, there's a way to do that!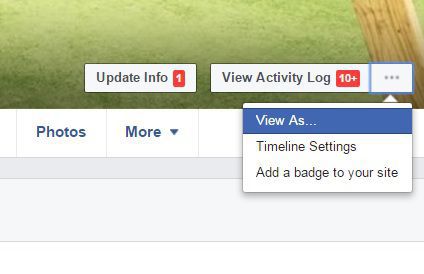 Profile → … beside View Activity Log → View As
With this view you are able to see all the posts that would show on you profile to someone who wasn't your friend.. While you are here, check your Timeline, About, Friends and Photos tabs to see what information you are sharing publicly. Know that you can't change anything while you are in this view. If you notice anything here that you would like to change, click back to your profile or settings to change what you need.  If you notice any posts that show up publicly, you can go to your profile and find the post that you would like to change. Beside the date and time of your post you can change it to only be viewed by your friends or yourself.
 3. Review your Facebook connected apps
You will want to check what apps you have given access to and what permissions you're allowing for them.  If you have ever let a third party app or game use your Facebook login to access the app, then this is a setting that you definitely want to make sure you check. This will show what apps Facebook has access to and what information from your profile is shared.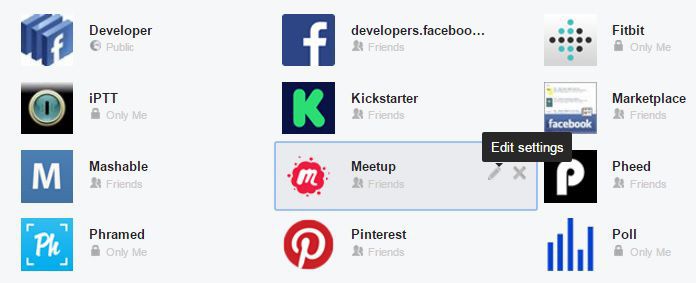 Settings → Apps → Logged in with Facebook → Edit settings or remove access.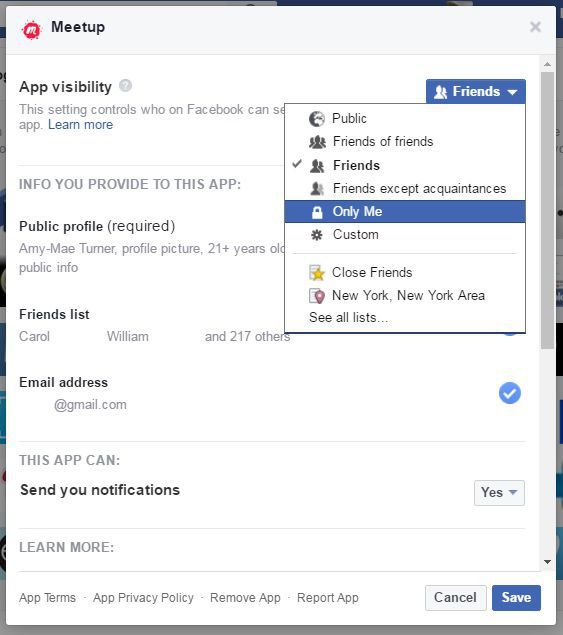 When you click edit, you can get a more detailed look at the apps settings. First check who the app is visible to. Select 'Only Me' if you don't want anyone to see that you have this app.  You can also check here whether the app has access to your friends list, likes, photos or other information. Uncheck any information that you don't want shared, note some may be mandatory for the app and you will be unable to check this shared information. You can also remove any apps here that you don't want Facebook to have access to anymore but just clicking the X button to remove the app.
4. Password Security
Your password should be at least 12-15 characters long, using a combination of upper and lower case letters, numbers and symbols.  Don't include your or your kid's names, birthdays or any other personal details. You also want to make sure that you have different passwords for all your other personal online accounts so if one of your passwords is compromised, your other accounts would remain secure.  Also don't email yourself any of your passwords. If you are stuck on creating a password you can use a password generator like random.org/passwords to help. Here's a list of the most common passwords for 2016, so don't use any of these.
5. Things not to share through Social Media
Here are just some tips of things that you shouldn't share on your profile or posts. You don't want to take the chance that any private information is getting into the wrong hands.
Don't share your full address or phone number.
Don't share financial information through your Facebook page, whether it be a post to your friends or through a private message.
Don't post while you are on vacation, as tempting as it is to share to people that you are going away, this practice can entice someone to break into your home while you are away.
Complain about work or share project related information. Check if your work has a social media policy. Even if you post on your personal account about your work, you may be in violation of your work's social media policy and worse case may get fired for something you said.
Quick Help Center:
For a quick run through about some of the stuff we talked about today, go to your Facebook page and check the Quick Help Center at the top right of your page.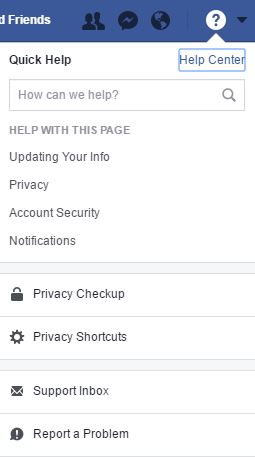 Privacy Checkup is will run a quick review of some of the privacy settings we've discussed here.. This guide will check who can see your posts, what apps have access your information and who can see your profile information.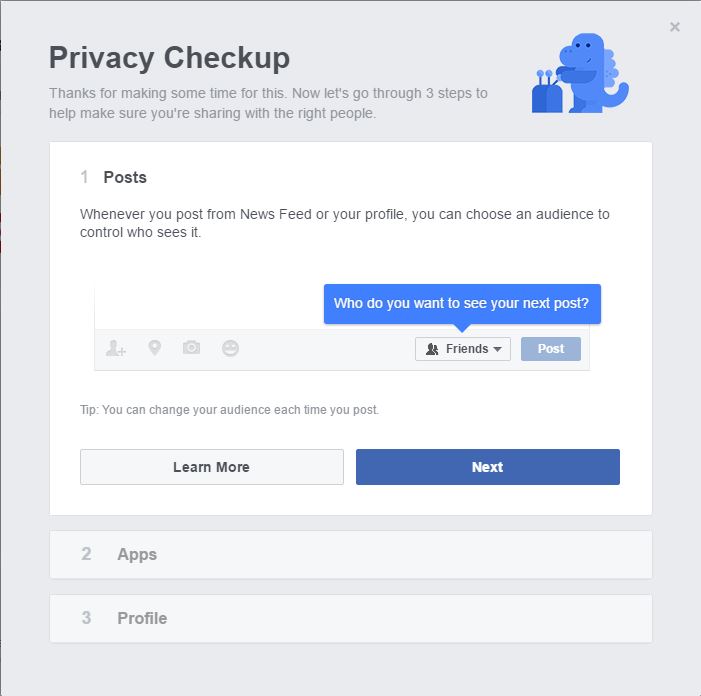 Hopefully these tips will help you set up a more secure and private Facebook page. If you want some additional help with learning, check if your local library has any programs that can help teach you any social media skills. The more you know, the safer and more secure you'll be!