Finding the Best Business Internet Packages for You
October 6, 2021 Category: Business Services
Nowadays, almost every business relies on an Internet connection in some capacity to connect to your employees and customers, whether they're local, or around the world! Bringing your business online can make a huge impact on how it operates and may even lead to a competitive advantage in your industry. Yet, with so many options on the market it can be challenging to decide which Internet option is right for your business. For most businesses, big and small, the most efficient and cost-effective way to do this is with a business Internet package.
At Execulink, we provide high-speed business Internet service across southern Ontario. We understand how important it is to our customers to receive reliable service without interruption. We offer 24/7 customer support to ensure your Internet is running as fast as possible, with limited interruption, so that your team can remain connected and productive. When you're shopping for Internet services for your business, it's best to explore our Internet technologies to ensure you're selecting a package with the features that make the best sense for your unique needs and budget.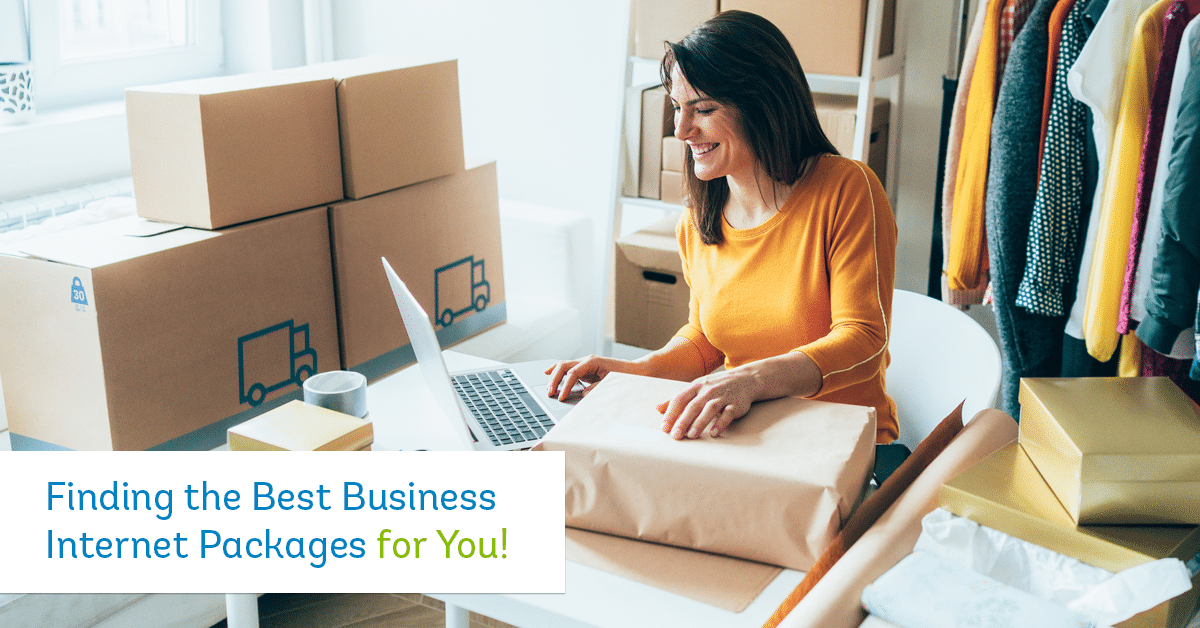 What type of Internet connection is best for businesses?
It's important to know that the best Internet package isn't the same for every business – there simply isn't a one-size fits all solution. Depending on the needs of your business, you should choose a package that makes sense for you. The type of package that fits your business best could be determined by the price, speed, availability, and more. Here are some factors to consider when you're shopping around for the most suitable business Internet package:
a) Your Business' Need for Speed!
One of the most important factors that your business may consider is the speed offered in the Internet package. Your business may require high speeds to ensure your employees have the support they need to do their jobs. Would it hurt your business if your clients weren't served in real time? How can your business stay competitive if it takes a long time to upload or download a file? If you own a business where your employees rely on the Internet to conduct business, then you may require faster speeds than a business that doesn't use the Internet as frequently.
b) Size of Your Business
Another consideration when choosing the right Internet package is the size of your business – how many employees do you have?  If you operate a very small business, then your Internet needs may not be as extensive as a large enterprise business.  Let's say you're an entrepreneur and you don't have any additional employees, then a cost effective solution like DSL might be a viable option for you since it offers sufficient speeds to keep your business running smoothly. However, if you have many employees and your Internet needs to support multiple devices under one roof – especially during peak times then you might need a dedicated Fibre plan that offers flexible bandwidth with less opportunity for interference. Do you have clients or customers who may also need to access your Internet while on your premises? In either case, ensure you secure a package that has speeds and download capacity that is appropriate for your business size and Internet demands.
c) IT Support Requirements
The Internet is an invaluable tool when everything works smoothly, but what happens if you run into issues? Your business may require more frequent IT support for complicated technical issues. If this is the case, then you should choose a business Internet package that offers 24/7 business support. This can help keep your employees online should challenges arise, or limit downtime while an issue is being troubleshooted. If you're a smaller business, the IT support available through your Internet service provider may even help you avoid needing to hire internal IT staff, which could lead to significant cost savings.
d) Availability of Internet
There are some types of Internet that simply will not be available for your business based on its location. Your options may be limited based on what's available in your area, so do your research to see what package will provide you with the most reliable Internet connection for your business.  Internet like Cable and Fiber are usually good options for businesses in rural areas. Meanwhile, businesses located in urban areas usually have more diverse options for business Internet.
e) Price Point & Your Business Budget
You business' bottom line is inevitably probably top of mind when it comes to choosing the right business Internet package. Remember if you bundle your Internet service with Phone or TV service, you may be able to get a better deal on your business Internet overall. If you're a budget-conscious business, there are basic business Internet packages available that don't offer the premium features of more robust packages. But remember that the cheapest option may not necessarily offer the speeds or services that your business needs to run smoothly; if you are sacrificing productivity or efficiency, you may lose money in the long run. Your ISP will help match you with a business Internet package that offers the Internet products you need, for the best value.
If you have extra room in your budget, then you can explore more features, conveniences, and add-ons to your business Internet package.
Why is business Internet more expensive than residential Internet?
If you're wondering why business Internet packages are typically more expensive than residential Internet packages, it's because they often offer more features that help support a business. Business Internet packages are designed to be robust enough to support multiple devices, employees, and even customers, connecting under the same roof. Your business may also rely on fast Internet speeds to boost productivity and collaboration. When it comes to your home, you may not need all the bells and whistles that business Internet packages offer.
With 24/7 support and a wide range of Internet options to suit every lifestyle, Execulink has the awesome services your home or business needs to stay connected to what matters the most! Call us at 1-877-561-6771 or visit our Internet page to find the Internet package you've been looking for! Get started and speak with an Execulink Business representative today.