How Secure is WordPress for a Small Business Website?
September 10, 2021 Category: Business Services
For small business owners, Content Management Systems (CMS) like WordPress are a popular choice to start an online business or bring an existing business online. With the many CMS options available on the market today, you may be wondering if WordPress is the best and most secure option for you. A potential security breach could be detrimental to your business and leave it open to vulnerabilities. If there was any doubt about WordPress, the CMS is already being used worldwide and even has some of the largest enterprises taking advantage of its intuitive interface. In fact, WordPress spends millions of dollars each year to protect its users from security threats.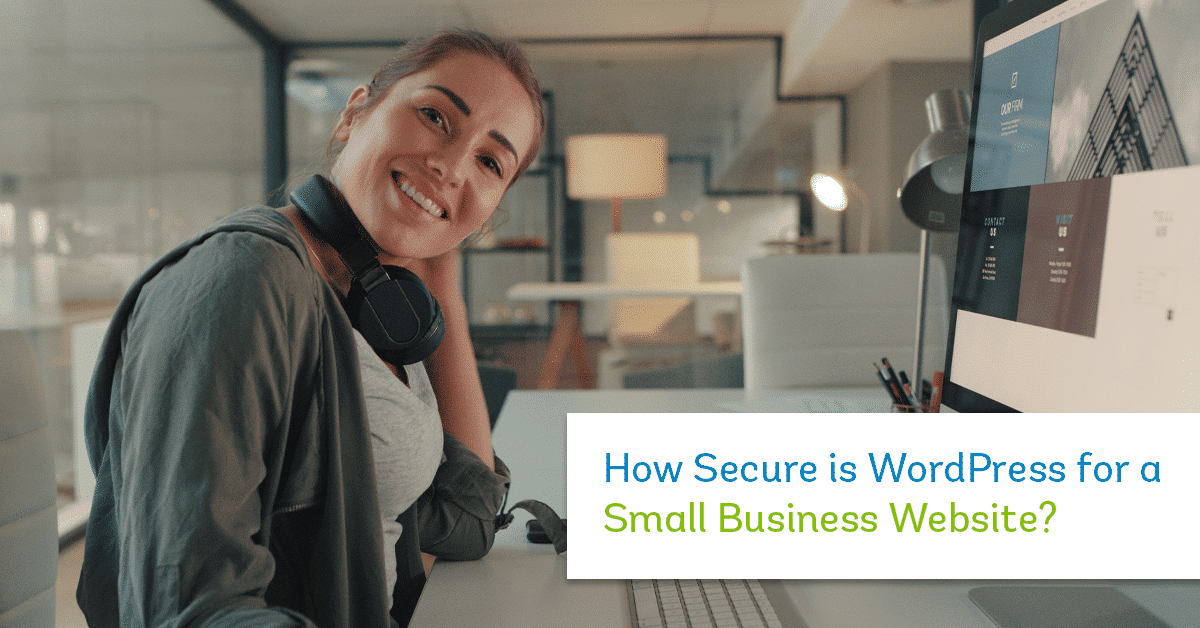 Is WordPress Secure?
Overall, WordPress is secure for a small business website, but keep in mind that nobody can guarantee this 100%. The platform has engineers constantly working to ensure the security of the CMS. Yet, web security isn't only the responsibility of the CMS; it's also a user's responsibility to take measures to increase the security of their WordPress site. Fortunately, there are a few best practices that you, as a site owner, can follow to increase the security of your WordPress website:
1. Themes and Plugins
When selecting the themes and plugins for your WordPress website, ensure you choose ones that are trusted. Many of these themes and plugins are created by third-party companies, so it's important to read reviews and industry blogs, and download your themes and plugins from reputable sources. These extensions are one of the top ways you may be putting your website at risk of a cyberattack.
2. SSL Certificate
An SSL Certificate, otherwise known as a Secure Sockets Layer, allows your website to move from HTTP to HTTPS. The added "s" signifies that your website is more secure and encrypted. It is essential for protecting your website, so ensure you download it. As you browse other websites, it's also important to look for the HTTPS, so you know that your personal information is secure if you're inputting it into a form.
3. Assign User Roles
WordPress allows you to label certain individuals who have the login information for the CMS with user roles. These give permissions to access certain parts of the website, meaning certain people will have more access than other people. There are four total roles that you can have assigned on a WordPress website: administrator, editor, author, and contributor. For instance, some people may be able to update the website blog, while others may not have the same permissions. By assigning user roles, you can control the amount of access a user has to your website and maintain a higher level of security.
4. Update Your Site
Website updates may seem tedious and feel like they're slowing you down, but when you fail to update your website, it can expose it to all kinds of security threats. Make sure you keep up with new website updates, including software, themes, and plugins, so that the latest security features are incorporated in your site. You can even enable WordPress' automatic updates, which will take this task off your plate regularly.
5. Install a Security and Firewall Plugin
Choose trusted security and firewall plugins to add to your WordPress website. A security plugin will alert you to any suspicious visitors to your website. Meanwhile, a firewall plugin will protect against attacks from hackers.
The Benefits of Using WordPress for Your Business
Now that you know WordPress is secure enough for a small business website, you can explore the several other benefits of using this platform:
Easy
WordPress is known for its easy and intuitive website-building interface. It's clean, uncomplicated, and the dashboard can help you continuously update your website with new web pages, forms, menus, and more. You don't need to be a tech whiz to get your website up and running with WordPress since it doesn't require advanced coding skills or knowledge of servers or hosting. Several members of your team can easily learn how to run your small business' WordPress website.
Flexible
There are thousands of beautiful WordPress design themes you can choose, helping you created a plug and play website. These themes may be built for specific niches like non-profits, ecommerce, service businesses, and more. Simply choose the theme that fits your business, select it, and it will automatically be applied. From there you can customize the content to align with your business. The best part is that many of these themes are free.
SEO Friendly
WordPress websites are SEO friendly which gives you an opportunity to optimize your site and increase your chances of being seen by your targeted audience. WordPress has clean and consistent code, making it easier for Google to crawl the website.
By amplifying your SEO, your small business has a greater chance of being discovered online, which equals more traffic and potential sales. Other CMS options may not be as easy to optimize as a WordPress website. Without SEO, your website may never be found organically, which can limit your growth and revenue.
With WordPress you'll also need a reliable and secure hosting package. Execulink offers a variety of hosting packages which all include 10 email addresses, 1 TB of storage, same-day setup and 24/7 technical support. Check out our hosting and domain solutions here.
Another important consideration is the type of internet powering your business. Insufficient upload and download speeds will affect how you navigate and update your CMS, and can limit the effectiveness and efficiency of your employees' internet experience. At Execulink, we provide high-speed Internet service to businesses across southern Ontario. With 24/7 support and a wide range of Internet options to suit any type of small business, at Execulink we have the awesome services your business needs to stay connected to what matters the most!
Call us at 1-877-561-6771 today or visit our business services page to find the right hosting and Internet package for you!