How to Connect Your Smart TV to the Internet
October 27, 2020 Category: Residential Services
Click here to see Execulink's Home Internet options

The Internet is an important part of our daily lives and with continuous technological advancements, there are a growing number of ways to experience it. Now with Smart TVs you can have the same incredible online experience but enjoy it on a larger screen. This type of technology allows you to watch your online content right on your TV, allowing for more comfort and flexibility. What more could you ask for!?
At Execulink, we provide high-speed Internet service across southern Ontario.  We understand how important it is to our customers to receive reliable service without interruption. We offer 24/7 customer support to help get your Internet running as fast as possible.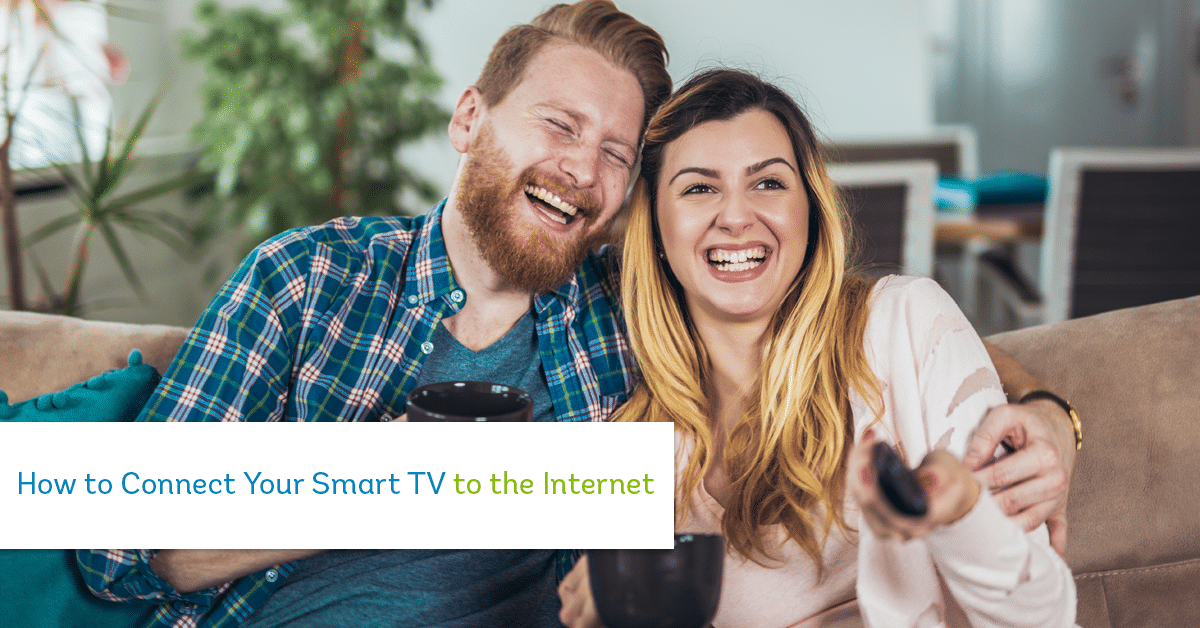 Options for Connecting your Smart TV to the Internet
Connecting your Smart TV to the Internet has never been easier! It can power your Netflix addiction or help you stream your favourite YouTube channel. Here are three main things to consider when making the connection:
1. Wi-Fi (wireless)
Newer models of Smart TVs are Wi-Fi enabled, which means they have a Wi-Fi adapter built into them. Having your TV connected via Wi-Fi allows you to place it wherever you'd like in your home – even mounted on a wall. This clean setup avoids wires running along the floor and is a convenient way to connect your Smart TV to the Internet.
To setup the system, configure the connection on the menu of your Smart TV by providing network login details in settings.
2. Ethernet cable (wired)
If you have an older model of Smart TV, then you may need to connect to the Internet using an ethernet cable. Simply plug the ethernet cable into your router and connect the other end to the back of your TV. This typically provides the most reliable connection and can help to limit lag-time. Although, it's important to keep your Smart TV close to your router in order to run the cable between each device. This means you may have less flexibility in where you can place your Smart TV for optimal viewing.
Finally, configure the connection on the menu of your Smart TV by providing network login details in settings.
Ensure your Network and Internet are working
The key to having a great experience using your Smart TV is by ensuring you have the right Internet service provider (ISP). The ISP and Internet package you choose needs to be able to support your online activity. Get a package that has enough data to power your Smart TV usage. If you're a heavier user of the Internet and have multiple people in your household with connected devices, then you will likely want to opt for a more powerful plan.
Smart TVs are incredible technology but sometimes they can make you feel like they're not smart at all! If you run into any issues with your connection, you can ask your ISP to troubleshoot your Internet to keep your Smart TV functioning seamlessly.
When streaming content online via your Smart TV, the experience will only be as good as the connection supporting it. Ensure you choose an Internet package that can properly support your level of online activity. Re-evaluate your Internet needs if you require more data to regularly stream content.
What to do if your Smart TV won't connect to Wi-Fi?
If you're having difficulties connecting your Smart TV to Wi-Fi, then consider ways you can improve the connection. To start, try moving the wireless router closer to your Smart TV. This may help to strengthen the Wi-Fi signal since the further away the router is, the weaker the connection.
You can also consider our Complete Wi-Fi solution including the Premium Router and Mesh Wi-Fi Extenders.  The Premium Router can connect up to 60 devices in your home and the Mesh Wi-Fi Extenders are for those hard to connect places in your home to give the signal an extra boost.  Check out our Complete Wi-Fi page to learn more.
As mentioned previously, older Smart TVs sometimes don't have a Wi-Fi option, but you may still be able to connect using an ethernet cable or Wi-Fi adapter. Hardwiring the connection by plugging in an ethernet cable from the router to the Smart TV usually does the trick.
Benefits of connecting your Smart TV to the Internet
A) Get access to your favourite streaming services
Some Smart TVs have your favourite streaming services preloaded. Enjoy access to Netflix, Spotify, Crave, YouTube, and more. You can watch online video anytime using your Smart TV and experience it on your big screen compared to your laptop or desktop.
B) Connect with other Smart home devices
For a fully smart home, some smart TVs can be connected with devices like Amazon, Alexa and Google Home. This allows you the freedom to control your TV from your other devices and create seamlessness between your devices for a truly smart home experience.
Link TV
You can easily connect your Smart TV to Execulink's Link TV service. An Execulink Internet connection is required to access Link TV in select areas.  We recommend a minimum Internet speed of 10 Mbps to get the awesome TV experience you deserve. To use your Link TV service a Set Top Box is required to gain access to all the channels you know and love.  Explore our bundling options to find a package that suits your home!
Click here to see Execulink's Home Internet options

Speed Up Your Internet Connection with Execulink
Whether you're looking for faster Internet speed options for streaming video on your Smart TV, we have the services you and your family deserve. Don't let poor service affect your ability to enjoy your favourite content.
With 24/7 support and a wide range of Internet options to suit every lifestyle, we have the awesome services your home or business needs to stay connected to what matters the most! Call us at 1-866-706-1992 today or visit our Internet page to find the Internet package you've been looking for!