How to Fix Slow Internet
November 29, 2019 Category: Pop Culture
Click here to see Execulink's Home Internet options

There's nothing worse than trying to use the Internet only to find that the site won't load, the video lags, or your download stalls. When these things happen, you know your Internet is too slow to process the commands you're giving it.
At Execulink, we provide high-speed Internet service across southern Ontario. We understand how important it is to our customers to receive reliable service without interruption. While we offer 24/7 support to ensure our customers aren't left with slow Internet issues, we still want you to be informed, if annoying Internet issues ensue. Try these troubleshooting tips to get your slow Internet moving.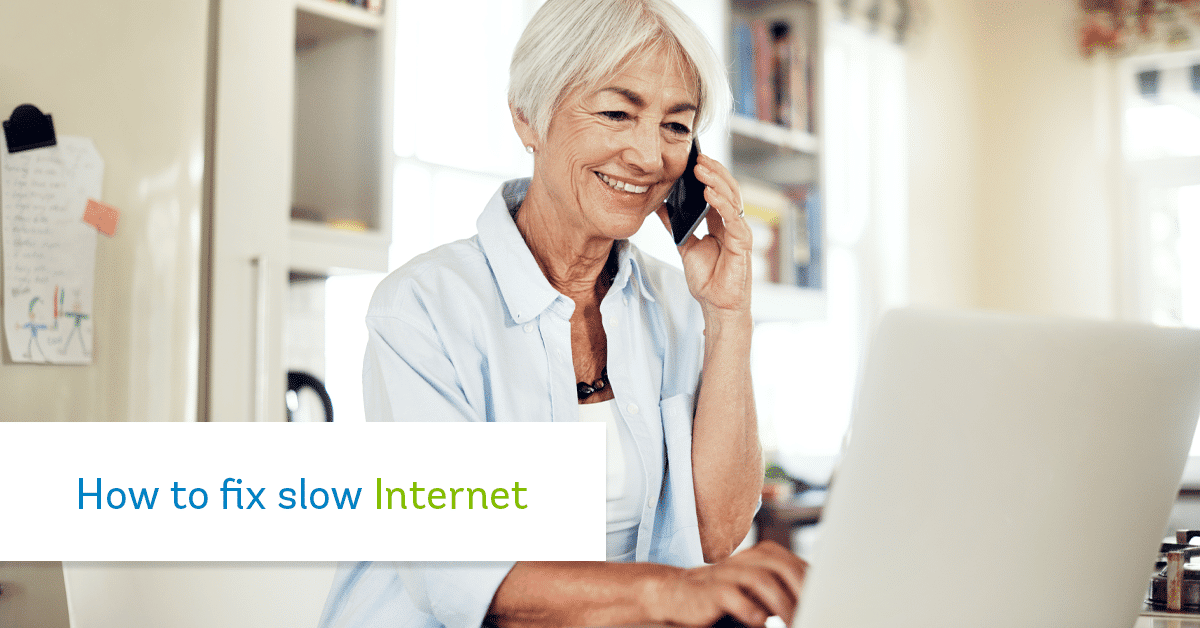 Check for Limitations on Your Electronics
As faithful and long-lasting and older technology is, it doesn't quite hold up next to newer models when it comes to Internet speed. If you're using an old tablet, mobile phone, laptop, or even gaming system – it could be holding you back. Check the specifications on your router to see if it can support your Internet package's speed.  As well, some older laptops and computers can't stream online games or download movies at high enough speeds to keep the transition smooth. This results in lagging, stalls, and delays.
Unfortunately, the only fix for outdated hardware is buying new equipment. On the upside, buying a new computer means you're all set to use the latest and greatest apps and software on the market without issue.
The Old-Fashioned Reset
Chances are that if you call any IT support line for a technology-related problem, the first thing they'll ask you to do is reset it. Turning your modem and router off, waiting a count of 30-seconds, and turning everything back on again could be enough to kick start your Internet. The problem could be connection related, and if that's the case, kicking your computer off the network and restarting everything should resolve it.
One way to check if it's your connection rather than a device is to try your Internet from multiple devices in your home. If a movie streaming service has stalled on your laptop, for example, see if it will run on your tablet. If it's slow all around, the reset might be just the thing to get it moving again.
Contact Your Internet Provider
Once you're sure everything isn't working the way it should be, call your Internet provider. Explain what's happening, advise of any error messages involved, and see if they can tell you what's going on. If you're having trouble connecting to the Internet, or it's too slow to do the things you want to do online, it could be that you have the wrong package.
Your Internet package should be based on the things you love to do online and the number of people in your household or office. Lighter packages are great for the budget, but not so great for those who want to stream over multiple devices simultaneously. Most of the economical packages are designed for those who want to send emails, browse the web, and maybe do a little light streaming. Anything more strenuous than that will require higher internet speeds.
At Execulink we offer a variety of customizable packages with no commitment and free installation. We know that each of our customers is different and the plan your neighbor uses may not work for you. Be sure to tell your internet provider where you're seeing the most delay, whether it's downloading, waiting for emails to send, or during movie and music streaming.
Reduce Usage of Apps Which Hog Bandwidth
There are so many apps now that modern Internet users could go their entire lives without ever needing a physical calendar or alarm clock again. The only problem with all these wonderful tools and games is that some of them continue to run in the background. The same issue exists for desktop computer and laptop users. Some music programs and downloading programs run silently in the background long after you've closed their windows. These inadvertently cause bandwidth-hogging issues.
In the settings of your iPhone you can select to close out of inactive apps after a certain amount of time. Similarly, you can check which apps are inactive on your computer, laptop, and tablet and close them down properly. Freeing up bandwidth means freeing up power for your devices to use your Internet more freely.
Try a Browser That Takes Less Juice
Some browsers require a little more power than others. While changing your browser isn't a permanent solution for a slow Internet connection, it can increase speed for some time while you figure out your next step. Opera Mini and Chrome's Lite Mode are both excellent options for browsing without all the bells and whistles that slow your Internet.
By optimizing your Internet this way you'll have access to more of the things you like to enjoy online without the delay.
Sign up with Execulink to Experience Awesome
If you find your current Internet service provider can't help with slow speeds, then it might be time to call in some faster Internet. At Execulink, we understand how frustrating it is when Internet is slow. We offer different Internet speeds for different lifestyles in the hopes that we can find something for everyone.
If you're not sure what your current Internet speeds are, you can run a speed test. This will help you understand how fast you need your Internet to run to do the things you love. Execulink can help improve your wireless signal and get you an Internet plan that works for you.
Being a proud Ontario-based Canadian company, Execulink considers each of our customers a friend and neighbor. Our support team is on call 24/7 to help you troubleshoot a slow connection speed or choosing the right Internet plan.
For more information on repairing a slow Internet connection, troubleshooting wireless routers, or getting a better wireless signal in your home, contact Execulink at 1-888-936-1273 or by email at customercare@execulink.com. When it comes to wireless networking, we've got your back.