Humans of Execulink: Erika Russelo
July 12, 2019 Category: Humans of Execulink
Click here to see Execulink's Home Internet options

This is our first post of a new blog series about the awesome people who make up Execulink Telecom!  We pride ourselves in hiring and investing in local employees and we want to share the stories of our team.
Our first featured employee is recruitment specialist, Erika Russelo.  She is passionate about helping others find fulfillment through their work.  She knows what it means to live our values. We had the opportunity to interview her to learn more about her role!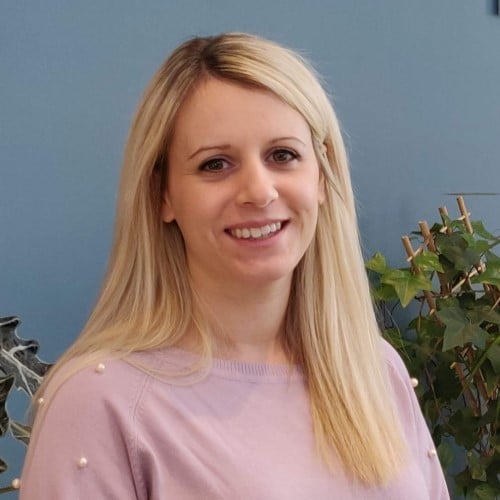 Meredith: What do you love about your job?
Erika:  One of the things I love is connecting people to positions here with Execulink. It's a great feeling when I can get that right person into the role, which is a mutually beneficial working relationship for both Execulink and the job seeker.  When you find the right person, it's really exciting.  You watch them as they're starting out in their first couple weeks.  You hope that they do really well and you root for them.
M: How would you describe working at Execulink?
E: I would describe it as being a small part of a bigger picture. Within Execulink there are so many different departments and we all have to work together to provide really great customer experience.  When you're missing one part, the other parts can't function. Working at Execulink is all about team work and being able to work efficiently with other people.
M: What keeps you motivated throughout the day?
E:  I stay motivated by understanding the need to have great people hired to work here.  It means getting positions filled.  I want to continue to find the best person to hire. Staying motivated also means being able to report good news and doing my part for the company.
M: What are some challenges you've overcome while working here? What is your approach to problem solving?
E: Right now Execulink is in a major growth state so I am busy recruiting for many different roles.  One challenge is making sure I understand the roles I am recruiting for.  I use resources like checking the job descriptions and relying on managers and employees who fill those roles to help me fill any gaps.
Another challenge of mine is time management.  My approach is finding ways to organize myself and understanding what I need to get done. Booking specific tasks into my calendar and having clear communication about deadlines is the best approach.
M:  Our vision, mission and value statements are extremely important at Execulink.  What does providing an awesome experience for customers mean to you?
E: Being able to provide an awesome customer experience starts with the staff.  So that's where my part is with customer experience. I want to make sure that I'm doing my best to help recruit happy, knowledgeable and skillful people.  They can in turn, help out our customers.  Execulink tries really hard to keep our employees happy, which is a good thing as well.
M: What ways does Execulink try to keep employees happy?
E: There's tons of ways Execulink makes its employees happy. From hotdog days to the amazing employee discounts, benefits and health and wellness programs, we really do feel appreciated. One of my favourite things is birthday cupcakes! That's always wonderful! It's a small thing employees always love.  Also that Execulink is involved in the community.  I think Execulink does a great job at fostering close relationships amongst the staff. It's a great place to come to work every day.
This was a wonderful chance to learn more about being a recruitment specialist.  Please check out our careers page here to find the opportunity that's perfect for you.  You could have the chance to meet Erika too!