Humans of Execulink: Jennifer Versteegen
March 4, 2022 Category: Humans of Execulink
Jennifer is a committed member of Execulink's Sales team. She's a Business Relationship Manager passionate about delivering awesome solutions for small, medium, and enterprise businesses across the province. Her career has grown with Execulink since she started in 2015 as an Inside Sales Representative. Throughout her time, she has learned the importance of maintaining strong, long-lasting customer relationships
Jennifer answered a few questions for us and we were so happy to learn more about her!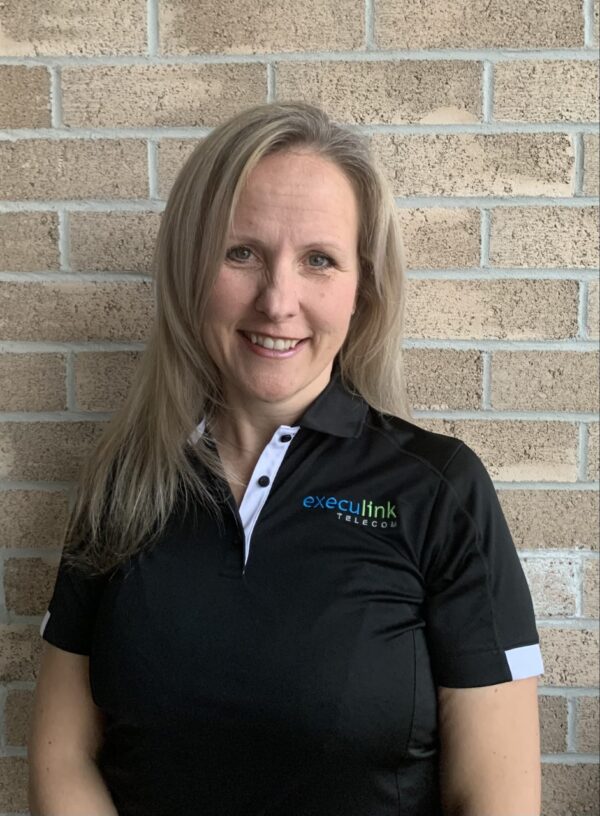 1. How would you describe yourself and your role at Execulink?
I am a very outgoing person who loves working with people. I would describe myself as a team player that works hard to exceed our clients' needs on a daily basis.  In my role at Execulink, I am a business solutions expert.  I work with small, medium and large enterprise businesses specializing in complex business solutions.  I offer solutions ranging for Internet and Voice services, to Hosted Phone, Fibre, custom Wi-Fi and Data Centre solutions.  I leverage my years of experience and success of other large business partners as I work with prospective customers to provide them with the awesome experience they deserve.  Each customers' needs are unique and I work to tailor my recommendations to meet both their current needs and offer recommendations for their future expansion.  I truly value the relationships and partnerships that I have established with my customers at Execulink.
2. What has your experience been with Execulink's company culture?
Execulink is very family oriented. They offer a great work life balance and are extremely accommodating towards their employees' personal needs.  We are encouraged to be innovative and develop professionally.  Execulink is very inclusive and treats their employees as they would treat their customers. Health and safety of employees is paramount and Execulink has taken extensive measures to ensure staff feel safe in their work environments, especially during the evolving pandemic.  Execulink works to ensure they are meeting the needs of our ever-expanding employee and customer base.
"Telecommunications is a growing market and I love being able to provide cutting edge technology solutions to support our business customers."
3. How have you grown professionally while on our team?
Execulink has supported me at every stage of my advancement. I have had the opportunity to grow and expand my role over my past 8 years with Execulink.  My initial role with Execulink was an Inside Sales Representative, where I answered incoming and placed outgoing calls and offered business solutions for small to medium sized customers. I then transitioned into the role of Outside Account Manager, where I travelled across South-Western Ontario to work with medium to large business customers. That role led me to my current position as a Relationship Manager, where I manage a book of over 130 clients and specialize in complex telecom business solutions for large enterprise customers. No matter what the size of business is, I am always willing to help provide my customers with the tailored telecom services they need to ensure they receive the awesome experience they deserve.­­­  The Internet and telecommunications is a growing market and I love being able to provide cutting edge technology solutions to support our business customers.
Jennifer's ability to deliver awesome experiences and solutions for her customers' is incredible. If you think that being a Relationship Manager like Jennifer sounds like a great opportunity, consider joining the Execulink team – we are currently recruiting for a Relationship Manager!

Learn more about Execulink's Career Opportunities