Humans of Execulink: Jonathan Lindsay
July 10, 2020 Category: Humans of Execulink
Click here to see Execulink's Business Internet options

Jonathan Lindsay has been with Execulink Telecom for just over 1 year and brings a plethora of experience and humour to his Sales Engineering position!  He loves finding cutting edge technologies and implementing them for our business customers.  He has a knack for explaining highly complex systems in a way that is easy to understand for those who are not so technically inclined.  If your business is searching for an affordable WiFi solution, then he is the expert for you!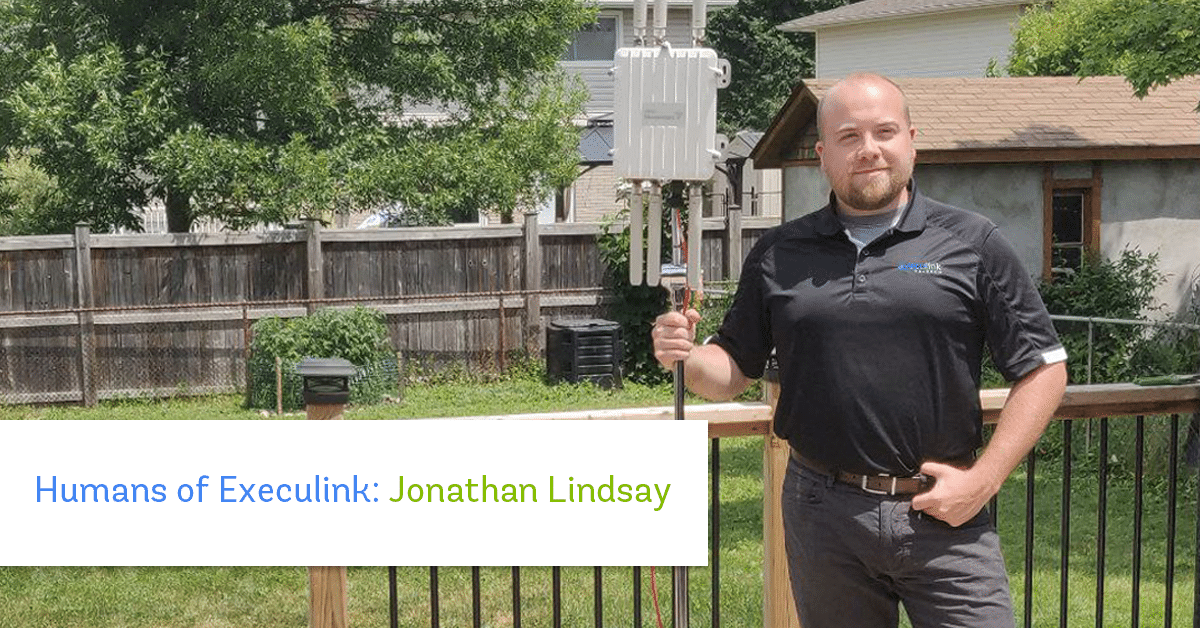 Would you be able to describe your role?
As a Sales Engineer, my goal and role within Execulink is to bridge the gap between product development and supporting the business Sales teams offering these solutions to prospective and existing customers. Specifically, I am responsible for identifying business needs based on feedback loops, and forecasting new service needs as businesses grow and new technologies emerge. Another key responsibility is assisting our Sales teams quote, and structure advanced network topologies using Network Diagrams and Scope of Work tools for our customers.
What projects are you excited about right now?
There are many exciting projects I am working on. Currently, the biggest project I am most excited about is our new Business WiFi solution, which tackles WiFi from concept to future growth and support. Within this project, we've launched a new SMB (Small / Medium Business) WiFi Access Point product that is the definition of "big things come in small packages." We're able to make incredibly robust wireless solutions with an Access Point that is less expensive than going out for lunch once a month! Also joined at the hip with this Business WiFi solution is our new WiFi Planning service that uses an advance spectrum analysis tool combined with many wireless radios to effectively plan and troubleshoot WiFi deployments. We take a thorough analysis of any building or outdoor space and look for interference or materials that may block WiFi signals. With that, we introduce AI algorithms and predictive models to simulate and build a solution that addresses our customer's wireless needs.
We're also in the concept stage of an extra-terrestrial microphone that can pick up sound waves from many galaxies over. Unfortunately met with less than promising results so far. *laughs*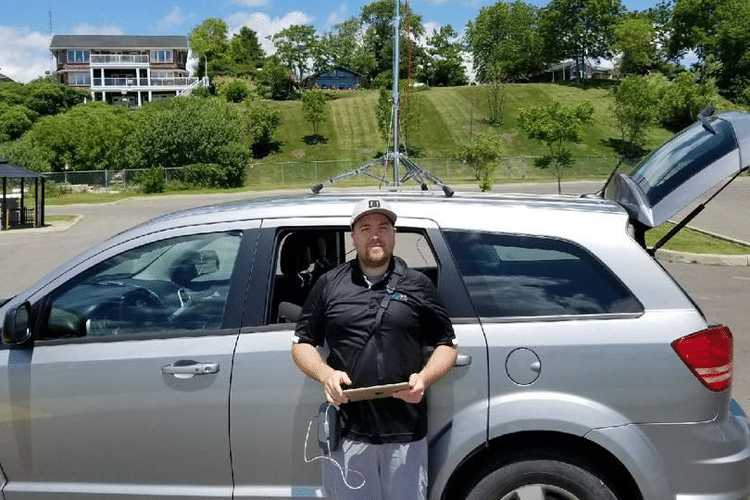 What does providing an awesome customer experience mean for you?
My goal every day is simply to surpass expectations. At work, if we have a challenge brought on by a customer's unique network, or a product / solution that we've found to be important to our customers, I strive to exceed expectations every time. That philosophy is able to help carry our products by their own merits. When COVID-19 hit, we suddenly had a new obstacle that was "work from home." We didn't want to just do the minimum, we created the flexible workspace which allows you to seamlessly bring your hosted phone extension home with you, and use it the exact same way you would at work. We tirelessly migrated many customers to VPN solutions so they could allow their employees to connect to their networks from home. Very shortly we hope to introduce an awesome video conferencing platform allowing our customers to work together until and after they are ready to return back to the office!  With these solutions, we plan to exceed expectations, and provide our customers with the awesome experience they deserve!
What drew you to being interested in the telecommunications industry?
I started off as a field technician for another ISP in Canada, installing phone lines, Internet and TV services. I enjoyed being out climbing poles, building infrastructure, and frequently traveling to very remote areas in Ontario for extensive periods of time providing phone lines to indigenous groups. This particular industry changes very rapidly which is something I love.  Every day is a new experience! The Sales Engineer role is perfect as not only do we deal with new technologies, we are forecasting them, and that is what drives my interests.
Do you have any favourite TV channels?
I enjoy Food Network, Nat Geo, Adult Swim and I'm embarrassed to admit to watching TLC shows like 90 Day Fiancé, and whatever spinoff that show creates. Up until recently, my TV was perpetually on TSN or Sportsnet!
Click here to see Execulink's Business Internet options

What a great opportunity to learn about how to become a Sales Engineer and what the job entails.  Jonathan works hard to deliver optimal solutions for our Business customers and he is a great asset to our team!  If you want to explore Execulink's Internet, TV and Phone options for your business, check out our page here, give our Sales team a call at 1-866-706-1992 or email us at sales@execulinktelecom.ca!