Humans of Execulink: Lisa L.
August 30, 2019 Category: Pop Culture
Click here to see Execulink's Home Internet options

Our Customer Liaison team plays a vital role at Execulink by enhancing the lives of our customers through their conversations over the phone, email and live chat.  We had the pleasure of learning about what this role is like from Lisa L.  She adds a huge amount of value to our customer's everyday lives as she interacts with them to implement changes and find solutions.  She provides an awesome customer experience with her positive attitude and strong understanding of Execulink's services.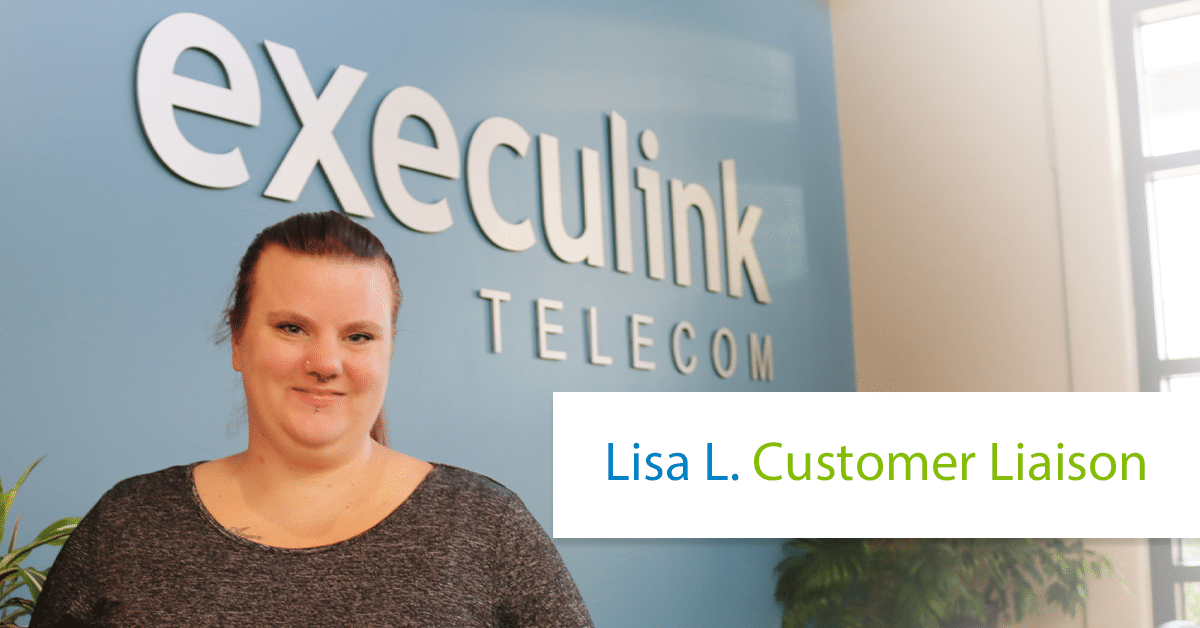 Would you be able to describe your time at Execulink?
I started working at Execulink Telecom in March 2019. Joining the Liaison team, I was not sure what to expect. I knew that I would be working on the phones with customers but I didn't realize the depth of knowledge required.  As part of our training with our new colleagues on the floor, I came to realize every single call you take during the day could vary tremendously.
After the training was completed, I took my first phone call, which I have to admit was terrifying. But, with a seasoned agent sitting right beside me helping me whenever I needed it, I knew I could not fail. As I continued, my knowledge and confidence grew and I became less nervous about speaking to customers.
Now almost six months have passed since I was a nervous new agent working at Execulink, and it has been an amazing experience. Every call presents a chance to learn new and exciting information. It can be anything from a simple billing call, to a complex Internet issue. If the call needs to be directed to another department, we make sure the next agent is already informed about their needs.
Working at Execulink has helped me grow as a customer service representative, and expanded my knowledge of the information technology industry.  So far, it has been an amazing experience and I am beyond excited to grow my career at Execulink Telecom!
What do you love about working at Execulink?
I love that every day when I come into the office it feels like a family reunion. Everyone genuinely loves working here, and it creates a wonderful environment!
This company really does appreciate their employees. The benefits are wonderful.  The management team knows you by name! It is awesome that you see our CEO, Ian Stevens in the lunch room just hanging out with the staff.
What does providing an awesome customer experience mean to you?
An awesome experience for a customer means going above and beyond to make the customer happy.
I love to resolve any issues the customer is having with efficiency and a positive attitude.  This results in the customer feeling appreciated and happy with our services.
My idea of an awesome customer experience is when a customer is able to end the call feeling satisfied so they can use our services with ease. This could mean helping them set up new equipment or troubleshoot existing devices.  It is also important to provide reassurance that they can call us 24/7 for assistance.
Providing an awesome customer experience means starting and ending the call with a smile. The agents here are well trained and able to help the customer with many different questions or concerns.
What advice would you give a new hire in your department?
You are about to start your career with Execulink. This job is one that you can use to build your future. Even if you are starting this job not knowing much about Internet services, the training Execulink provides is thorough and in the end you will feel confident to answer any question customers have for you.
Every day and every call is a learning experience. With the uniqueness of this job, it requires you to expand your knowledge on all the different products and services that Execulink offers.
Could you describe a lesson you have learned while working here?
While working at Execulink Telecom, I have realized how vital the Internet is to our customer's lives. There are many who work from home and use our Internet services. If they have an issue, it can affect their whole life and income.
With that in mind, when a customer calls, I am willing to do everything in my power to get them up and running.  When the issue is resolved and they are able to get back to their everyday life. The appreciation in their voice makes everything worthwhile.
This was a fantastic opportunity to learn more about what it is like to be a Customer Liaison. We are so thrilled to learn more about Lisa and her contributions to Execulink.  If you are interested in joining our team please check out our careers page to learn more!