Humans of Execulink: Rob B.
October 4, 2019 Category: Humans of Execulink, Pop Culture
Click here to see Execulink's Home Internet options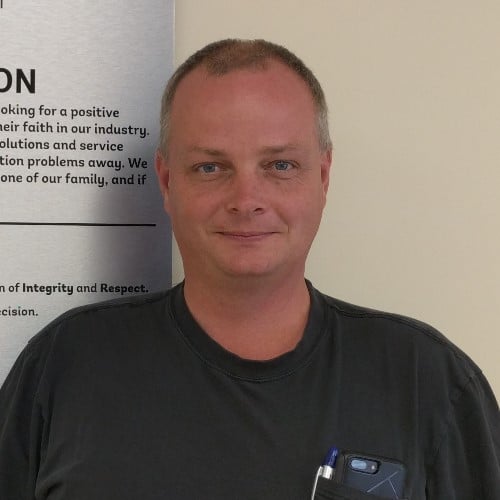 This week we had the opportunity to learn about what being a field service technician at Execulink is like from Rob B.  He installs Fibre, Cable, DSL and Hosted Phone solutions for homes and businesses. He also does repairs, locates underground utilities and maintains our cable plant.  This broad spectrum of activities provides a challenge and makes him excited to come to work everyday!  When he is not at work he is busy coaching his daughter's ringette team and his son's hockey team.
1. What is a lesson you have learned while working here?
At Execulink, the company core values and mission statement are top of mind in my daily work.  The one that resonates with me the most is "we align the interests of the individual with the interests of Execulink".  What I love about working here is that employees have a voice in creating meaning in their work. Execulink prioritizes the interests of the individual and overall business interests.
2. What is your favourite part of working at Execulink?
Since I started at Execulink two years ago the first thing you notice is the friendly atmosphere.  This is my favourite part of working at Execulink.  As well, there is always something new to learn to keep the job fresh.  With the wide variety of tasks my job entails, I am constantly learning new things and given opportunities for growth.
3. Explain what providing an awesome customer experience means to you?
Providing an awesome experience means making sure the customer is happy.  When I finish interacting with a customer, I want them to feel like a member of our Execulink family.  Having clear communication with customers ensures I am meeting their expectations.
4. While at work how do you live by the "keep it simple" principle?
Although it is hard to keep things simple all the time, when talking with customers I try to adapt my language to keep the conversation on a level they will understand.  I adapt to the individual customer's understanding of the technology we are working with in their home. There are many complexities to the telecom industry but explaining the technology behind Fibre, Cable and DSL internet in an accessible manner provides a better customer experience.
5. Do you have any memorable customer interactions you would like to share?
I was called to a customer's home in Ipperwash to repair a cut phone line.  While I was there working to repair the line, I noticed the customer was home.  I decided to check in with her to ensure she was happy with her services. She mentioned that her set top boxes were not working properly.  I was able to repair them for her as well!  This was a great opportunity to provide an awesome experience for a customer by saving her time.  She no longer needed to book a second service appointment and was thrilled with her TV and phone services.
Thank you Rob for providing these awesome answers. We are so lucky to have a committed member of the team like you.  If you are interested in becoming a field service technician like Rob, check out our careers page and the perfect opportunity might be available for you!