Internet Basics: What's the Difference between a Modem and a Router?
March 27, 2017 Category: Pop Culture
Click here to see Execulink's Home Internet options

The modem and the router: Two pieces of Internet equipment in millions of homes in Canada and yet every day we get questions from people asking why they need them or what they even do! So, we wanted to shine a little light on both of these devices and explain in quick and simple terms what they're all about.
THE MODEM
Think of the modem like a bridge. It bridges the gap between your home network and your ISP, sending, receiving and converting data so you can use the Internet. While not every type of Internet requires a modem in your home (eg. Fibre and Fixed Wireless), every Internet service has some type of similar device that converts the data coming from the transporting material (eg. Fibre lines, coaxial cable, wireless signal), and turns it into a format that your router can understand and push to your device(s).
THE ROUTER
What does a router do? Well, it routes! That is, it routes your Internet connection from one physical connection to multiple devices, so that they have access both to the Internet and eachother. So through a router you could have multiple computers and devices connected to the Internet. Many routers are wireless (contain wireless radios) that let you connect Wi-Fi devices wirelessly as well. Additionally, the router adds some protection to your devices in that they aren't directly exposed to the Internet.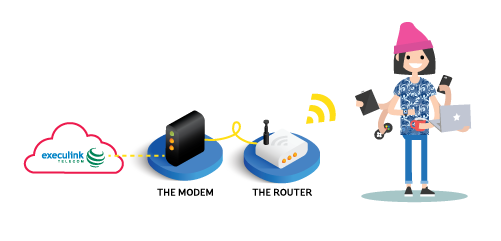 THE MODEM/ROUTER
Depending on the service, you may have the option for a combination device that serves as both a modem AND a router.
We hope this quick info session has helped you get your head around this equipment a little better.