Making your Installation Expectations a Reality!
March 19, 2018 Category: Pop Culture
Click here to see Execulink's Home Internet options

Have you ever ordered a couch online? You wait in anticipation for the delivery day and dream of sprawling out on those fluffy down-filled cushions, but then—surprise! An unsightly couch -that looks nothing like the photos online- greets you at the door. We have all been there, and we know the disappointment of receiving a product that isn't at all what you expected. That is why our team at Execulink is always proud to deliver on what we promise!
We are customers too and we strive to live by the "keep it simple" principle by removing all complexities and waste. We take pride in our tidy and professional installations that are consistent with our outstanding quality and care. We want you to have the awesome experience you deserve, from your initial inquiry to your final installation, and afterward; that is why our Field Technicians are highly trained to provide unbeatable customer service!
At Execulink, we always strive to install with care – just ask our happy customers!
Just had our service installed today and just wanted to mention that the two gentlemen that were here today were amazing! Very professional, informative and neat.
– Jason, Mount Elgin
We love hearing positive reviews about our team from our customers. Brad, from High-Tech Auto Care in London, was so impressed by our technician's clean and professional work that he sent us this picture: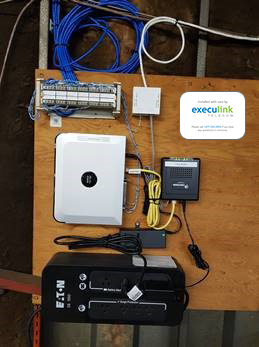 Everything went great with the installation. Ken is a great tech and I would like to compliment the whole install and service team there. Please let them know I am very satisfied so far!
– Brad from Hightech Auto Care, London
We understand—there's nothing worse than paying for something and getting less than what you expected. We hope that all our customers' experience with us is as positive as the two we've showcased here, so you can have a positive story to tell your friends.