Maximizing Your Business Potential with Execulink's Link TV: A Complete Guide to Utilizing TV for Business Growth
June 8, 2023 Category: Business Services
In today's competitive business environment, it's vital to continually find ways to enhance your customers' experience. One strategy that might not immediately come to mind, but can have a significant impact, is the implementation of a personalized TV service in your establishment. A dynamic and engaging atmosphere can be a determining factor in your customers' decision to keep coming back. At Execulink, we understand this challenge, which is why we offer Link TV – a versatile and personalized TV service designed to meet the unique demands of businesses.
Why TV for Your Business?
You might wonder, 'What can TV do for my business?' The answer lies in enhancing the overall customer experience. Television can provide entertainment for your customers, reducing perceived waiting times, improving their mood, and making their visit more enjoyable. Depending on your business type, it can be used to create a lively atmosphere, present relevant information, or provide a comforting backdrop. By offering your customers an engaging viewing experience, you can differentiate your business from competitors and give customers one more reason to choose you.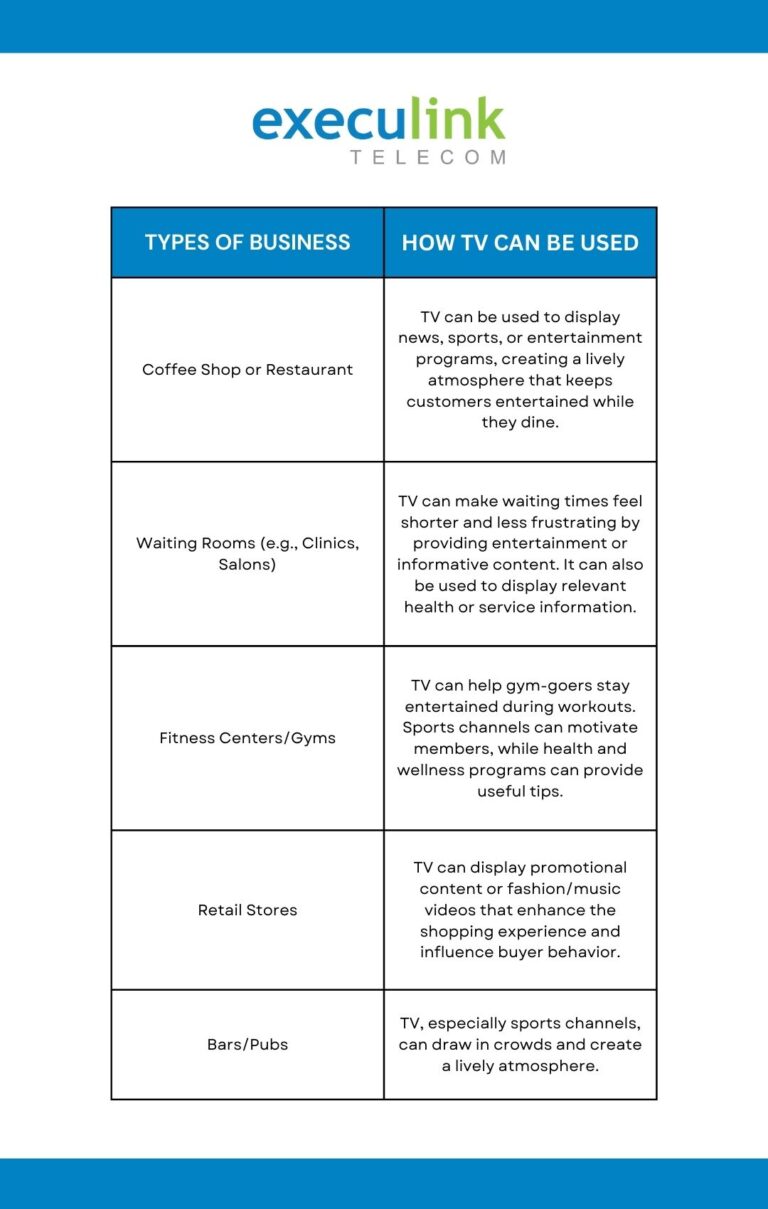 Understanding Execulink's Link TV for Business
Link TV is an innovative TV service packed with unique features that can be customized to cater to your business needs. Whether you're running a coffee shop, a waiting room, a fitness center, or a retail store, the flexibility and versatility of Link TV allows you to provide an engaging and comfortable environment for your customers.
Personalization and Affordability
Link TV offers an array of affordable packages, starting with the Link TV Starter Package which provides over 25 channels. You have the freedom to add more channels, allowing you to control costs while providing an array of viewing options for your customers. More importantly, Link TV is designed to adapt to your business needs, allowing you to customize your service with Theme Packs, Pick Packs, Single Picks, and Cloud DVR options.
Exploring Link TV's Business-friendly Features
Link TV provides features that meet the unique needs of businesses. For instance, the Catch-Up TV feature allows your customers to enjoy their favourite shows that they might have missed, ensuring they have a positive experience while at your establishment.
Our Cloud DVR feature, which comes with 5 hours of recording time, enables you to record and replay popular programs, which can be beneficial during peak business hours or for replaying significant events.
The Convenience and Flexibility of the Execulink TV App for Your Business
In this digital era, your business demands convenience, flexibility, and an edge that sets it apart. Our exclusive Execulink TV App can provide just that. Available on Amazon Fire TV, Android TV, Apple TV, and Google TV with Chromecast, this app brings the power of Link TV services directly to your business. Whether you're operating a coffee shop with a smart TV or a retail store with tablets at every corner, you'll find that Execulink TV fits in seamlessly with your setup.
Moreover, the Execulink TV App doesn't just stream your favorite content; it offers features that can enrich the customer experience in your business. With options such as Restart TV or Catch Up TV, you can curate an engaging viewing experience that caters to your customer's tastes. And, with Cloud DVR, you can record shows directly through the app, ensuring you always have relevant and enticing content at your disposal.
Perhaps best of all, you may find that utilizing the Execulink TV App brings potential cost savings for your business. With the app's functionality, you might decide that renting a Set Top Box is no longer necessary, freeing up resources for other aspects of your business.
Setting up the Execulink TV App for your business is as simple as downloading it from the Appstore or Play Store on your device and following a few quick setup steps. Once done, you'll be ready to leverage the power of Execulink TV to enhance the customer experience in your business.
Customizable Packs for a Tailored Experience
Every business caters to a unique customer base with diverse preferences. With Link TV, you can customize your TV content according to your customer demographics and business needs. From Sports to Kids, Culture, and News, there's a Theme Pack for you. Alternatively, you can create your own custom package with Pick Packs or choose specific channels with Single Picks, ensuring your customers always have access to the content they enjoy.
Free Previews and Premium Sports Packs
At Execulink, we believe in delivering value. We offer free previews to let you test drive a channel before making a decision. Our premium sports pack options keep your sports-loving customers coming back for every game.
Incorporating Link TV into your business operations can significantly enhance your customer experience and your overall business growth. With its unique features and customization options, Link TV is more than just a TV service – it's a tool to help maximize your business potential.
At Execulink, we are committed to providing you with services that help you grow and excel. Discover the power of Link TV today, and transform your customer experience for the better!