Staying Ahead of the Curve in a Post-Pandemic Future
March 14, 2022 Category: Business Services
As a result of the pandemic, many industries had to do a serious pivot from the way they used to do things. Business owners/operators had to accelerate their uptake of digital products, services, and tools to adapt their in-store and online strategies to continue to operate and meet the needs of their consumers. Though the transition may have been challenging, this new direction in many cases brought with it positive results.
Digital adoption that would have taken months or years to implement was essentially done overnight. Companies had the opportunity to innovate and introduce new products to the market to keep business operations up and running. As a result, businesses have become more confident with digitalization now that they have experienced the need, seen the efficiencies and convenience it's created, and in some cases cost savings.
Online services including retail shopping, food ordering services, and grocery services have all seen an increase in popularity. More people have begun to appreciate the value of being able to order all their goods and services from the comfort of their own homes and an increasing amount of people are enjoying the benefits that come with working from home. Because of the positive results to both businesses and consumers, this shift in direction has and will continue to become a more permanent change in the way organizations do business going forward.
So even though we are nearing the end of the pandemic, this doesn't mean things will go back to the way they were. This new normal has opened a window for innovation and technology that is only going to get better as the demand continues to grow for this new way of operating. As your business plans for the post-coronavirus future, it will likely include a combination of the things that worked for you before and the adoption of new technologies to succeed in this new normal.
Let's take a look at some key business trends that are here to stay, some industries that embraced them, and the impact these changes have had on business today.
Remote Work Arrangement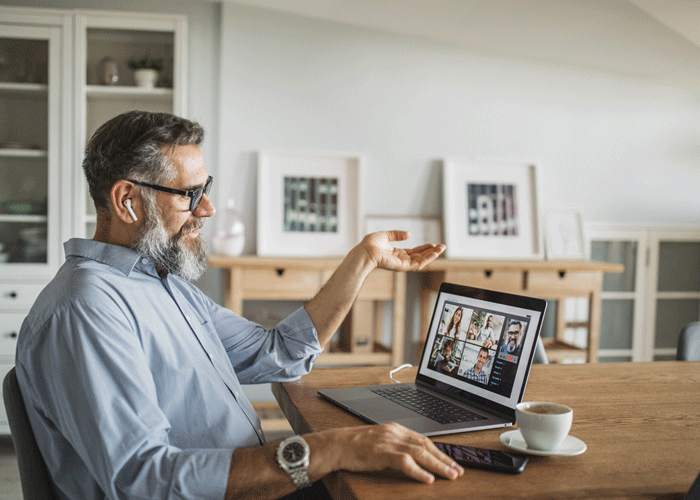 The pandemic brought on a major shift to remote working. Initially, this was a solution to enable companies to continue their operations while in-person work was halted. However, it was quickly realized by both employers and employees that there are many benefits to remote working. As a result of this shift, today's business landscape has forever changed. Many organizations have now moved to, or are planning to move to a hybrid working model.
A hybrid working model is set up to allow employees to work remotely and in the office. The benefits gained from offering a more permanent and flexible arrangement for staff include increased employee satisfaction and retention, increased productivity and performance, a decrease in the overall environmental impact, and lower operating costs to your business.
To adopt a hybrid work model, businesses require the right tools and technology to manage off-site work and enable seamless collaboration among their dispersed staff. As such, centralized networks have become mission-critical. The first priority is providing secure access to IT resources within the business and the Internet, typically through an Internet provider and virtual private network (VPN). From there you need to provide access to productivity applications including communications/collaboration tools like Microsoft Teams, or unified communication solutions like a Hosted Phone, plus traditional communication tools like e-mail and phone solutions.
Digitization of Customer Service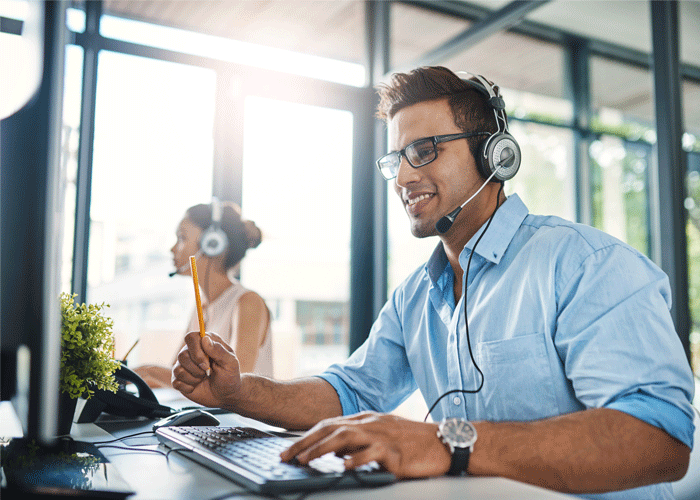 The call volumes in hospitals, government, financial institutions, and travel agencies skyrocketed during the pandemic. To handle this extreme volume they had to quickly transition their customers over to digital-first solutions, providing support to their consumers through digital channels like live chat, video chat, email, chatbots, SMS, and more. This enabled businesses to accommodate the needs of the consumer, giving them instant answers to their queries. It also gave customers the ability to interact with these businesses from all of their devices, for a faster, more convenient experience.
Healthcare providers shifted to telehealth services and remote monitoring, and gyms were forced to go remote due to lockdowns and social distancing. Remote healthcare in the past has been resisted, but with the sudden uptake brought on by crisis and the evolving technology that has allowed the industry to adapt, this will likely continue to grow after the pandemic subsides.
In the restaurant industry, many businesses launched delivery apps and partnered with third-party ordering apps to be able to offer a mobile solution to meet the needs of their customers while lockdown measures were in place. As restrictions lifted and in-person dining resumed more owners have leveraged modern technology into their in-house experience through digital and QR-coded menus and optimized payment processes; all in an effort to provide customers with the seamless, and quick dining experience they want.
For consumers, digital customer service gives them speed and convenience. For a business, digital customer service can help you increase customer satisfaction and reduce costs. Digital channels help cater to consumer demand, providing you with a competitive advantage based on offering the best customer experience. It's also a more cost-efficient way to support your customers, specifically if they include self-service options like a support section on your website or a company support app like Execulink Helps.
Greater Use of Self-Service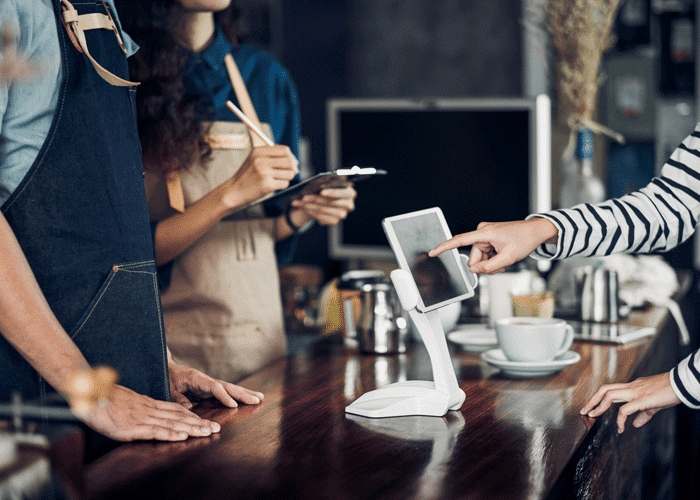 Organizations needed to limit their customer contact and adhere to social distancing guidelines. To do so, they needed to migrate their key contact types to touchless transactions but still provide a simple user experience for both their customers and employees.
Many outlets increased their investments in self-service kiosks. More retail outlets installed them or installed more for checkout. The healthcare sector used kiosk technologies for check-in purposes to help improve customer wait times.
As more people were using the kiosks the greater their comfort level grew with the technology and the value to both a consumer and businesses was realized. Customers now have more choice and convenience and employees can focus on other or more important tasks.
According to the 2021 Canadian Kiosk Market Report, Canadian businesses are including kiosk technology as part of their digital transformation strategies, with 77 percent of organizations stating kiosk technology to be important to their business in the next five years.
Shift to E-commerce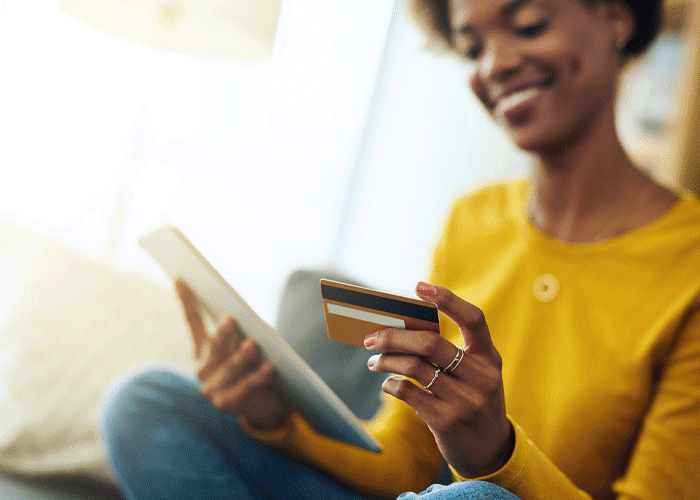 Canadian consumers turned to online shopping as strict guidelines were put in place to combat COVID-19 and businesses had to turn to an e-commerce sales channel to survive. Businesses that implemented e-commerce to sell their products during the pandemic are likely to keep this channel in the future. It provides another touchpoint to interact and sell their products and gives their customers more options and most importantly, convenience.
According to a study conducted by PayPal Canada, Canadians overall increased their monthly online shopping spending by more than $2 billion compared to pre-pandemic times, and this has permanently accelerated e-commerce.
With the adaptation of e-commerce among more businesses to stay afloat during the pandemic, competition has now increased substantially. Businesses will need to embrace emerging technologies that will help to create connections with their customers and continue to make their experience even more convenient to stand out from the crowd.
Execulink can help you build the proper network infrastructure for your business to support this new digital world so your business remains competitive and positioned for growth. Put your business ahead of the curve by taking a proactive approach to new and accelerated business trends.
Call us at 1-877-561-6771 today or visit our Business Solutions page to find the right technology and tools for your business.

Learn more about Execulink's Business Solutions here!