The 2017 Oscar Highlights (and That Shocking Twist Ending)!
February 27, 2017 Category: Pop Culture
Click here to learn more about Link TV!

We get it—ain't nobody got time to stay up and watch ALL of the Oscars on a Sunday night. It's pretty long, and some of the speeches can be so dull they make you fall asleep. They certainly made Chrissy Teigen sleepy.
But it is Hollywood's biggest and blingiest night, so we would be remiss if we didn't go over some of the highlights this year.
First, we have to talk about that twist ending. What in the world happened? Just to get you up to speed in case you missed it, Warren Beatty and Faye Dunaway announced (after some hesitation) that "La La Land" had won for the coveted Best Picture award. Turns out, they were holding the card for Best Supporting Actress (in which Emma Stone won for La La Land). Oops. Big Oops.
In a cringeworthly series of events, and only after the La La Land producers were three speeches deep, the crowded stage of people were told by some frantic stagehands wearing headsets that there had been a mix-up, and revealed the Best Picture envelope. Sorry, La La Land, you're living in… La La Land… Moonlight is stolel your… spotlight. Check out the full video below and try not to melt with awkwardness.
Luckily, the Internet blessed us with some cathartic humour out of the situation. A couple of my favourite tweets about the mix-up come from the king of twist-endings, M. Night Shayamalan, and the king of misread winner cards, Steve Harvey.
Ahh, thank you Internet! You can always be counted on to sprinkle some humour on an awkward situation. Now let's move on because, believe or not, a few other things happened at the Oscars. For instance, Jimmy Kimmel did a great job as host. One of his best stunts of the night was bringing into the event a real, unsuspecting tour group, straight off their tour bus:
How lucky are these people!? Especially #GaryfromChicago who has instantly become 2017's Ken Bone.
I think my favourite announcers of the night were hands-down Seth Rogen and Michael J. Fox, who popped out of a Delorean on stage while wearing self-lacing future boots from Back to the Future. They added a cherry on top by singing the Schuyler Sisters song from Hamilton, making everyone's night, including Lin Manuel Miranda's.
As far as the best fashion of the night, we saw a lot of gold glimmering in the camera flashes: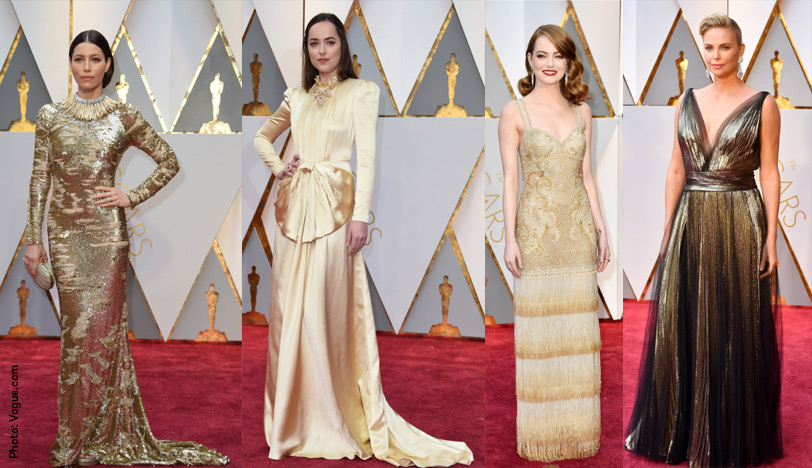 I think my personal favourite dress this year was Hailee Steinfeld's super-elegant floral number from Ralph & Russo. It looks like she popped right out of a fairy tale.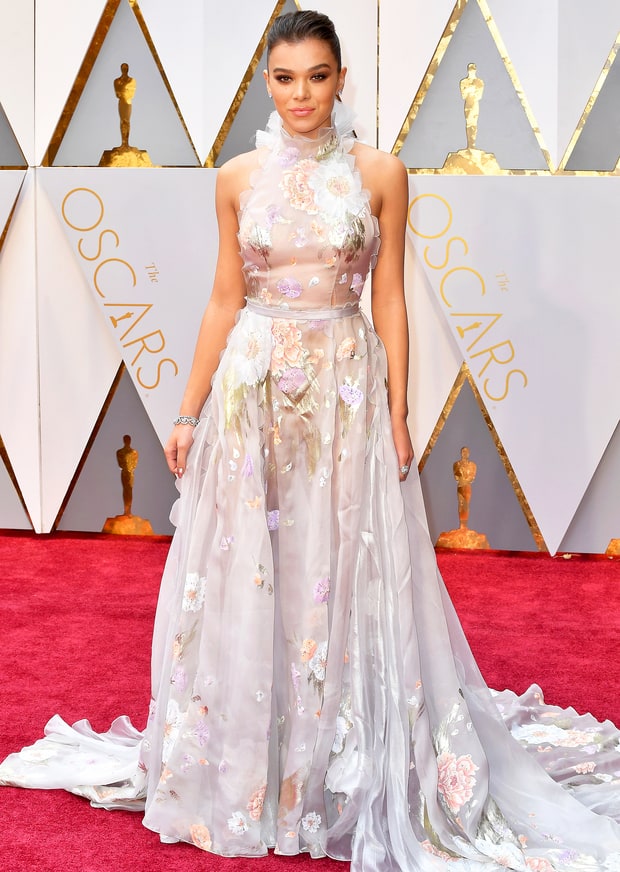 Photo credit: Jeff Kravitz/FilmMagic
We also saw some Canadian glory last night, as Ontario's Alan Barillaro won for Best Animated Short for Piper, and was even shown some kudos from the Prime Minister himself!
Congratulations, Alan and all the other winners of the night! You can find a full list of the winners here.