The Benefits of Complete Wi-Fi
October 15, 2020 Category: Residential Services
Click here to learn about Complete Wi-Fi

Do you have areas of your home where you just can't get connected to Wi-Fi no matter what you do?  If so, we have the perfect solution for you!  Complete Wi-Fi is an awesome new service available in many geographic areas where Execulink provides service.  Complete Wi-Fi technology works by combining our Premium Router with our Mesh Wi-Fi Nodes.  It creates a strong network in your home by covering more areas and sustaining your devices' connections.  Now is the perfect time to make an update to your router if your family is working or learning from home.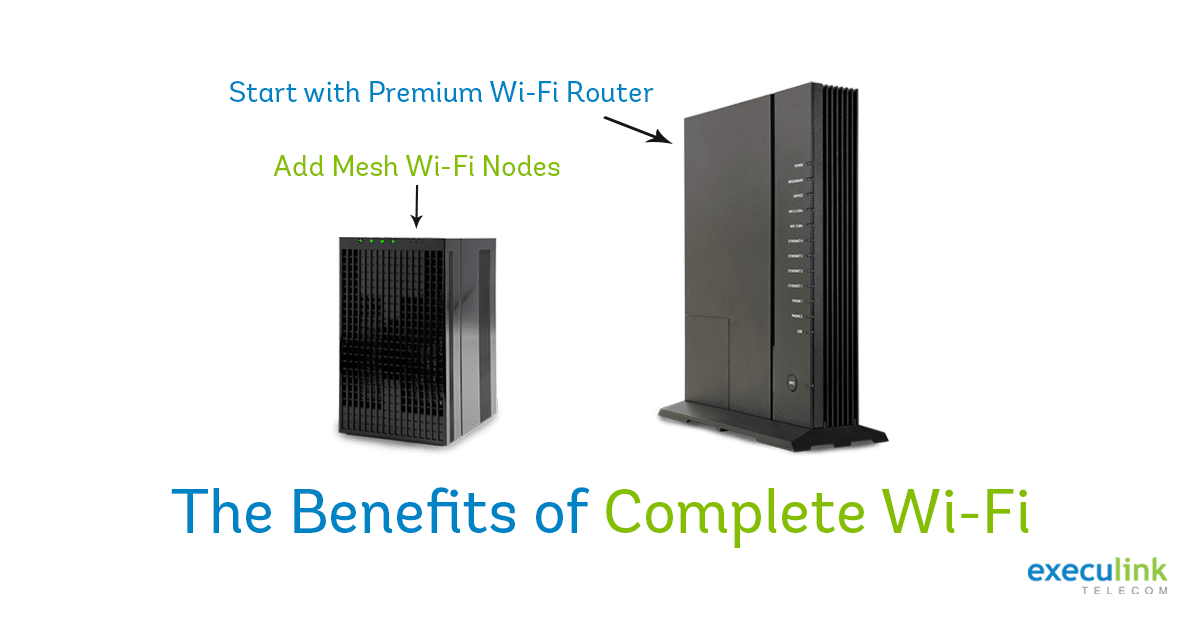 1. Better Wi-Fi Coverage
With Complete Wi-Fi and our Premium Router, you can blanket your home in fast, reliable Wi-Fi, connecting over 60 devices at one time.  Technology's influence on our lives is only growing and having a router to support your devices is essential.  More rooms in our homes have technology that requires a strong Internet connection and you deserve to stay connected in every room from the basement to the backyard!
The Premium Wi-Fi router will automatically select which frequency is best to reduce connection drops. It has Dual-Band support which means it has two Wi-Fi radios, high bandwidth applications (like video) are routed to the 5GHz band while lower bandwidth activities use the 2.4 GHz band.
The Premium Wi-Fi Router has four Gigabit Ethernet ports that let you connect a variety of wired multimedia devices for rapid data sharing across your network.  You can also share large files effortlessly over the network by connecting your portable storage devices to the Premium Wi-Fi Router's USB port.
2. Reliable
The Premium Wi-Fi Router helps maintain a strong connection in your home with self-healing functionality that reduces noise to improve performance.  This reliability is important if you are a heavy Internet user or gamer.  The router supports Internet speeds up to 1 Gbps so you can make the upgrade to faster speeds and get the new Premium Wi-Fi Router!
The Premium Wi-Fi router improves performance by reducing interference by focusing the wireless signal directly to your device using beamforming technology. Beamforming focuses the signal directly to the devices rather than having the signal spread in all directions from a broadcast antenna.  This technology can help improve wireless bandwidth utilization and increase a wireless network's range in your home.

3. Expandable
The layout of your home will determine the best arrangement of Wi-Fi Mesh Nodes for your Complete Wi-Fi set up.  You may not require a Node at all but, if your layout is more spread out, then you may need a Node or two.
If you find that you're still experiencing dead spots or you have a large home and the Premium Router doesn't quite reach everywhere, you can easily get a Mesh Wi-Fi Node down the road. That's the awesome part about Complete Wi-Fi – it's expandable and can change as your home and Wi-Fi activities change.  You can connect up to 4 Mesh Wi-Fi Nodes to your Premium Router.
4. More Insights
With Complete Wi-Fi, the Premium Wi-Fi Router and Mesh Wi-Fi nodes, we will have better insight into your connection allowing us to better diagnose and solve issues. We can perform a wide range of diagnostics to make sure you are getting the best possible service.  For instance, if your Internet connection is not strong we can monitor recent and current errors based on data from the Premium Wi-Fi Router.  We will be able to identify interference on your Wi-Fi network from other devices.  As well, by renting any equipment from Execulink Telecom, you get full 24/7 support and warranty on the hardware.
Our Sales team will be able to help you decide what the right Complete Wi-Fi option is for you.  You can make the upgrade with your existing Execulink services or sign up as a new customer!  Check out our Complete Wi-Fi page for more information. Call us at 1-866-706-1942 today or qualify your address and sign up now!