What is Hosted PBX?
April 9, 2021 Category: Business Services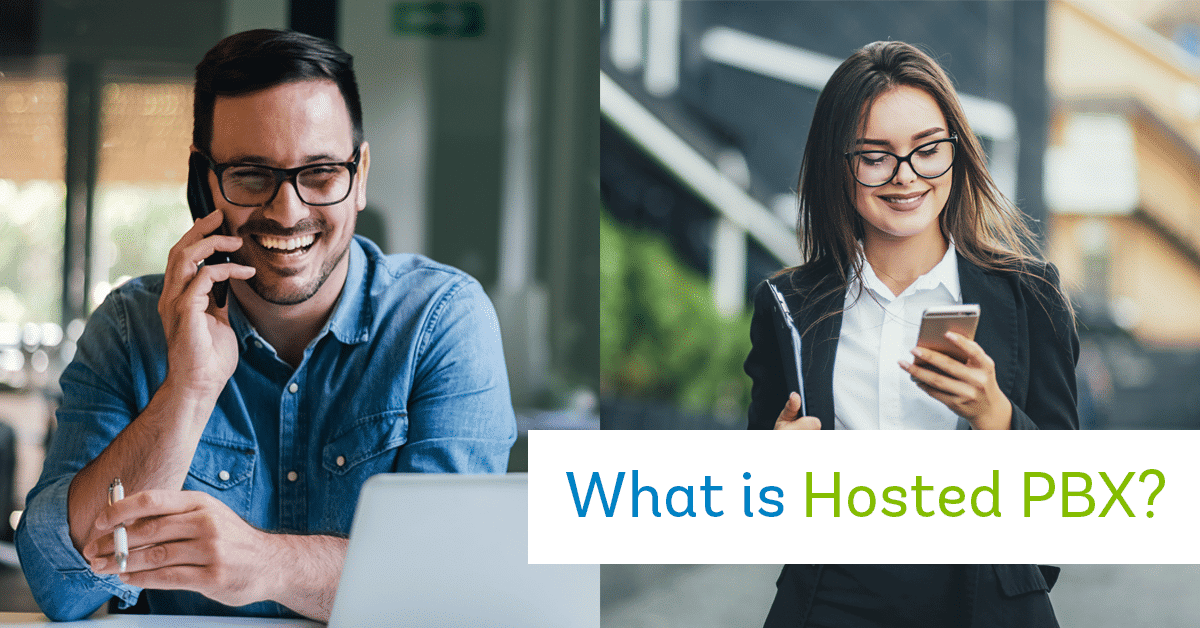 As businesses continue to adjust to the new normal, they are increasingly seeing the value in reliable communications systems that can adapt to their changing business needs. Now more than ever, it's important to have the right business phone systems in place. As a primary source of communication between your employees, co-workers, and customers, if the phone system goes down or cannot adapt, it will have a massive impact on your productivity, customer satisfaction, and brand reputation.
As more businesses search for better communication services and sift through the various options available, there are unsurprisingly many questions that arise. What is the best phone system for my business needs? What phone features do I need? And perhaps one of the most common questions we hear – What exactly is a Hosted PBX?
To make things easier for you, we're breaking it down so you can decide if Hosted PBX is the right choice for your business. Read on to find out what a hosted phone system is, how it works and what the benefits are to your business.
What is a Hosted PBX System?
A Hosted PBX (Private Branch Exchange) is an Internet-based or cloud-based phone system that is hosted off-site. It allows you to make calls using the Internet rather than relying on copper wires or fibre optics to make a connection as many traditional analog phones do. Your phones are physically on-site, but they connect to secure cloud servers through a new or existing Internet connection.
Routing calls through the Internet allows for multiple/concurrent calls without worrying about individual lines. Just how many concurrent calls is based on your Internet bandwidth. The better your bandwidth, the more calls you can have simultaneously. To give you an example, a typical voice DSL connection allows for 7-8 concurrent calls, whereas a Fibre voice connection can provide 100+.
A hosted phone service provider like Execulink can review your call capacity expectations with you and provide a dedicated voice connection so you never have to worry about how many "lines" you have!
How does it work?
When a phone system is hosted off-site, it means the responsibility of hardware, software, training, operations, maintenance, and more is handled by a service provider. The service provider manages the regular updates and upkeep, freeing organizations from endless hardware upgrades, repairs, and the overall complexity of managing a cloud-based phone system on site.
In short, a hosted phone streamlines your company's business communications, making it more flexible, scalable, easy to use, and easy to manage, resulting in much lower administration and set up costs that you would see with a traditional phone system.
Below is visual example of how Execulink hosts a phone system on its private network.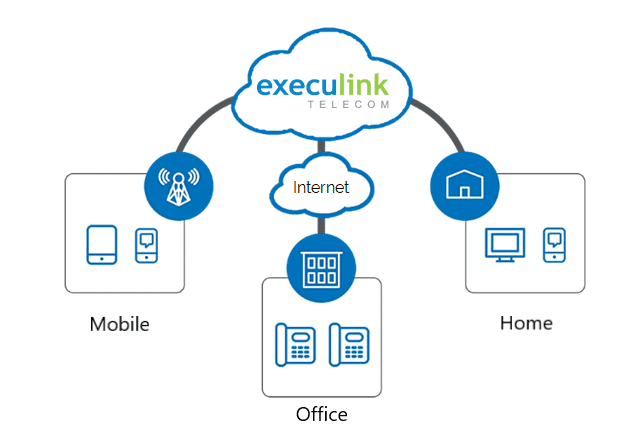 Execulink's Hosted Phone Service is a full-featured IP-based phone system, centrally hosted by Execulink Telecom in our own redundant and secure Data Centre. Your business phone service is delivered through a broadband connection providing the features and voice quality typically associated with a traditional phone system.
How does it benefit your business?
Implementing a hosted phone system has many benefits including cost efficiencies, scalability and, employee flexibility. Below are some of the main benefits to your business: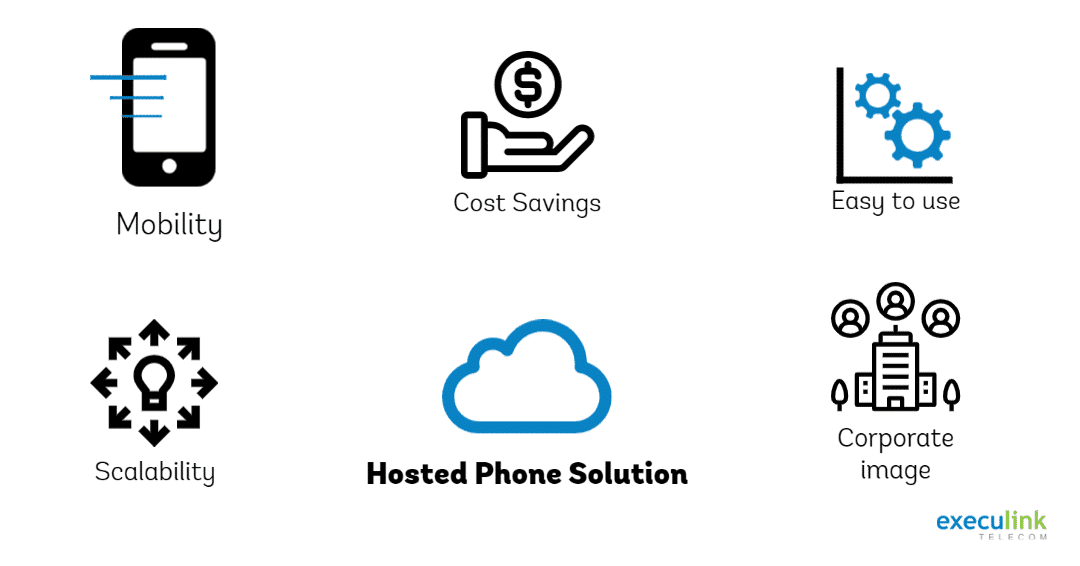 Cost Efficiency
Compared to traditional phone services, hosted phone systems offer large cost savings. The large upfront costs associated with owning and installing an on-site telephone system, which can cost up to $60/line, are eliminated. On top of these immediate savings, you save significantly over time by removing the need to have staff in-house to operate and maintain the system.
Flexibility
A hosted phone solution allows you to take your business with you, anywhere and anytime. You can customize your call flow based on your business' specific needs, replicate a dynamic office environment from your mobile device, and take calls if you're out of office. Essentially, employees can work from anywhere! This is ideal for remote working as well as for any outbound staff who may be required to travel.
If your business has multiple locations, the hosted phone system enables all of your sites to function as a single organization, even when each site is separated geographically. A hosted phone provides a unified management platform and the extension of shared feature sets at each site. With direct extension dialing between offices and remote presence for home office users, phone calls are managed as if all of your employees are in the same physical location even when they're not.
Scalability
A hosted phone system can scale based on your business needs. You have the ability to add new features as they become available, add additional lines, phones, and even new departments or site locations!
Regardless of if you're a startup or small business that is quickly growing or a medium-to-large enterprise with multiple departments and site locations, hosted phone systems are a great fit for any organization. Whether you require a system to aid in business function and boost corporate image or to assist with streamlined call flows and advanced communication features, a hosted phone system provides you with customizable solutions to meet all your organization's needs.
Features
Hosted phone systems come with all the standard features of a traditional on-site phone system you know and love while offering additional advanced features. The best part is that you can choose the exact features, integrations, and applications that your business requires and only pay for what you need.
For example, Execulink offers customers access to a comprehensive list of included phone features. These include basic business phone service requirements such as call forwarding, conferencing, and auto-attendants as well as numerous advanced options, such as call queuing, music on hold, call park, and hunt groups.
Easy to Use/Easy to Manage
Because the regular maintenance and upkeep of a hosted phone system is managed by a service provider, it inherently makes it easier to use than a traditional phone system. Service providers like Execulink also offer an easy-to-use and intuitive web interface for managing the phone system, allowing for simplified on-site or remote management.
Your business communication systems play a vital role in your day-to-day operations and customer experiences. A hosted phone solution not only provides a secure and reliable source of communication with your customers and employees and saves you money on upfront and long term expenses, but also frees you of IT-related duties and ongoing maintenance.  Overall, it enables you to adapt to the ever evolving business communication landscape and allows you and your team to focus on what matters: the growth of your business.
To learn more about Execulink Hosted Phone solutions, speak to an Execulink Business Representative today.