What is the Best Web Hosting Solution for a Small Business?
November 1, 2021 Category: Business Services
If your small business isn't online, then you're missing out on customers, marketing exposure, and are impairing your ability to compete with your top competitors. Web hosting solutions help you create and maintain a website, helping to modernize your business and connect with your target market. The web hosting service is the provider who owns the server that will host and "store" your website, making it accessible to the world. But what is the right web hosting solution for your small business? If you've been shopping around, then you've likely discovered there are countless options to choose from.
At Execulink, we provide leading high-speed business Internet service and awesome Hosting and Web Domain solutions. We understand how important it is to our customers to receive reliable service without interruption. We offer 24/7 customer support to help get your Internet and company website running as fast as possible.
Read on to learn about your web hosting options as a business, and how Execulink's Business Hosting & Web Domain Solutions can help complement your business' needs.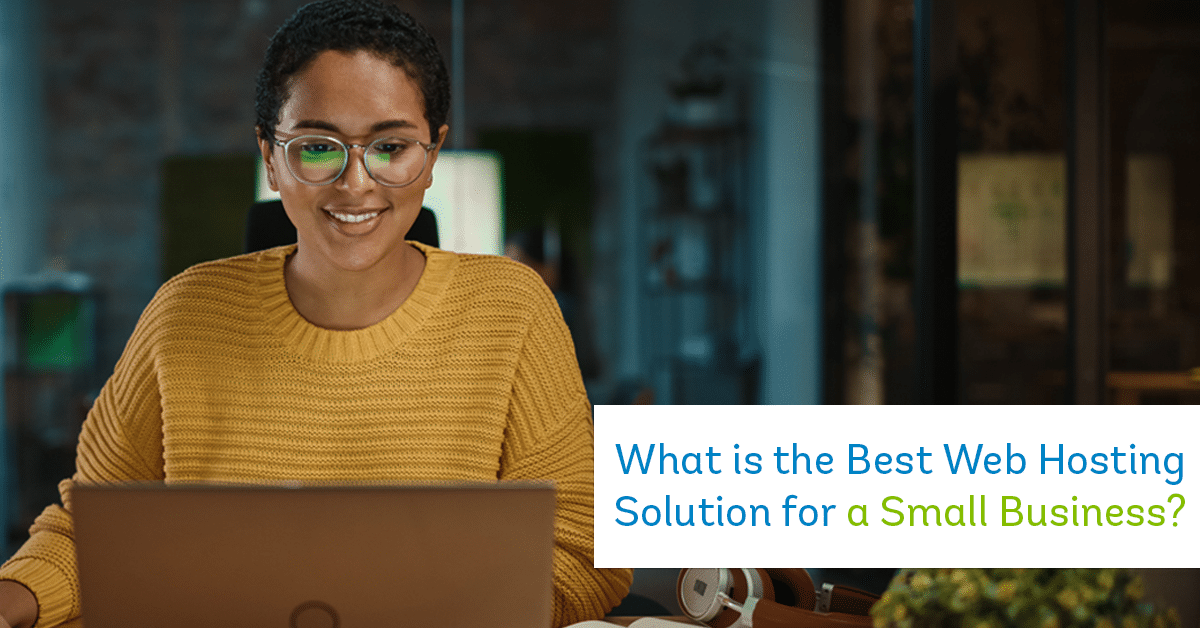 Hosted vs. Self-Hosted Websites
Some small business owners struggle to figure out whether they need a hosted or self-hosted website. Self-hosted solutions require a more hands-on approach; you'll start by obtaining the server space from a provider, but the rest of the managing and configuring of your chosen Content Management System (CMS) will be your responsibility. You'll need to find and integrate various tools and plugins on your own. This can give you flexibility and the opportunity for customizations, now and down the road.
Meanwhile, hosted web solutions can be a more convenient option for some businesses since they provide you with an all-in-one website hosting and building platform. However, note that this can create some limitations as a result of the platform being used; you may not have access to certain plugins or customizations that can make your website truly unique.
No matter which hosting option you choose, there are important factors to consider. Here's how to determine the right web hosting solution for your small business:
1. Budget
Web hosting is an ongoing expense, so it's important that the provider you choose is offering packages within your budget. Consider how much storage and features the provider is offering for that price. It may seem like a good deal initially, but if your small business easily surpasses your initial limits, then you may need to upgrade your web hosting package sooner rather than later. Keep business growth in mind and try selecting packages that have the flexibility to grow or scale alongside your business. Don't choose a package solely based on price; a reliable web hosting package with a reputable provider will give you far greater value for your money, and may even save you from costly headaches down the road.
2. Reliability
As mentioned, choosing a reliable web hosting provider is critical. If your web hosting provider doesn't have reliable service, then it can affect the quality and consistency of your business's online presence and may cause you to miss out on exposure and sales from potential customers. Seek out a provider with a history of reliable uptime. No provider will have a perfect record and websites will go down for a variety of reasons, but do your best to find a web hosting provider that will commit to prompt response time and issue resolution when things do go wrong.
3. Bandwidth
While most web hosting companies offer unlimited bandwidth, it's important to ask providers upfront if their packages have any limits. Bandwidth is the amount of data that can be transferred and can be affected by the amount of traffic your website gets at any given time. The amount of bandwidth is an important consideration because if there are bandwidth limitations, it can jeopardize your website. While it's uncommon for small businesses to exceed their bandwidth limit, if for instance you're having a flash sale that suddenly drives up traffic on your website, without adequate bandwidth it could cause your site to go down. Not only will this lead you to lose out on sales, but it can reduce the level of consumer confidence in your brand, which isn't easy to re-gain!  Upgrade to a web hosting plan with enough bandwidth to support your current needs and has the option to flex up if needed.
4. Security
Some web hosting service providers may not have security features that your small business needs. Take into account the types of security features you'll need on your site, such as https, for example. If you're planning on selling products or services on your website, then you'll need an SSL (secure sockets layer) certificate. Ensure you ask the web hosting provider about the security features offered in their package to protect your website and to give customers the confidence to complete a transaction with the peace of mind that their personal information is secure.
5. Disk Space
Disk space is the amount of storage needed for your website to store its files. If you're planning on uploading a lot of large pictures or high-definition videos to your website, then you'll want to be sure your web hosting service offers a lot of disk space. These days, websites feature lots of visual media to improve the user experience. Let's say you want to have a demo or introduction video on your homepage; will your web hosting package support all this rich media? Customers enjoy navigating sites where they can see and interact with your products and services, without lag time. That's why disk space can be an important consideration when selecting a web hosting package or provider. At Execulink, our Hosting Packages offer 1 TB of storage!
6. Customer Service
If you have a website emergency, then you'll want access to responsive, reactive customer support teams to get you back online as quickly as possible. Ask potential web hosting providers about the kind of support they offer, whether over the phone, email, or live chat. Are they available around the clock? Are their customer service representatives knowledgeable and helpful? Depending on your preferences, decide which web hosting provider has the communication available that will work best for your needs.
With 24/7 support and a wide range of Internet and Web Hosting options to suit every lifestyle, at Execulink we have the awesome services and features your home or business needs to stay connected to what matters the most! Call us at 1-877-561-6771 today or visit our Business Web Hosting and Domain page to explore solutions to meet your current and future needs.