Why Choose a Bring Your Own Device Cell Phone Plan?
October 6, 2022 Category: Pop Culture
Wireless services have become an integral part of Canadians' lives with Mobile Internet user penetration higher than ever at 93%. And it's expected to grow to over 98% in 2027. This year, the number of mobile Internet users in Canada is almost 36 million, as more Canadians are using their mobile devices for both their work and personal communication.
It's obvious when you look at the numbers that mobile devices are essential tools today, but they can also be expensive and complicated with the various plan options available, like pay-as-you-go, prepaid and postpaid (contracts).
But it doesn't have to be complicated with 'Bring Your Own Device'
Sometimes known as a Bring Your Own Phone (BYOP) or SIM Only plan, Bring Your Own Device (BYOD) is an option a carrier like Execulink offers. It's not a new concept, but for many, it's worth considering if you are looking for value, control, and flexibility.
A BYOD plan is exactly what it sounds like. You already have a phone, so you don't need a phone from the service provider. You will receive a SIM card, pop it into your current device, and get your service up and running. It's as simple as 1, 2, and 3.
Why choose BYOD plans?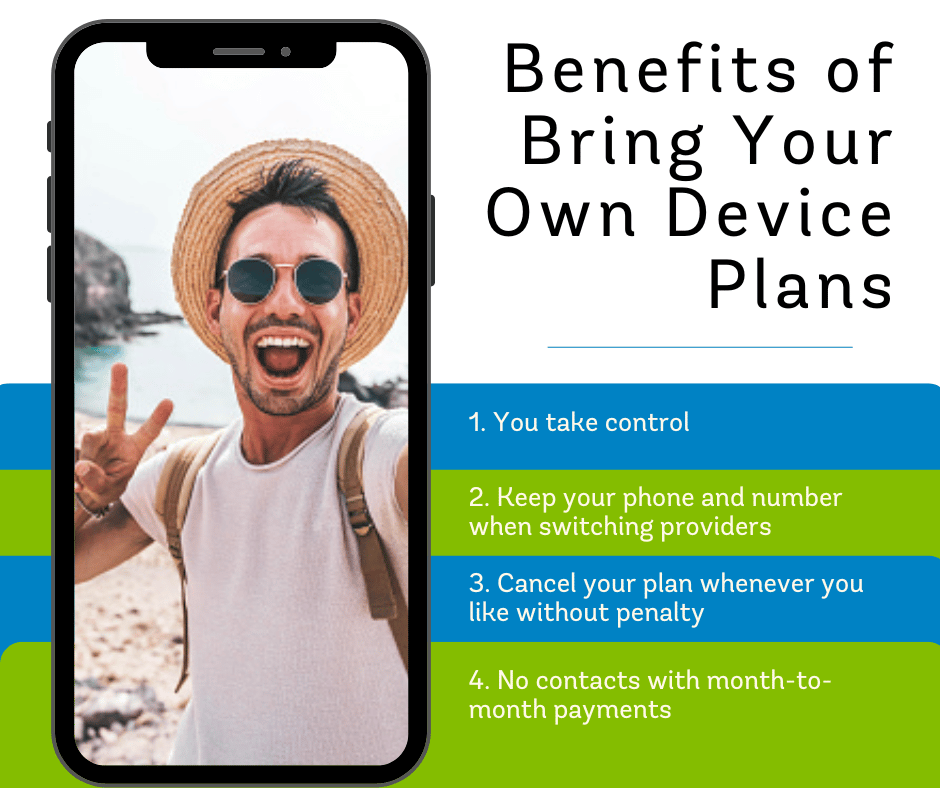 When you Bring Your Own Device, mobile phone plans are typically cheaper than ones with a phone included. When you buy a phone through a provider, it's common that the costs of that phone are offset through upfront fees, or distributed within the payment/contract costs.
One of the significant benefits of BYOD plans is that they usually do not require a contract, your payments are month-to-month. This approach is hands down the best choice for plans.
Most plans still offer unlimited calling minutes and text with Gigabyte data options that you can share with family or employees.
Execulink offers data packages up to 20 GB. 20 GB is considered a fairly large amount of data for the average person. Data from the Canadian Radio-television and Telecommunications Commission's (CRTC) Communications Market Reports on Mobile Wireless Trends show the average data subscriber used 5.3 GB of data each month. Of course, this will vary depending on your activities.
You can figure out how to choose the best data plan for your budget by looking at the amount of data you consume in your phone settings. If you need more data, many carriers like Execulink provide Data share plans. Share plans allow family members or employees to share data across multiple lines. This helps you limit data overages and the additional charges that go with it. Not to mention the convenience and control you have when you add your elderly parents or kids onto one bill.
You get greater flexibility with BYOD plans. You're not locked into any long-term agreements, and you can stop your service and change providers without penalty.
You can continue to use the phone you know and love. With the cost of phones today, why buy a new phone when the one you have already works fine? And, why move all your data to a new phone if you don't have to? Other phone plan strategies have created this idea in our heads that we must upgrade our smartphones on a regular basis. This however is just not true especially with many newer devices and proper maintenance of your phone.

If you want control of your device, plan, and carrier.  A BYOD model enables you to choose your own wireless experience. So, if you are not on contract or nearing the end of one, then start looking at Bring Your Own Device plans. You'll be glad you did!

Check out Execulink's new BYOD Mobility plans and bundled discounts!