Why Customer Service Matters: Enhancing Your Business through Excellent Service
May 24, 2023 Category: Business Services
As a business owner, you know that providing excellent customer service is critical to the success of your business. In today's competitive marketplace, customers have high expectations for the level of service they receive, and businesses that fail to meet those expectations risk losing customers and revenue.
Statistics have shown just how paramount excellent customer service can be for your bottom line. For instance, 68% of consumers say they are willing to pay more for products and services from a brand known to offer good customer service experiences. Furthermore, 91% of consumers are more likely to make another purchase after a positive customer service experience. Increasing customer retention rates by just 5% can increase profits by between 25% and 95%.
With this in mind, let's explore why customer service matters and how businesses can enhance their operations through excellent service.
At Execulink, we understand the importance of customer service for businesses of any size. Our reliable connectivity solutions, business Phone services, and TV services are designed to help businesses provide an exceptional customer experience.
Here are a few reasons why customer service matters for every business:
Builds Customer Loyalty: Exceptional customer service helps to build trust and loyalty with your customers. By going above and beyond to meet their needs and exceed their expectations, you can create a positive reputation and cultivate long-term relationships.
Differentiates Your Business: Providing excellent customer service can differentiate your business from the competition. By providing a superior customer experience, you can stand out and attract new customers.
Drives Revenue Growth: Satisfied customers are more likely to return to your business and recommend it to others. By providing excellent customer service, you can drive repeat business and generate positive word-of-mouth, which can lead to revenue growth.
Mitigates Negative Reviews: Poor customer service can lead to negative reviews and damage your reputation. By providing excellent customer service, you can mitigate negative reviews and preserve your reputation.
Here are a few ways that Execulink's solutions can help businesses provide excellent customer service:
Reliable Connectivity: Our Business Internet services ensure that your business is always online and accessible to your customers. With fast and dependable Internet speeds, you can respond to customer inquiries and resolve issues quickly. Plus, our network infrastructure is designed for reliability and scalability, minimizing or eliminating downtime and ensuring an optimum service level.
Business Phone Services: Our business Phone services provide a professional image for your business and make it easy for customers to contact you. With features such as call forwarding and voicemail-to-email, you can stay connected with your customers even when you're not in the office. With our Hosted Phone services, you can stay connected with your team and customers from anywhere. Our Direct Routing for Microsoft Teams solution turns your Teams platform into a business phone system, while our SIP Trunking and ISDN PRI Service solutions offer IP-based voice solutions that scale with your business. In addition, we offer Long Distance and Toll-Free options that can be customized to meet your business needs.
TV Services: Our TV services can help keep your customers engaged and entertained while they wait. With high-quality programming, including HD options and Video-on-Demand, plus a range of channels, you can create a welcoming and enjoyable atmosphere for your customers. Keep them engaged and entertained with our Cloud DVR feature, allowing them to catch up on their favorite programs or watch them at their convenience. Whether it's a sports game or the latest blockbuster movie, our TV services will keep your customers coming back for more.
Personalized Service and Local Support: At Execulink Telecom, we offer personalized service and local support to ensure that you're getting the support you need to succeed. Our team is available 24/7 to answer your questions and provide assistance when you need it.
To help businesses provide excellent customer service, here are a few actionable tips and best practices they can focus on: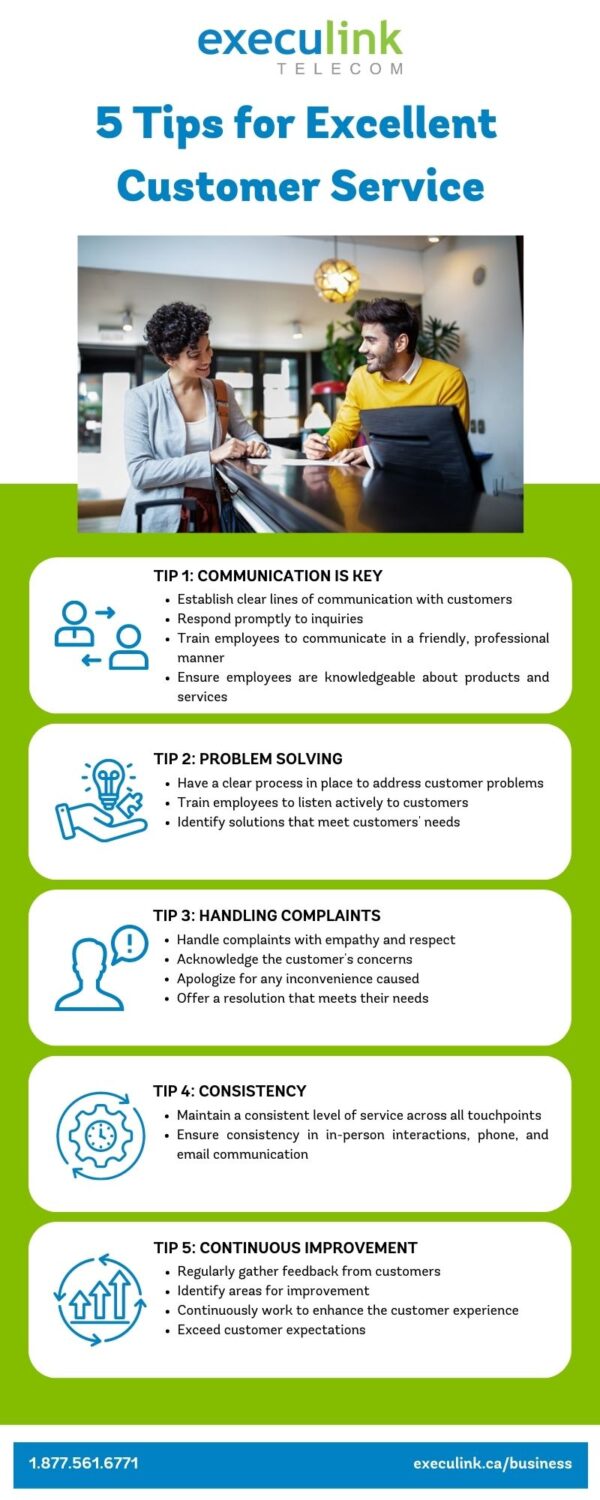 Communication is Key: It's important to establish clear lines of communication with your customers. Make sure they know how to reach you and that you respond promptly to their inquiries. Train your employees to communicate in a friendly, professional manner, and ensure they are knowledgeable about your products and services.
Problem-Solving: Every business will encounter customer problems from time to time. It's important to have a clear process in place to address these issues quickly and effectively. Train your employees to listen actively to customers and identify solutions that meet their needs.
Handling Complaints: Complaints are a natural part of the customer service process. It's essential to handle complaints with empathy and respect. Train your employees to acknowledge the customer's concerns, apologize for any inconvenience caused, and offer a resolution that meets their needs.
Consistency: Consistency is key to building customer trust and loyalty. Ensure that your business maintains a consistent level of service across all touchpoints, from in-person interactions to phone and email communication.
Continuous Improvement: Customer service is an ongoing process. Regularly gather feedback from your customers, and use this feedback to identify areas for improvement. Continuously work to enhance your customer experience and exceed their expectations.
Providing excellent customer service is critical to the success of any business. By building trust and loyalty, differentiating yourself from the competition, and driving revenue growth, exceptional customer service can make a real impact on your bottom line. At Execulink, we are committed to helping businesses provide an exceptional customer experience through our reliable connectivity solutions. By incorporating the tips and best practices outlined in this post, you can take your customer service to the next level and ensure that your business is always putting the customer first.
Contact Execulink today to learn more about how our solutions can help your business provide exceptional customer service. Visit our website or contact us at 1-877-561-6771 to learn more about how we can help.