Work from Home Solutions: Execulink Telecom
June 15, 2020 Category: Business Services, Pop Culture
Click here to see Execulink's Business Internet options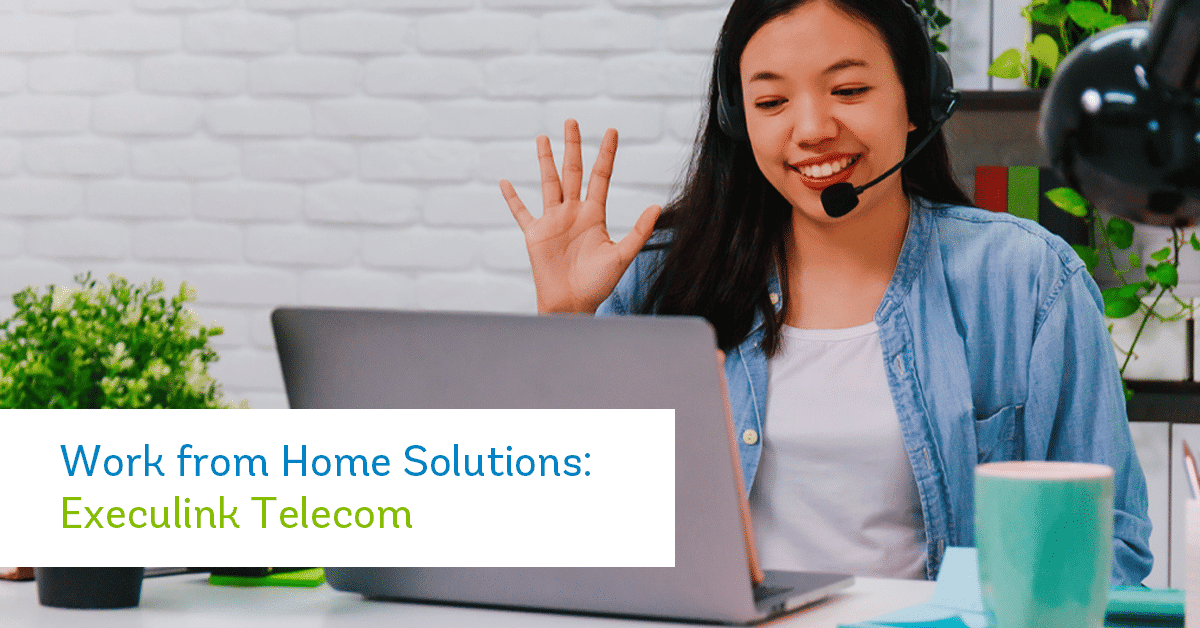 In mid-March 2020, Canada faced the threat of COVID-19, an unprecedented global pandemic.  Amidst the chaos and confusion, Execulink Telecom needed to adapt to work from home within a period of days. With over 150 employees across the business working in various roles including – Customer Care, Marketing, Sales, IT, and Operations, the challenge was to ensure all departments had the technology, resources and software to meet and exceed business objectives.
Solution
A two pronged custom solution for remote work was adopted quickly to maintain organizational success. Virtual Private Networks were implemented on a mass scale and our teams were set up on the Hosted Phone Flexible Extension product.
Prior to the pandemic, a select number of Execulink employees used the Virtual Private Networks or VPNs for remote work.  As the pandemic escalated, the IT department was tasked with moving the workforce onto VPNs.  This technology safely connects employees to their business' private network, avoiding the potential for data theft.  The VPN allowed all departments to access the company intranet, share files and host resources, just like in the office!
As Execulink continues its work-from-home strategy, strong customer relations are maintained using the Flexible Extension product that is part of the Hosted Phone solution.  Flexible Extension is a customizable cloud-based phone service that works on Wi-Fi and cellular data networks. It is quick to provision, easy to deploy and versatile enough to use on a home computer, existing cellphone or forward to a home phone.  This product was particularly useful for the Sales and Customer Care teams.  It allowed Execulink to adapt the existing set up employees had at home while leveraging the call center facilities and tools that existed in the office.
Results
Transitioning to a work from home strategy was a success across the organization! It took 2-3 days to get most of the staff working from home.  As the situation with COVID-19 unfolds, Execulink has seen success beyond expectations for many departments.  The work from home strategy is continuously improving to deliver a more robust, scalable, and consistent experience for employees and customers. This has included having entire classes of new hires onboard remotely – from training to side-by-side mentorship to coaching.
Looking at the numerical proof of Execulink's triumph, the Marketing team was able to maintain lead numbers and exceed expectations with a cumulative 15% increase over target for March, April and May.  Having access to all the files and resources found on the Intranet through the VPN facilitated this success.
To speak to the success of the Flexible Extension product, as the Sales team adapted to work remotely from March-May, there has been a 16% increase in the number of calls answered compared with the same period last year. Staff members appreciate the new level of freedom that remote work provides. The quality of phone service remains consistent in clarity and volume as more conversations with customers happen using the Flexible Extension product.
Next Steps
To learn more about the suite of Business products available to your business connect with Execulink's Sales team at sales@execulinktelecom.ca or by phone at 1-877-561-6771.  You can quickly build a custom solution to work remotely and take your company's success to new heights of productivity and connectivity.