Your Guide to Using TikTok
June 5, 2020 Category: Pop Culture
Click here to see Execulink's Home Internet options

TikTok is owned by the Beijing-based Internet company ByteDance.   It's a social media platform for creating, sharing, and discovering videos.  Their mission is to inspire creativity and bring joy.  On TikTok, people show a different side to life than what might not be displayed on Facebook or Instagram.  The videos can be hilarious, incredibly cringeworthy or both!  If you've thought about checking out TikTok, this blog will provide you with a brief introduction.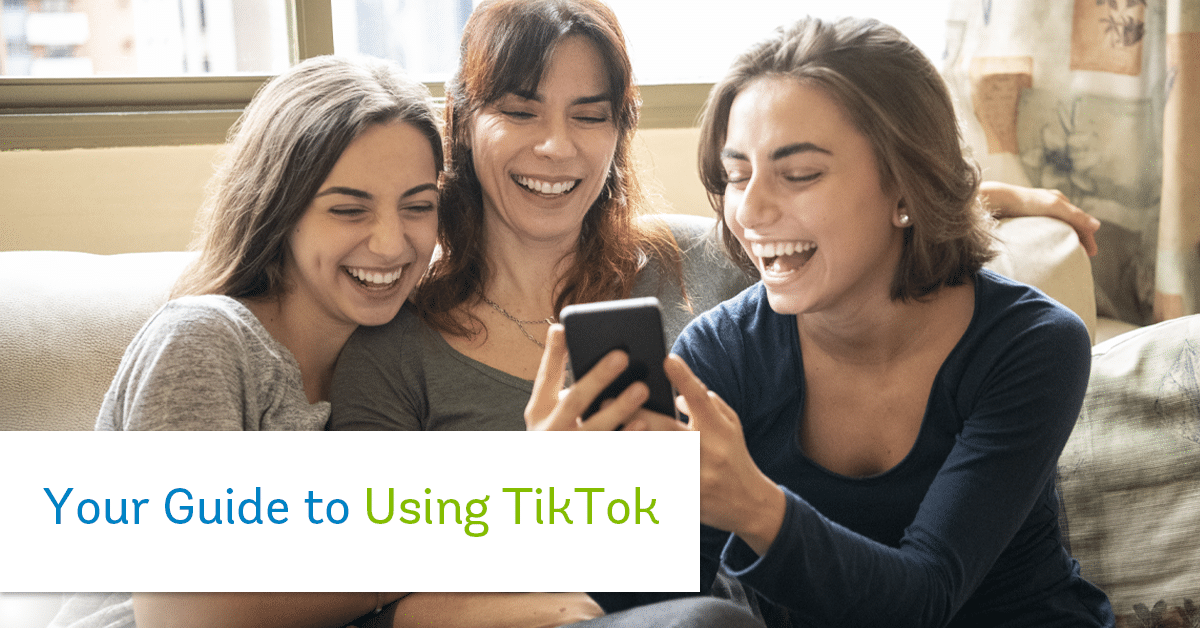 A Short History
TikTok for the American and Canadian markets was born out of a merger between ByteDance and Musical.ly in August 2018.  Downloads have been steadily rising ever since.  This article in Deseret states that it was the most downloaded app in 2019.  The New York Times reports that amid COVID-19, this popularity has only grown. Since May 2020, former Disney-worker Kevin Mayer has been the CEO of TikTok.  With roots in China, TikTok is called Douyin there instead, but regardless of its name, its worldwide popularity is undeniable.
The Algorithm
One thing you will notice as you begin using TikTok is the videos you watch, comment on, and like will determine the other videos that appear in your "For You" page.  There will be similarities between the videos you see (i.e. dancing, art, baking, sports).  This is the product of the app's algorithm which differs from other services algorithms, like Netflix and Youtube's, which generate lists of suggested content. When you use TikTok, your feed is determined by your interests. Before you even open the app it is already making assumptions about what you could want to watch and only learns as you interact with the videos.
You are able to follow friends and creators whose content you enjoy the most, but more time is often spent on the "For You" page.  The endless feed takes the decision making factor out of the question "What should I watch?" that we so often ask ourselves.
How It Works
This algorithm, customized just for you, makes the app very addictive and entertaining. It has generated huge user engagement numbers which is a very valuable currency for social media platforms.
No one but TikTok itself knows how the algorithm works, but there are some theories. The Batch Theory suggests that new videos are shown to a small batch of users and if they engage with it (by liking or sharing) then it will spread to another batch of users, and so on.  High resolution videos are more successful and blurry videos are unlikely to go viral, so some TikTokers choose to purchase ring lights to improve their videos.  There is also an element of geographic targeting as many of the videos you will see are from your area or country.
Becoming TikTok Famous
You can quickly build an audience without having any followers because of the "For You" page. If you post a video that resonates, people will like it and it will be shown to more users.
Tools for Creating Videos
One thing you will notice as you begin to use TikTok is the amazing creativity of the users.  The number of effects and filters allows users to experiment and develop new trends.  The video format is "tall" rather than square, which is popularized on Instagram and you navigate the app by swiping up and down to watch.
As you watch, you can quickly catch on to the latest trends and attempt your own version very easily by taking the audio, the effect, the filter or the dance that you see and superimposing it into your own video.  You can search other videos that use the filter or sound. Hashtags also function to identify challenges and activities found in the video.
It was recently announced that TikTok will now also have a live stream option for creators. This is a great way to deepen connections between users and creators. Live streams do not appear in the "For You" page, but you can see if the user is currently Live on their profile picture as you watch their video. Then simply click on their profile to watch the live stream.
How it Differs from Vine
TikTok is often compared with another video based social media platform: Vine.  There are many similarities between TikTok and this now shuttered app.  Both apps focus on users consuming short videos. With TikTok, the videos can be a maximum of 1-minute-long which differs from Vine, which had a maximum of 6-second-long videos.  With the extra 54 seconds, TikTok can generate more storytelling.
Music and Tik Tok
One notable song that came from TikTok is Lil Nas X's Old Town Road. Other artists that have gained immense popularity on the platform include: Doja Cat, Ava Max, and Tiagz. Many believe that TikTok is changing the music industry again as people use new artists' music to participate in trends on the app.  It's a new way to share and discover songs.
Many artists and actors have joined the platform to engage with their fans and participate in dance challenges. Check out this video of Will Smith participating in the recent "Wipe It Down" challenge!
@willsmithI don't remember making this…? @chrisashley
Audience
TikTok currently has 800 million active users worldwide and it's available in more than 150 countries.  This puts it ahead of sites like LinkedIn, Twitter, Pinterest, and Snapchat.  It is the 9th most popular social networking site!
According to Hootsuite, currently 42% of TikTok users are between the ages of 16 and 24 and the average user spends 46 minutes a day on the app. How this growing audience will impact the other social networking sites will be interesting to see.
Click here to see Execulink's Home Internet options

TikTok has definitely captured the attention of the world. A strong Internet connection is necessary to enjoy this awesome app. Check out our Internet page to learn more about the packages available in your area.  If you want to watch TikToks on the go, check out our Mobility options with various data plans made for your needs!