Your Ultimate 2021 Holiday TV Guide
December 16, 2021 Category: Pop Culture
Deck the halls! It is time to cozy up to the TV and check out all the awesome holiday programming available this year. When the snow starts falling, curling up beside the TV and getting into the festive spirit is easier with tons of movies, series, and specials available to binge watch to your heart's content. We have compiled some of the awesome content that will be available for you to watch with your Execulink TV service! Some of these channels are even on free preview!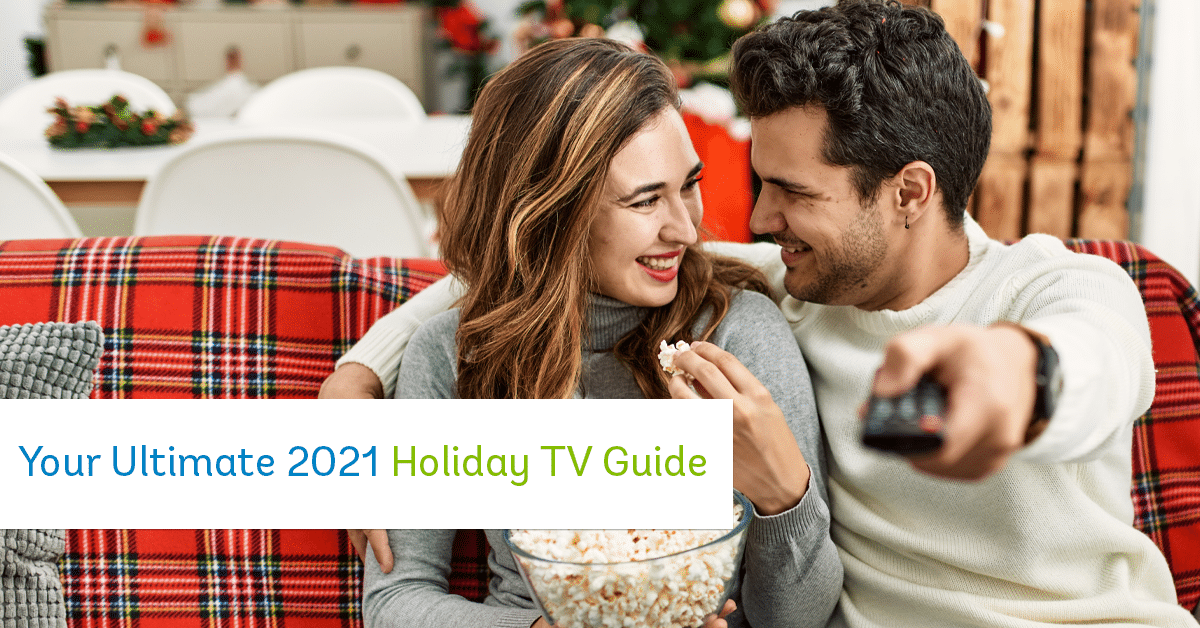 ABC Spark
Link TV: 261
Basic TV: 276
Enjoy ABC Spark's 25 Days of Christmas with holiday favourites including Home Alone, Daddy's Home 2, Almost Christmas, and Deck the Halls from December 1 – December 25.
ABC
Link TV: ABC Detroit: 7
Basic TV: ABC Detroit: 223
ABC has lots of special content coming out including the return of the "Disney Parks Magical Christmas Day Parade" which is back for the first time since 2019. This will air on Saturday, December 25 at 10am – 12pm.
Ryan Seacrest will wrap up the year as he hosts the annual favourite "Dick Clark's New Year's Rockin' Eve" from New York's Times Square on December 31.
ABC comedies and dramas will get the holiday treatment including the Goldbergs, Home Economics, and Grey's Anatomy.
AMC
Link TV: 219
Basic TV: 219
AMC is running the annual seasonal block of 55 titles and more than 575 hours of holiday programming  in the days leading up to Christmas. The "Christmas Blowout" from December 24 to December 25 is packed with a lineup including: National Lampoon's Christmas Vacation, White Christmas, The Polar Express, Four Christmases, Fred Claus, Scrooged, Jack Frost (1998), Jack Frost (1979), Snow Day, Frosty's Winter Wonderland, Rudolph's Shiny New Year, 'Twas the Night Before Christmas, and The Year Without a Santa Claus.
Crave
Available On Demand
Link TV: 301 – 304
Basic TV: 602 – 605
Crave has a Holiday Collection with a ton of Christmas movies available On Demand including:
Love Actually
Elf
It's a Wonderful Life
The Polar Express
& more!
CTV 2
Link TV: 6
Basic TV: 210
CTV has lots of holiday movies and specials on air this year! Check out their special holidays webpage to stream content like Michael Buble's Christmas in the City and the Original Santa Claus Parade featuring performances by Ed Sheeran, Carrie Underwood, and Tyler Shaw & The Tenors.
CTV Drama
Link TV: 153
Basic TV: 281
This channel is on Free Preview until January 4! They are running a Christmas movie marathon from Friday December 17 at 6am until 4am on December 18.
Also, catch the complete Bones marathon from December 18 until January 1.
Disney Channel
Link TV: 183
Basic TV: 262
Families can enjoy Disney holiday themed episodes and specials all through December including Disney Channel Original Movie Christmas…Again?!, DuckTales, and Sydney to the Max.
Food Network Canada
Link TV: 145
Basic TV: 569
There's lots of holiday programming available on Food Network Canada. Watch the Holiday Baking Championship every Monday at 9pm. The season finale is on December 21!
On Christmas Eve you will be able to enjoy a marathon of Beat Bobby Flay and on Christmas Day a marathon of Diners, Drive-Ins, and Dives.
Global
Link TV: 3
Basic TV: 206
The SNL Christmas Special is premiering on December 16 and playing again on December 20.
HGTV
Link TV: 146
Basic TV: 46
Enjoy the best of HGTV marathons starting December 20 – January 2. Watch holiday specials including House Hunters: Ho Ho Home, Fixer to Fabulous: Holiday Surprise, and My Lottery Dream Home: David's Holiday Extravaganza.
Lifetime
Link TV: 263
Basic TV: 291
Lifetime has been running Lifetime Original Holiday Movie marathons every weekend since November 27 with movies such as A Picture Perfect Holiday, Holiday in Santa Fe, Blending Christmas, and Mistletoe in Montana.
Showcase
Link TV: 242
Basic TV: 227
Watch a Star Wars movie marathon from December 24 – December 30!
Stingray Music
Link TV: 801-900
Basic TV: 900-999
From November 1 – January 6 there are holiday music favourites playing! Tune into an endless array of holiday favourites and maybe discover some new ones along the way.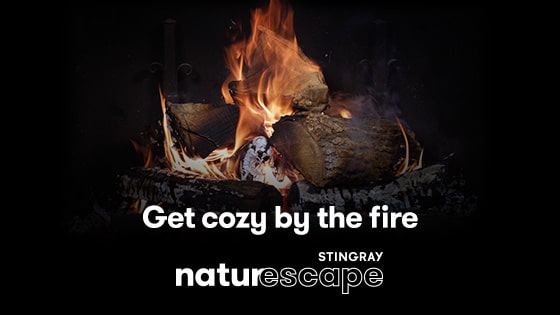 Stingray Naturescape
Link TV: 800
Basic TV: 899
The fireplace channel is playing all day from December 1 – January 9.
SuperChannel Heart and Home
Link TV: 314
Basic TV: 271
The Heart and Home Christmas holiday programming event continues until January 2 with over 24 new merry movies. Coming soon there is:
Dec 17 – Christmas at Castlebury Hall
Dec 18 – When Hope Calls: A Country Christmas *Special two-episode premiere
Dec 24 – Secret Santa
Dec 25 – Christmas with a Prince: The Royal Baby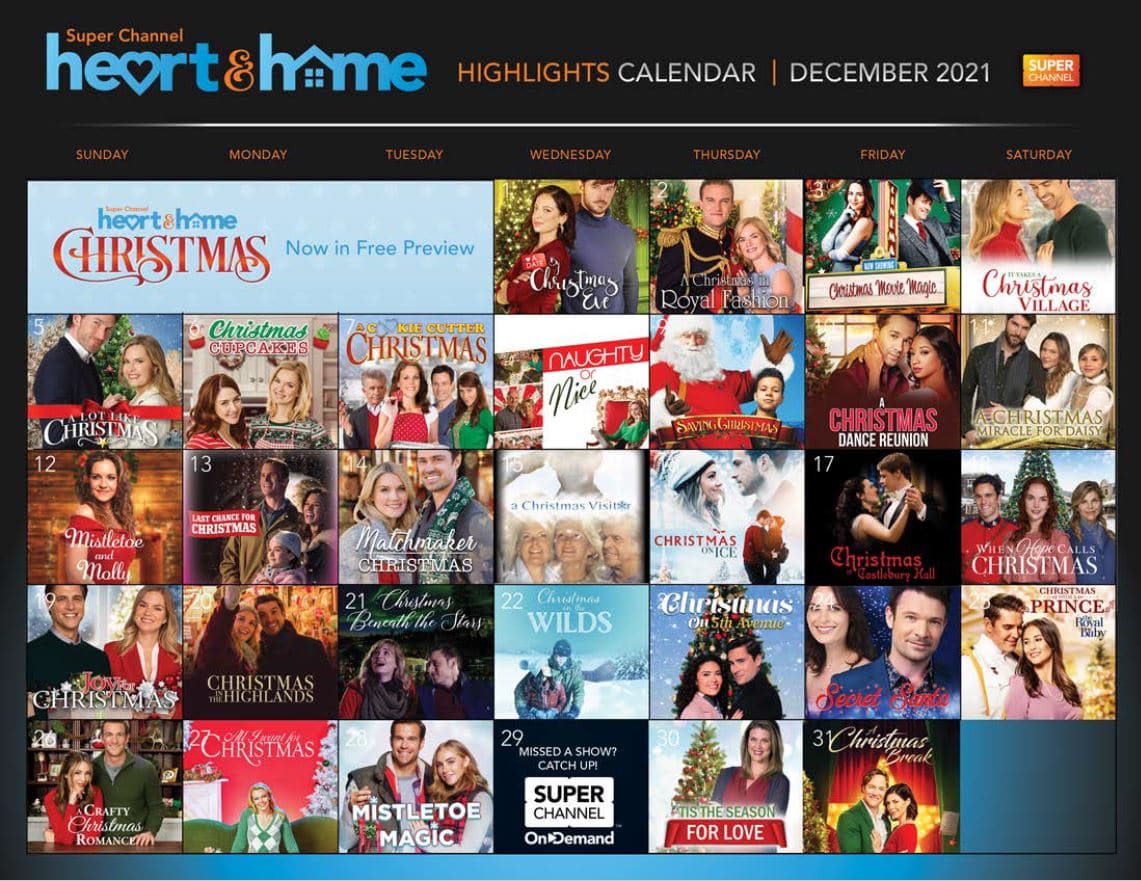 Teletoon
Link TV: 195
Basic TV: 249
Teletoon brings the best of Cartoon Network's holiday specials from all your favourites including Craig of the Creek, Teen Titans Go! and Total Dramarama.
Treehouse
Link TV: 197
Basic TV: 554
Enjoy the best Treehouse holiday programming all season long with themed episodes and specials from Pikwik Pak, Toon Bops, Bubble Guppies, Peppa Pig, Ricky Zoom, Baby Shark's Big Show! and Blues Clues & You!
W Network
Link TV: 136
Basic TV: 280
The W Network has been playing new and exclusive Hallmark Channel Countdown to Christmas movies since October 22. There are new movie premieres every weekend! Coming soon there is:
Dec 17 – Sugar Plum Twist – Premieres at 8pm
Dec 18 – The Christmas House 2: Deck Those Halls – Premieres at 8pm
Dec 19 – Tis the Season to be Merry – Premieres at 8pm
Dec 25 – Small Town Christmas – Premieres at 8pm
YTV
Link TV: 198
Basic TV: 204
Holiday programming has been playing on YTV since December 3 with your favourite series, holiday movies and specials including: A Loud House Christmas, The Middlemost Post: Parker Saves Christmas, and Dr. Seuss' The Grinch, and SpongeBob SquarePants: SpongeBob's Road to Christmas.
We hope this blog helps you plan when to watch holiday movies and specials! On behalf of everyone at Execulink we wish you and your family a happy holiday season! To sign up for Link TV visit our page here and to add these channels to your Link TV lineup log in to your MyExeculink account!