6 Benefits of Home Phone Service
September 23, 2020 Category: Residential Services
Execulink Telecom has been a provider of Phone services for over a century. This foundational service has been essential for staying in touch with loved ones, working, connecting with emergency services, and so much more.
Looking at the history of Execulink Telecom, telephone service is at the core. The company began as the Burgessville Telephone Company and has evolved through various mergers and renaming's to become Execulink Telecom.  In 1904, rural communities were demanding to be connected with telephone services as it was becoming more widely adopted beyond major cities. Phone service comes with a rich history filled with technological innovation and invention.  This blog will explore all the benefits of keeping or adding Home Phone service today!
Click here to learn more about Execulink's Home Phone service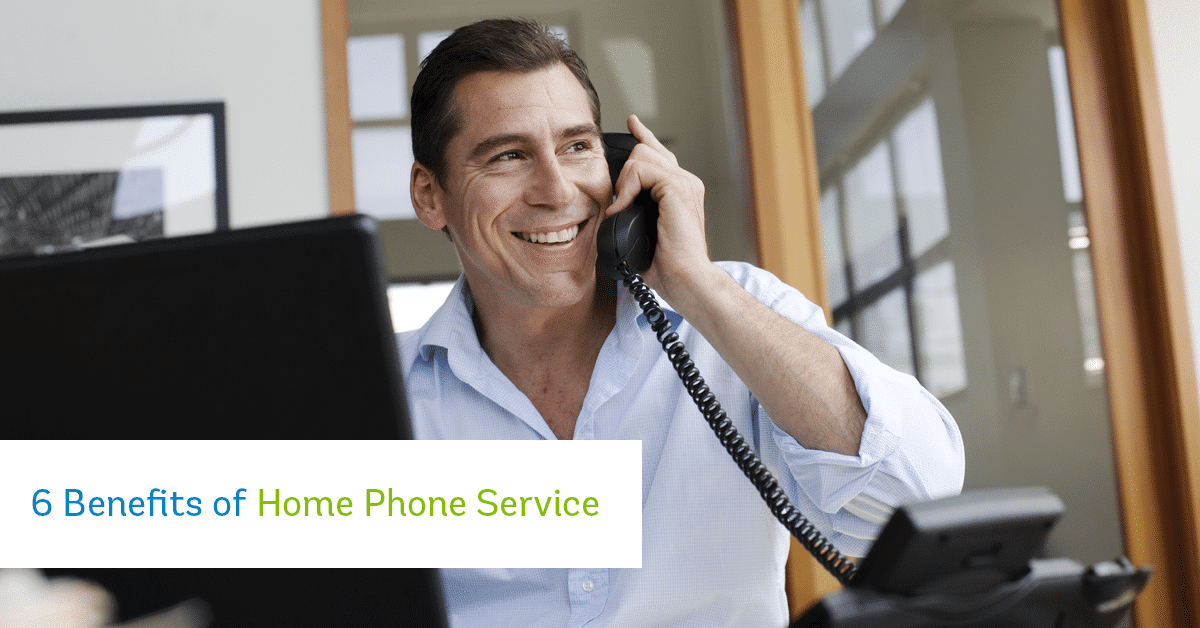 1. Familiarity
Having reliable Phone service in your home provides a sense of familiarity.  The connection is stable and ensures your calls won't be dropped. If you have a young family, using the home phone to teach your kids good phone manners is an added benefit. A home phone will give them a chance to connect with their friends without giving them their own cellphone.  As well, it's useful for parents when you have a babysitter over watching the kids. They can have easy access to call you with a Home Phone.
2. Features
With our Phone service you get these awesome features included in your plan:
Call display – The callers name and number is displayed while the phone is ringing.
Call waiting – Alerts you to an incoming call when you are already on another call.
Call forwarding – Forward all incoming calls to another number.
Speed calling – Use short codes to call frequently used numbers.
Automatic recall – Announces the last incoming phone number with an option to call it.
Selective call rejection – Reject incoming calls from up to 10 selected phone numbers.
3-way calling – Call two numbers and conduct simultaneous conversations with both parties.
If you are interested in adding more features to your plan like voicemail and call transfer we have a variety of calling features available for an affordable price.
3. Convenient for Working from Home
Having Home Phone service will improve the quality of the calls you need to make for your job. A convenient set up will enhance your work-from-home experience! Consumer reports found that quality on a cordless home phone was better than any cellular device.
4. Expanded Calling Areas
Certain towns may qualify for expanded local calling area which makes a long distance call suddenly local! We have local calling areas available for Ailsa Craig, Arkona, Forest, Ilderton, Parkhill, Port Franks/Ipperwash, Thedford, Watford, Delhi, Langton, Port Dover, Port Rowan and St. Williams. View all the details through our support page!
5. Long Distance
We also have awesome long distance plans that will help you connect with your family and friends across Canada and the USA.  We have rates for if you make infrequent long distance calls or if you want to add a Talk Unlimited feature to your plan that can be easily added as well. Other international long distance rates can be determined by contacting us.
6. There for You During Emergencies
Analog phone service is provided over a traditional telephone line and will continue working even if the power goes out.  If you have an Arris modem with your Internet service you will have battery backup included.  Please note that if your hydro is on but your connection drops you will not be able to make emergency calls with VoIP.
In other emergencies, 911 operators are able to quickly track a call from landline services whereas, on a cellphone they are only able to track to the nearest cell tower.  The added security of Home Phone service is beneficial in those worst case scenarios.
Click here to learn more about Execulink's Home Phone service

These are just some of the many benefits of our Phone service.  In modern times, having a Home Phone is still extremely beneficial for work and play!  Visit our Phone page to learn more or contact our Sales team at 1-866-706-1992.