9 Ways to Watch Link TV
June 13, 2023 Category: Pop Culture
You've taken the first step and signed up for Link TV. Excellent choice! So now what? You've been told that Link TV is really cool and has a ton of neat features, but what are they and how can you use them?
In today's tech-savvy world, the ways to watch TV are endless. Gone are the days of Saturday morning only cartoons or patiently waiting for your favourite show to start while setting up the VCR to record it. And forget about having to race to the kitchen like an Olympic athlete during the 35 second commercial break. Thanks to today's technology, we now have full control over what, when and how we watch TV.
This guide is going to take you through all of the ways you can hook up your TV and unlock the full potential of Link TV.
1. Execulink TV App
This is the absolute easiest and fastest way to start watching TV. If you have a smart TV (Apple, Android, FireTV), a Firestick, an Android Box, or an Apple or Android mobile phone or tablet, this is the route to go. All you need to do is download the app from the store on to your device then type in your usercode/passcode (which you got in an email from us or from MyExeculink)! Ta-da – start watching!
Have more questions about the Execulink TV app? Check out this FAQ blog.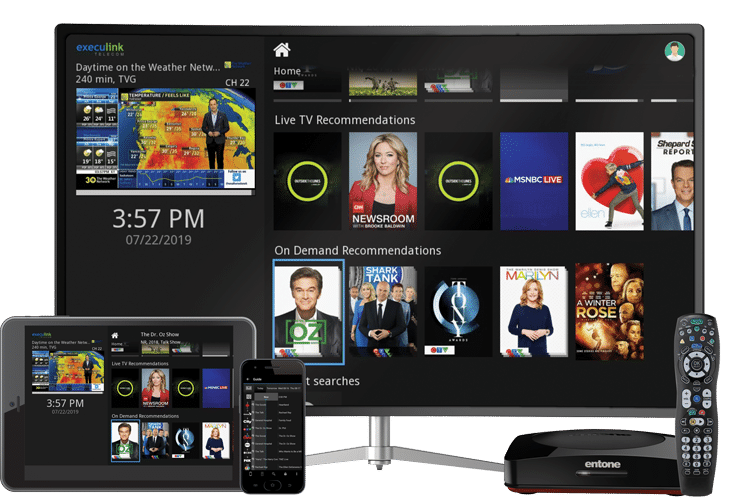 2. Set-top box
Don't have an Apple, Android or FireTV? No problem! We've got you covered. A Set-top box offers the same features as the Execulink TV app. Set-top boxes come either wired (you connect the set-top box to your router using an Ethernet cord and to your TV using an HDMI cord) or wireless (the set-top box connects to your router using Wi-Fi and then connects to your TV using an HDMI cord).
Whether you need a wired or a wireless Set-top box really depends on how far away your TV is from your router! If it's close then choose wired, but if it's far away then wireless is the way to go.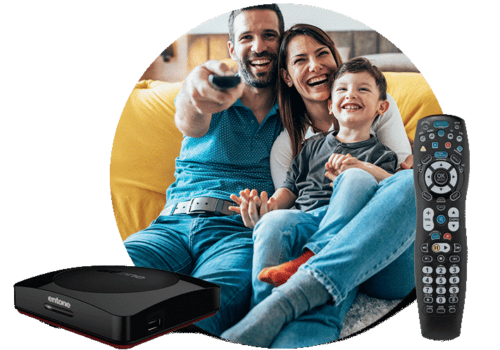 Once you're connected then the real fun begins! Let's dive in to the different ways to watch TV to suit your lifestyle:
3. Restart your show
It's 7:04 pm and you're racing to the couch because your program already started! A few years ago you would have had to just start watching your show from where it's at, but not anymore! Now you can just hit the restart button and just like that your show starts from the beginning.
4. Catch-up TV
Your friend asks you if you watched the new episode of The Rookie last night and you are instantly disappointed because it completely slipped your mind. This is probably one of the coolest and most-loved features with Link TV. Just scroll back in time on the guide and watch your show from up to 24 hours before.
5. Record in the cloud
You saw that your favourite movie is on TV tonight but you know you're not going to be around to watch it. Just record it! Did you know that 5 recording hours are automatically included? And if you need more hours, then just buy 100 more hours for only $7/month.
6. Pause, Rewind, Fast Forward
This feature is a no-brainer. The flexibility of pausing, rewinding and fast forwarding allows you to never miss a moment, revisit beloved scenes or swiftly skip through ads (shhhh…don't tell the advertisers).
7. On Demand
Just as the name implies, On Demand lets you watch what you want when you want. Right now 57 (and growing) TV channels have On Demand programming available at your fingertips. You can binge watch an entire series in one sitting or spread it out over several weeks – the choice is yours!
8. Out of home watching
This is the newest feature we've added to your TV experience. Whether you're at the hockey arena, or waiting in the doctor's office, or on a road trip with your kids, now you can watch many TV channels on the Execulink TV app when you're away from home!
9. Watch TV Everywhere
Does your favourite channel have an app that you like? Is there an episode or season of a program you want to watch but it's not On Demand? Watch TV Everywhere lets you use special credentials to log into that app and as long as you subscribe to that channel then you'll be able to watch the programs on that app. There are currently 38 channels available with Watch TV Everywhere including Crave, Sportsnet, TSN, Global, CTV, and more.
The convenience and flexibility of TV viewing has truly transformed the way we connect to and engage with our favourite shows and movies. From how we are connected – whether we're using an app or a set top box to connect a television set or a mobile device, the way to do it is easy and efficient. Then the ability to watch TV on our own terms, whether it's choosing what to watch, when to watch it or how to watch it, we now have full freedom to tailor our TV watching to our own schedule and busy lifestyle.
Take the reins and start experiencing Link TV like never before!