Getting Your Internet Ready for Back-to-School
September 15, 2020 Category: Residential Services
Click here to see Execulink's Home Internet options

The first day of school looks a bit different this year across the province. The start date and schedules depend on your school board.  So much is new – from masks to the structure of the semesters!  One thing is for sure, a strong Internet connection will be essential.  The way society relies on the Internet has shifted during the pandemic to include more video-calling, browsing and streaming.  Finding the right package for your home is easy with the awesome plans we offer.  This blog will discuss the factors you should consider when choosing the right Internet plan for your home.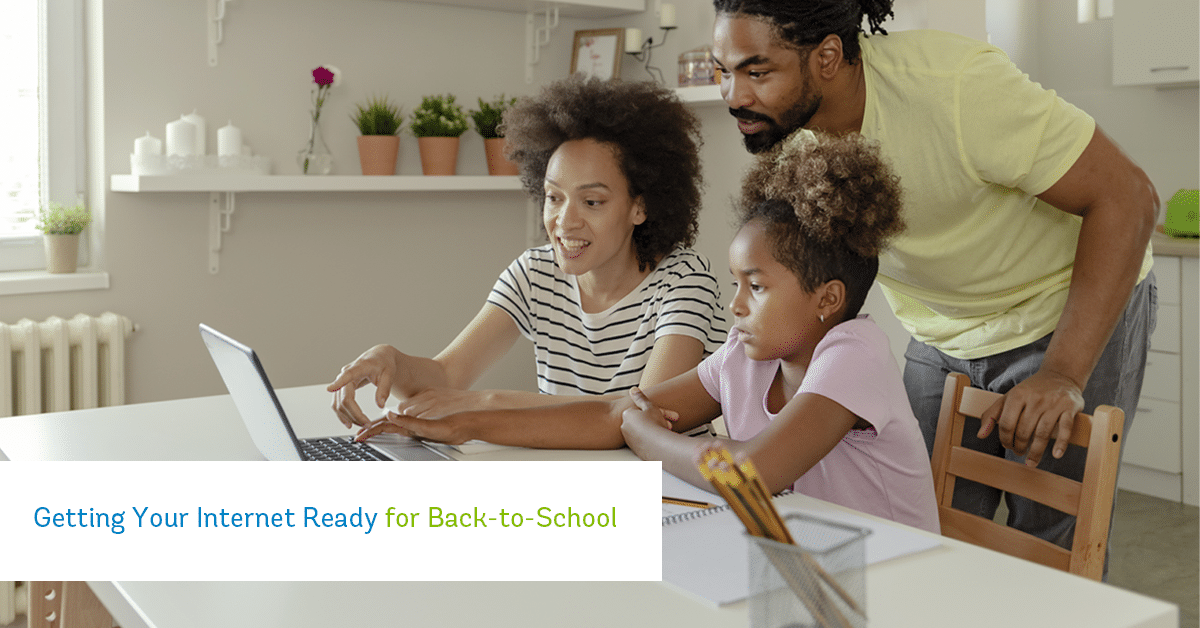 Bandwidth
Bandwidth is the amount of data that can be transmitted from one point in a network to another in a given amount of time.  For your Internet connection, bandwidth is measured in terms of Kbps (kilobits per second), Mbps (megabit per second) or Gbps (gigabit per second). The data is transmitted in packets and travels through the Fibre, Coax or Phone line.
The amount of bandwidth required for your home will depend on a number of factors such as:
Number of people in your household
Gaming
Working/learning from home
Streaming videos and the quality of the videos you stream (HD, 4K, SD)
Downloading/uploading
Social media
How Much Bandwidth Does Video-Calling Use?
In terms of the amount of bandwidth your home needs for back to school. One thing to consider is the increased frequency of video calling you or your kids will need to do.  Video calling platforms, such as Zoom will use approximately the following amount of bandwidth:
For 1-1 Meetings:
600kbps (up/down) for high quality video
1.2 Mbps (up/down) for 720p HD video
For Group Calls (More Than 2 People):
800 Kbps/1.0 Mbps (up/down) for high quality video
For gallery view – 1.5 Mbps/1.5 Mbps (up/down)
While these requirements are fairly low, you must keep in mind that Zoom is not the only thing that will be connected to the Internet during your call. Things such as your phones, tablets, TVs and smart home devices will also contribute to your usage.
Availability of Services
Where you live will determine the speeds and packages available to your home. Certain service types offer faster speeds. You are sure to experience awesome with any of the plans available to your home.
Fibre
Fibre Internet is run on Fibre optic cables that run directly to your home. We offer Fibre in various counties across southern Ontario.  Fibre refers to the delivery method of the service which is carried through optical Fibre cables that are made of glass or plastic.  Fibre replaces the traditional copper cable and brings the next generation of Internet, TV and Phone services. Learn more about Fibre on our dedicated page about the service where we also discuss our construction and clean up process. Speeds available in our Fibre areas go up to 1Gbps!
Hybrid Fibre
Hybrid Fibre is a combination of coaxial Cable and Fibre optics. We bring Fibre right into your neighbourhood and then the cable connection goes to your door. We have Hybrid Fibre services available in select areas in Lambton and Middlesex counties. Speeds start at 50 Mbps!
Cable
Cable Internet is more broadly available across Ontario. Its delivered through copper cables and can also offer speeds up to 1 Gbps, depending on your area.  Your home Cable Internet connection can be more influenced by your neighbour's usage because of the nature of the network that is connected by neighbourhood.
DSL
DSL service is run using your telephone lines and this set-up makes it more widely used across Ontario.  If you don't have a home phone, no need to worry we can run a dry loop to your home to connect you to the Internet.
Wireless
Wireless Internet is available in areas that are rural and difficult to service with other connection types.  The signal is sent over radio waves from a radio tower.  Wireless Internet will require a site survey to your home which is free of charge. This will ensure we can provide you the right speeds.
How to Improve Your Connection
You may be satisfied with your current Internet speed and are just looking for a few ways to ensure a stable connection.  There are some adjustments you can make to your home office or your child's home school desk to optimize its connection to your router.
Wired vs. Wireless connection?
One age-old tip for improving your connection is to use a wired Internet connection directly to the router rather than relying on Wi-Fi. A direct connection will allow your device to receive a steady signal that is not disrupted by other devices in your home, physical barriers, microwaves or neighbouring Wi-Fi networks.
If you choose to use a wireless connection if you can, move your desk to an area that is within close proximity to the router. This will limit the barriers of access to Wi-Fi.
What About Your Router?
Consider renting our router to receive 24/7 technical support and a full warranty on the device. Other benefits of using our router include:
We manage it – we have better visibility when troubleshoot any potential issues
We continuously update the firmware to proactively ensure you have the best Internet experience
It is easier to manage your router settings in our customer-friendly MyExeculink portal
If your router stops working – we can replace the device
Click here to see Execulink's Home Internet options

Discuss your options today with a member of our Sales team at 1-866-706-1992. They will help you make the right decision for your home to get your Internet connection ready for online learning. Your kids deserve an awesome school year made better with a reliable Internet connection!