How to Boost Wi-Fi Signals
February 26, 2021 Category: Residential Services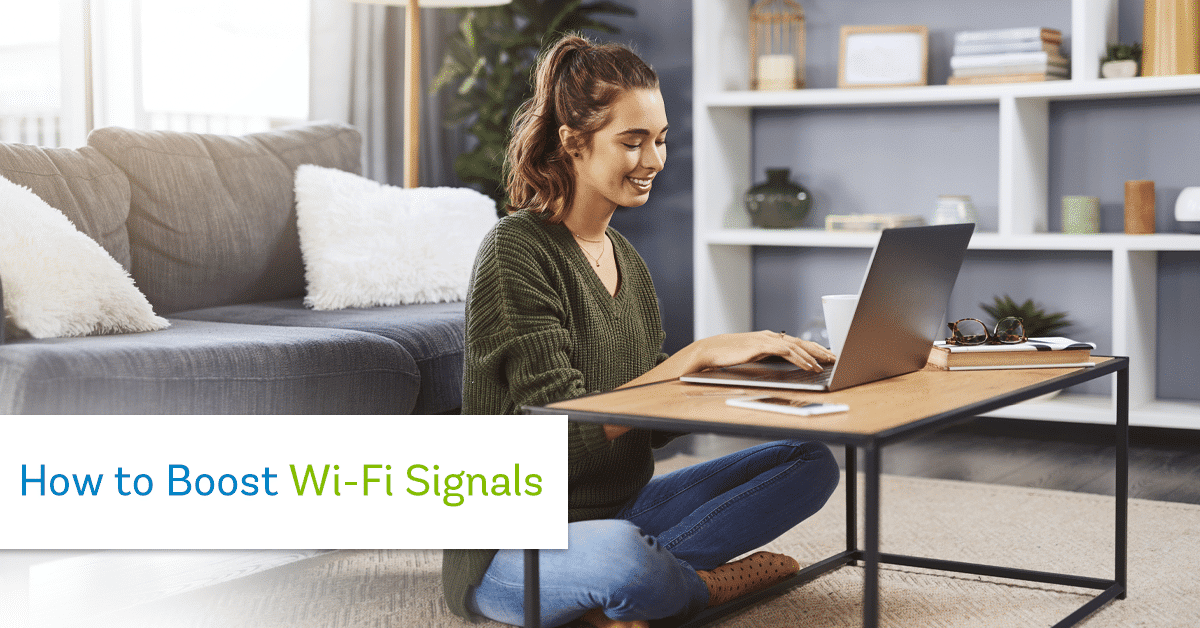 It can be frustrating when your Internet is slow and falling short of your expectations. One minute you're enjoying full bar connectivity and the next your Wi-Fi bars are non-existent. The truth is, there are many factors that could be causing your Wi-Fi signals not to work effectively. Fortunately, even when your Wi-Fi isn't working as well as it should, there are ways to improve your signals.
At Execulink, we provide high-speed Internet service across southern Ontario.  We understand how important it is to our customers to receive reliable service without interruption. We offer 24/7 customer support to help get your Internet running as fast as possible.
With that being said, here are four ways to boost Wi-Fi signals and get the most out of your Internet:
Learn more about Complete Wi-Fi

1. Reboot Your Router
The first thing you should do to see if you can boost Wi-Fi signals is reboot your router. This classic trick can be surprisingly effective! Simply by turning the device on and off it can significantly improve your Wi-Fi speeds. You may need to turn the switch off on your device or unplug the device from its power source.
While the router is rebooting it will clear the router memory and allow it to complete updates. Allow your router the time to complete updates to ensure its performance improves when you need to use it again.
Ensure your router has a strong and encrypted password to avoid any neighbours accidentally using your Wi-Fi network. If you have a lot of guests visit, consider creating a separate network just for them. That will ensure your Wi-Fi speeds are maintained, even when your house is full.
2. Reposition Your Router
Not all router positions are created equal! Experiment with your router positioning to see where your Wi-Fi performs best. Sometimes if there are obstructions in the way of the router or other interferences, this can cause your Wi-Fi to perform poorly.
Placing your router close to metal and other items giving off electromagnetic waves (typically household appliances) aren't ideal.
Another important note is to avoid placing your router on the floor. Since routers radiate signals outwardly in all directions, it needs space to distribute its signals. If you want to provide the second level of your home with strong Wi-Fi, then you need to ensure your router is placed closer to the ceiling such as on a table.
3. Explore Execulink's Complete Wi-Fi System Which Includes Mesh Wi-Fi Nodes
You may have heard of a Wi-Fi booster before, it can expand the range of your Wi-Fi signal where your router leaves off. They amplify your existing Wi-Fi signal especially in areas of your home where Wi-Fi may not have strong connectivity. This can provide you with more coverage within areas where you'd like to have increased Wi-fi performance.
Sometimes a single router cannot give you the Wi-Fi performance you deserve if you have a large layout in your home or you want to connect from the garage or backyard. In this case, it's best to set up a Mesh Wi-Fi Node to replace your existing Wi-Fi system. Execulink's Complete Wi-Fi products are a Mesh Wi-Fi system.  The Premium Router and Mesh Wi-Fi Nodes give you the coverage you need with powerful network connectivity.
So, what is a mesh Wi-Fi system? It's a system that consists of a main router and multiple satellite units to provide seamless Wi-Fi coverage. You can set up units in every single room in your home to help your devices run at fast speeds consistently. A benefit of a mesh Wi-Fi system is its flexibility – it can be customized to your needs meaning you can add more satellite units if the current configuration isn't working effectively for you. You can add up to 4 Mesh Wi-Fi Nodes to your Premium Router.  The nodes eliminate the need to run wires in complicated parts of your home which can not only be more work but can help keep your home tidy.
It's important to keep in mind that any type of Wi-Fi booster is only as effective as the plan you have with your Internet service provider (ISP). A host of other factors can limit the effectiveness of your Wi-Fi booster including your router positioning, household Internet demands, speed of your Internet, etc.
4. Consider if You Have the Right Internet Plan
Do you have multiple devices under one roof? Do members of your household use the Internet for high-bandwidth activities like video streaming or online gaming? It's important to consider if your current Internet plan is robust enough to support your activity online. If your plan doesn't have enough bandwidth to offer you high-performing Wi-Fi in your home, then it may be time to consider upgrading your plan.
The right plan can make all the difference in helping to reduce lagging and help you enjoy all your favourite online activities. Your Internet needs may change depending on your circumstances; find an ISP that offers plans to match your budget and lifestyle.
Boost Your Wi-Fi Signals with Execulink
Consider our list of ways to boost your Wi-Fi signals and if you're exploring your Internet options know that Execulink has the plans you need. Whether you're looking for faster Internet speed options for streaming and gaming, or basic packages for surfing the Internet, we have the services you and your family deserve.
With 24/7 support and a wide range of Internet options to suit every lifestyle, we have the awesome services your home or business needs to stay connected to what matters the most! Call us at 1-866-706-1942 today or visit our Internet page to find the Internet package you've been looking for!