The History of Execulink Telecom
April 19, 2021 Category: Execulink Telecom Updates
Execulink Telecom has a long history of servicing southwestern Ontario with telephony services which began in 1904. From then until now, the organization's commitment to staying innovative and providing awesome experiences for its customers has remained the same.  The initial telephone services provided by the founding companies have grown to include Data, Internet, TV, Mobility, and Advanced Voice Features. This blog explores the history of Execulink and the decisions, leaders, and technological advances that brought the company to where it is today.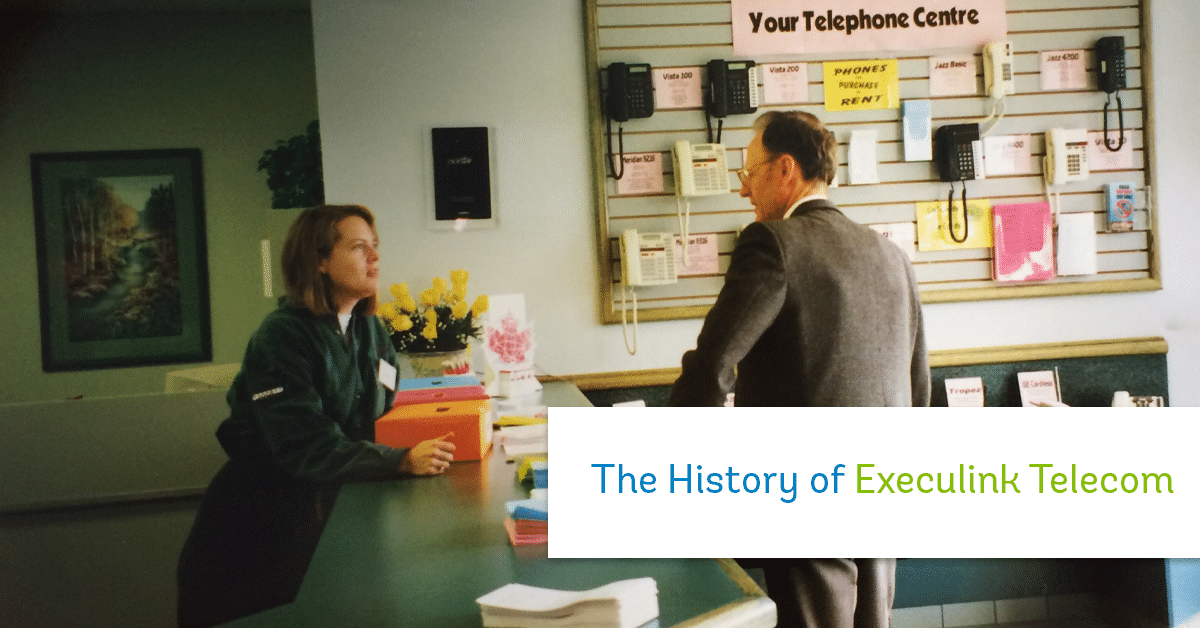 Anne Stephen and Keith Stevens in Burgessville at an open house when a new office opened in 1995.
The Burgessville Telephone Company
The Burgessville Telephone company was founded in 1904 by Dr. Service, a local medical practitioner. The first line connected his office to the general store in Holbrook, two miles down the road.  He believed that a local system would be of great benefit to the community, so he began circulating the idea among his neighbours.  A small group of enthusiasts offered to help him get started and donated their time and resources by digging post holes, stringing wire, and providing wood poles.
The first central switchboard was installed in 1905 in Burgessville and in a short time 200 phones were in operation.  The decision was made to incorporate a limited company.  In 1923, residents of the area signed a petition requesting the Township Council establish a municipal telephone system as a public utility. This signaled the transformation of the Burgessville Telephone Company into the North Norwich Municipal Telephone System.
North Norwich Municipal Telephone System
The 1923 petition heralded a new era in communications for this area. Municipal systems like this were formed to finance sophisticated equipment.  But the 1930s were a difficult time for the North Norwich Telephone Company and the rest of Canada as The Great Depression took its toll.  Unpaid accounts and the constant need to repair wires and poles led to financial worries.  However eventually the company's commissioners and secretary-treasurer started seeing the light at the end of the tunnel during this tumultuous decade. The company would survive the financial hardship.
North Norwich Municipal Telephone System – Modernization
Throughout the 1950s North Norwich continued to grow and change. By 1951 the Burgessville exchange had outgrown the old building so a new brick structure was built to house a new office, storage space, and workshop.  A new switchboard was also installed when the building was complete. Throughout the 1960s, 1970s, and 1980s several upgrades were completed to the North Norwich Municipal Telephone System's infrastructure as well. For example, on August 7th, 1979 a tornado cut a path of destruction through the area served by the telephone system.  More than 80 homes were destroyed and outside equipment including lines were completely demolished. To help combat this, in late 1979, Oxford MPP Harry Parrott, then Environment Minister, announced that an emergency grant of $100,000 would be awarded to the North Norwich Telephone System "to get back into business."
The History of Hurontario Telephones Limited
A local telephone company was founded in 1908 serving Thedford, Arkona, Bosanquet, Warwick, McGillivary, West Williams and Adelaide Townships. Founders included Thomas Moloy, Dr. Alfred James Grant, and a number of other businessmen.  The group formed the Thedford, Arkona, and East Lambton Telephone Company. It quickly grew over the next few years.
Eventually, in 1948, it was sold to Dr. James A Vance of Woodstock and Mr. E.T. Downs of Toronto.  Dr. James A Vance was an administrator of the Oxford Telephone Company Limited, which serviced Princeton, Drumbo, and the township of East Oxford.  During this time, there were about 400 subscribers in the Thedford, Arkona, and East Lambton Telephone Company.
When Vance and Downs purchased the controlling shares of this company, they knew that the system needed updating, including a new switchboard and replacement of all 400 telephones. This upgrade program started in 1948 and finished in 1951. A new office was built in Thedford as well. In 1950 the company applied to change its name to Hurontario Telephones Limited.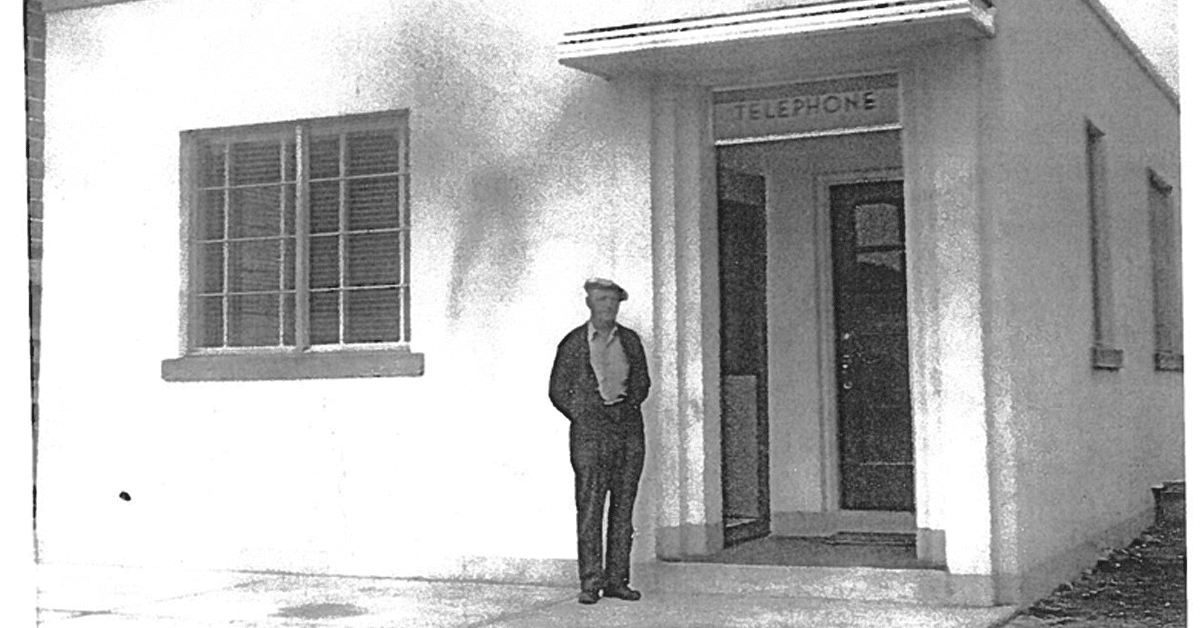 The Hurontario Telephones Limited office located in Thedford in 1950.
Merger – North Norwich Municipal Telephone System and Hurontario Telephones Limited
At the end of 1983 discussions began about a potential sale of the North Norwich Municipal Telephone System.  Hurontario Telephones Limited sent an offer to the North Norwich board.  The two companies could better face the challenges of new technology by joining.  In a letter to North Norwich dated March 2, 1984, Hurontario Telephones' Secretary-Treasurer Keith Stevens provided subscribers with a comparison of the two bids. In this comparison two specific pieces of information stood out. Hurontario's existing telephone service rate was significantly lower than that of the other bidder and, perhaps most important, Hurontario's offer would maintain local jobs and presence.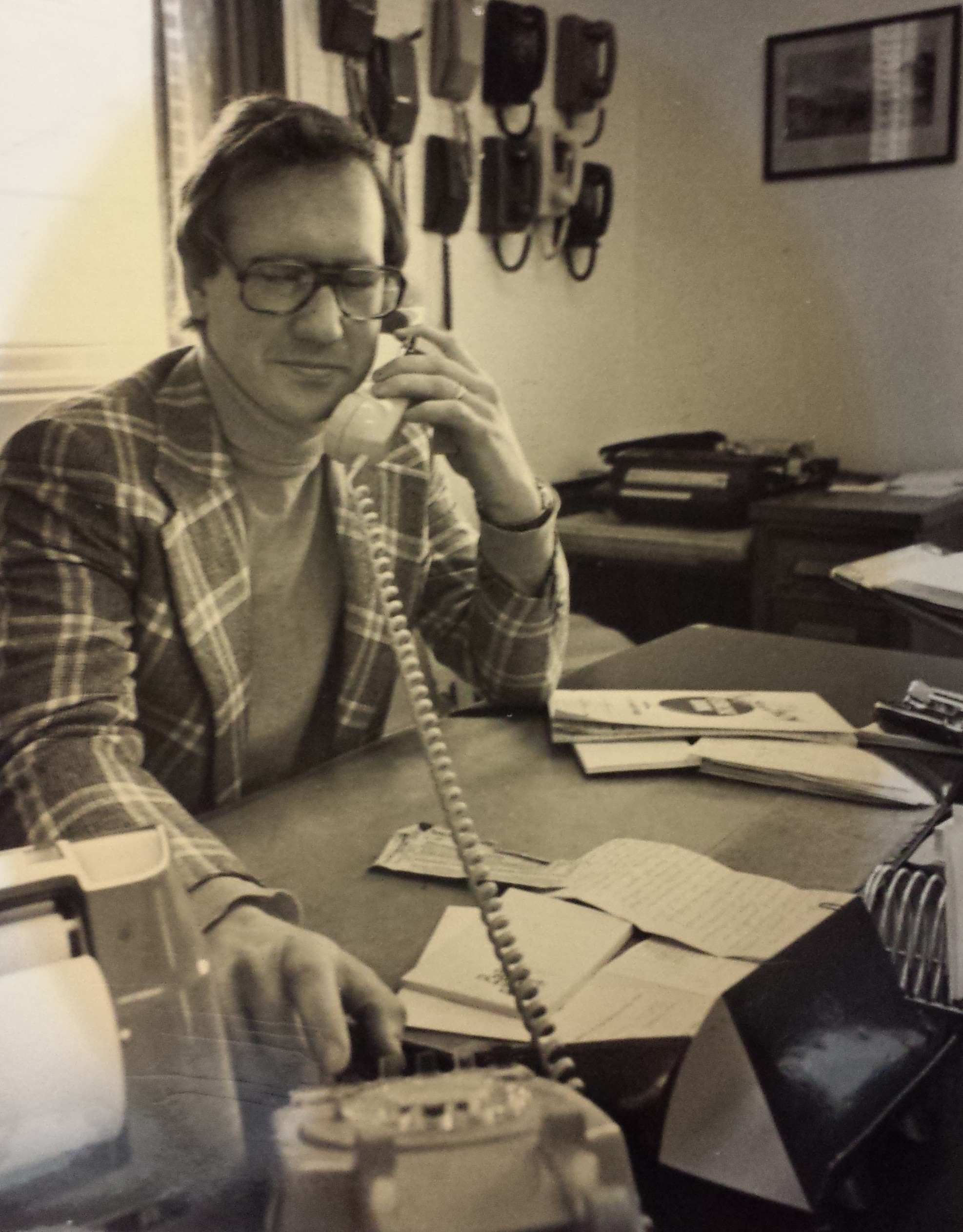 In March 1984 after a vote by the shareholders of the North Norwich Telephone Company the decision was made to sell to North Norwich Telephones Limited, and make it a subsidiary of Hurontario Telephones Limited of Thedford.  The new directors included Jim Stevens, John Downs, Paul Downs, Philip Walden and Keith Stevens. Don Stevens joined the board two years later.  After the purchase, improvements were made to increase the reliability of the telephone service.  A Nortel DMS 100 computerized central office was installed in Burgessville in 1985 and in Port Franks in 1987.
The two companies were kept separate for sometime and shares were offered to the previous owners.  Eventually by 1993 the operating names of North Norwich Telephones and Hurontario Telephones were kept and the parent company Hurontario Telecommunications Inc was formed.  Shortly after, the cable TV systems operated by Regional Cable Systems in Ilderton, Ailsa Craig, Thedford, Port Franks, Parkhill, Arkona, Forest, and Watford were for sale. An agreement was reached and this company was bought and its name was changed to Ausable Cablecom Inc.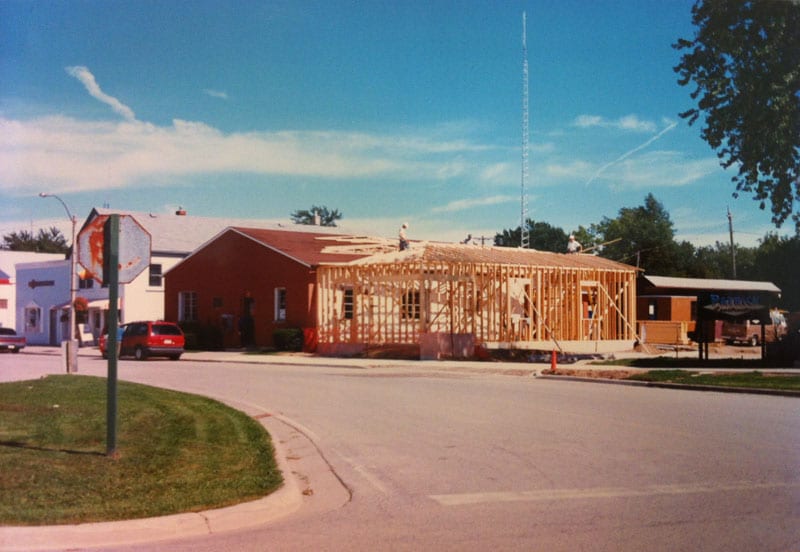 The Internet and Execulink Telecom
In 1995, the company began offering Internet access in the Burgessville area and then shortly after, to Thedford. The Burgessville office added a new building in 1995 and the Thedford office was renovated in 1997.  Popularity of the Internet quickly grew and by 1998 there were over 3000 customers.
Company officials were pondering how to expand further.  At the time, Execulink Internet Services was operating out of Woodstock and London. It was discovered that Execulink was looking to sell their operations.  Negotiations began and the purchase of Execulink by Hurontario Telecommunications Inc. was completed.
Execulink Telecom
In 1999 there were 4 different divisions – Hurontario Telephones Limited, North Norwich Telephones, Ausable Cable Com., and Execulink Internet Services Corporation – under the parent company – Hurontario Telecommunications Inc. This was confusing for customers and made marketing very difficult. So in 2000, it was decided the name Execulink should be adopted as the name for all the companies.
From 2000 – 2002 the company bought another series of Internet Service Providers including MGL in Guelph/Kitchener and Odyssey in London.  One of the larger acquisitions was Golden.net in 2004 which was based out of Kitchener. As these were integrated into the Execulink network, the geographic boundaries expanded. In 2000 the company also began reselling DSL services to customers across Ontario.  As the years progressed, Execulink remained committed to providing innovative experiences for their customers by getting into long distance calling services and building its own Fibre Internet infrastructure. Execulink's Fibre Internet, TV, and Phone services began to expand across many areas in rural Ontario where previously only dial-up connection was available.
In 2006, Keith Stevens retired from his post as CEO and assumed the role as chairman of the Board of Directors. His son, Ian Stevens was promoted to become the CEO.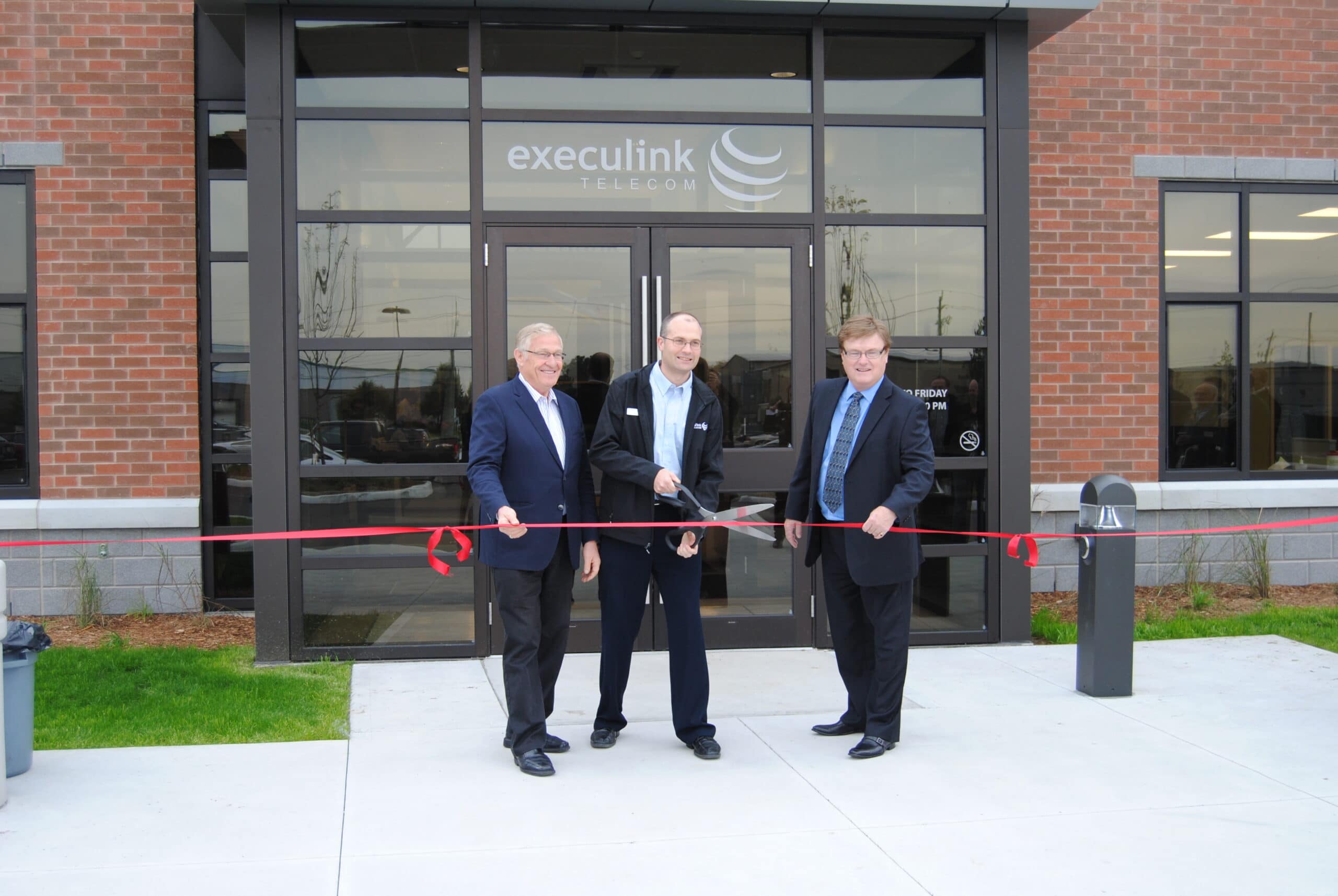 Expansion and Stores
Execulink has continued to focus on expanding and improving its Fibre and Hybrid Fibre infrastructure across Oxford, Norfolk, Lambton, and Middlesex Counties. In January 2013 the company launched a new mobility service.  In 2014, Execulink expanded by selling third party Cable Internet services across Ontario. In addition to the offices in Thedford and Woodstock, Execulink opened store locations in Port Dover and Tillsonburg to support its customers in those towns.  A store in Delhi was also open from 2014 – 2020.
Get Started Today with Execulink Telecom
Throughout its history Execulink has remained committed to enhancing customer lifestyles' at work, home, and play.  Staying innovative and embracing the newest technologies helped to cultivate local telephony offerings into a full-scale suite of telecommunications services including Data, Internet, Mobility, TV, and Advanced Voice Features for residential and business customers. At the heart of the organization is a commitment connecting and supporting local communities in southwestern Ontario.
With 24/7 support and a wide range of options to suit every lifestyle, Execulink has the awesome services your home or business needs to stay connected to what matters the most! Call 1-866-706-1942 today, and visit the Internet, TV, Phone, Bundles or Business services page to find the package you've been looking for!
Contact us today!