What's the Difference Between a Router and an Access Point?
May 20, 2021 Category: Business Services
As technology advances, there always seems to be new gadgets to keep track of that help maintain your home or business's connectivity. In a business context, two pieces of technology that have important distinctions include routers and access points (APs).  This blog will fully explore the similarities and differences between routers and access points to help you plan and evaluate your home and business network.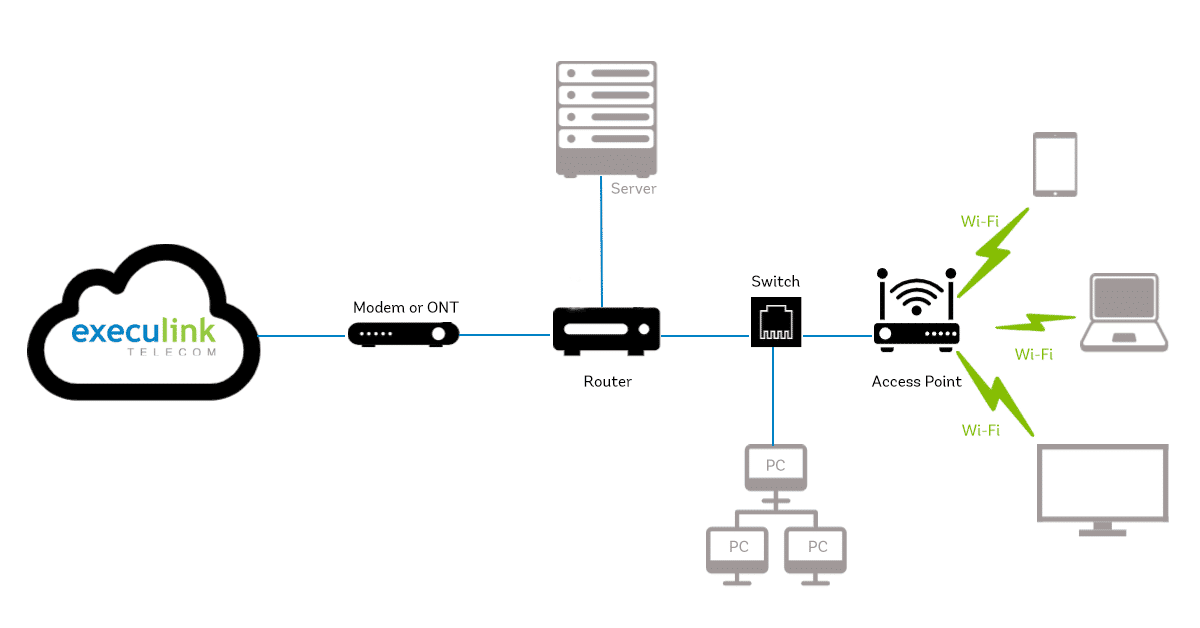 What is a Router?
What does a router do? Well, it routes! That is, it routes your Internet connection from one public IP address to many local IP addresses. It allows local devices such as phones, laptops, and other internet enabled devices to communicate. Routers know when a local device is asking to leave the local network and go out into the Internet. When you deploy a router and connect several devices to it, it acts as a gateway
Residential routers usually contain wireless radios that let you connect to Wi-Fi devices wirelessly as well. However, in a business environment, access points take on that role.  Additionally, routers can add a layer of protection by incorporating firewalls or setting / establishing network rules.
What is an Access Point?
An access point acts as a dedicated wireless network appliance for devices to connect to a local area network. They enable a broader network by extending wireless coverage and increasing the number of users that can connect to it. Wireless access points typically connect to a router or switch through Ethernet.  They are sub-devices within the network that provide another location for your laptops, smartphones, or other devices to access Wi-Fi.
Main Differences
The router acts as a gateway that sets up a local area network and manages all of the devices. The router also identifies traffic that needs to leave the local area network and connect to the Internet. An access point, on the other hand, is a local network appliance within your network that provides a Wireless Local Area Network (WLAN) for devices to connect from. An access point is an impressive piece of technology dedicated to managing wireless networks that can handle the overhead of many wireless users. Its estimated that by 2023, wireless devices will increase to 3.6 devices per person. You need a dedicated access point network to handle this traffic – your router has enough to do!
What are the Differences?
1. Function
Most consumer/residential routers available these days can act as a wireless access point, an Ethernet router, a basic firewall, and a small Ethernet switch. Access points in themselves differ from routers because they do not handle any packets leaving the LAN, and only manage wireless LAN traffic.  A router can have the functionality of an access point but an access point cannot necessarily have the functionality of a router.
The router can link and manage all devices connected to it. However, an access point only provides access to the router's established network.
2. Connection
The residential wireless router will offer Wi-Fi signals directly or you can add a switch to extend the network and add wireless access points. In a business environment, the router is not able to offer those Wi-Fi signals directly to your wireless devices. It is preferable to have the access points take over that functionality to allow for better coverage.
You may be wondering if having a router is necessary if you have access points?
Certain modems have DCHP and NAT built into the modem and you can plug an access point directly into them without a router. But in larger networks, the router is designed to handle the heavy lifting of your network settings, and it's best to separate the modem and the router!
3. Coverage
A router provides wireless coverage at home to reach a limited amount of people. Access points become necessary for larger businesses and hotspot WLANs. Access points can help to connect many more users. It usually makes sense to have several APs within your network. When it comes to coverage, placement of devices is extremely important to consider.  You should survey the area where you are bringing Wi-Fi and optimize the placement of the routers and/or access points to prevent dead zones.
4. Users
Wi-Fi Routers are certainly suitable for smaller office spaces (>1000 square feet) and home use. Access Points are beneficial in larger office spaces, schools, or hotels. They essentially act as a wireless switch bringing connectivity to many users across a large space. When you consult with your Internet service provider, be sure to consider the size of your space.
Execulink Telecom's Technology in Action
When building your business Wi-Fi solution, Execulink Telecom offers a variety of options depending on the needs of your business, the size of the space you need connected, and more.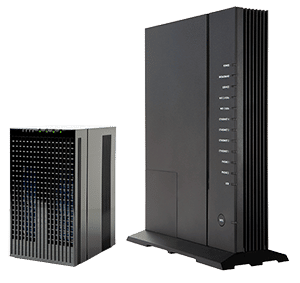 Execulink Telecom's Complete Wi-Fi solution is typically recommended for home-based businesses that don't require guest Wi-Fi. The Premium Router offers a strong, expandable solution that will blanket your home in fast, reliable Wi-Fi.  You can easily add Mesh Wi-Fi Nodes to this router to eliminate dead zones.
Alternatively, the Ubiquiti access points can be used for more complex business set ups with large spaces.  This solution can increase coverage beyond 1000 sqft. These access points offer a roaming feature that ensures you maintain connectivity throughout the whole building.  This is useful if you have a voice-over IP solution, you can walk around the whole building without any dropped calls.
Finally, the Bluesocket access point solution is best suited for large deployments with a high density of users such as a concert venue, tradeshow, or outdoor venue.  This solution is proactive at managing security risks and comes with a built-in firewall and wireless intrusion detection.
The Lighthouse Festival Theatre
Part of Execulink Telecom's installation process involves a site survey of your business and floorplan to evaluate where the router and access points should be placed.  For example, before switching to Fibre Internet from Execulink Telecom, the Lighthouse Festival Theatre in Port Dover had just one router attempting to cover the old, 2-story building. During the site survey, Execulink Telecom's Technicians evaluated the space and 5 Bluesocket access points were added to enhance connectivity. These access points provided the necessary coverage to support up-to 120 theatre patrons.
As an analogy, access points and routers are part of the same company, but work in separate departments. These devices have the same overall mission and work together to help build your network and expand capacity.   We recommend working with your Internet Service Provider to determine the right network technology for your business.
To learn more about Execulink's Internet and Wi-Fi solutions, speak with a business representative today.

Get a quote for Business Internet today!