Build a Healthier Business in 2022 with the Right Technology
January 13, 2022 Category: Business Services
If there is anything the past couple of years has taught us, it is definitely that the importance of technology in business cannot be understated. For many, moving their business services to a digital form or updating their current technology helped them adapt to the changing economic challenges so they could maintain their operations and continue to service their customers. Without technology, many more businesses would have been forced to close all or part of their business.
The pandemic certainly brought on many challenges for businesses to overcome, but it also accelerated the adoption of technology. More business owners and decision-makers realized the power of modern technology and now truly understand the benefits to their organization.
Technology could be considered the wheel that keeps your business spinning. The right tools can help streamline processes, increase efficiencies, drive your strategy and growth while giving you a competitive advantage. In today's landscape, it is almost impossible to do business without modern technology and tools. More and more organizations are moving to remote and hybrid work models which heavily rely on Internet connectivity, network solutions, and collaboration or project management tools to keep dispersed teams connected and centralized no matter where they are.
Below we have highlighted some essential tools that should be considered to help you build a healthier business in 2022.
Internet Connectivity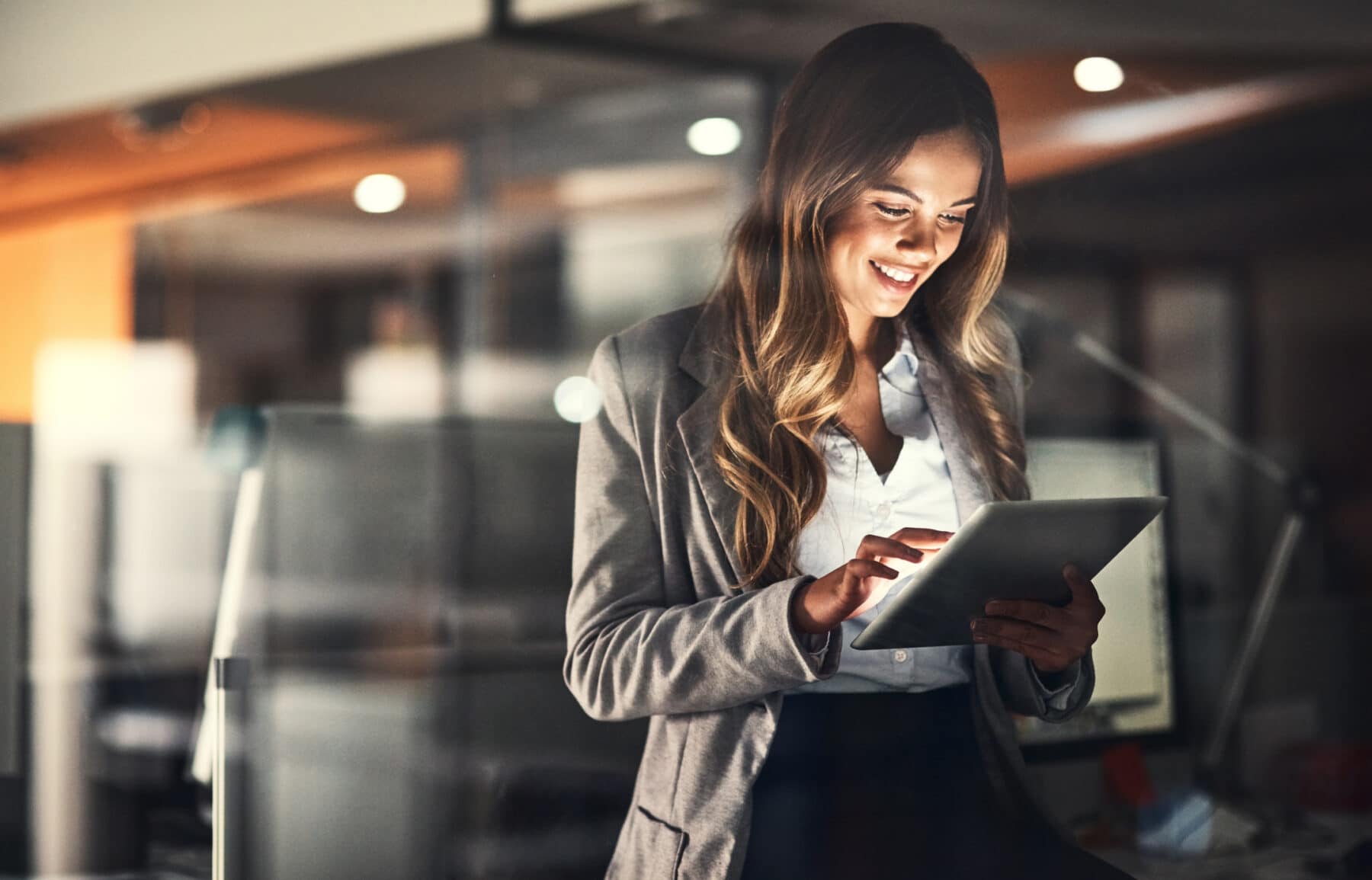 Internet
The Internet is the backbone of a company's operations and this was definitely highlighted at the start of the pandemic when organizations were forced to close and limit in-person activity. Businesses had to accommodate remote working and many had to shift their current operations with new or updated technology to continue to serve their customers. Internet provided them with the flexibility and agility they required to adapt to the new normal.
When shifting to remote and hybrid work models Internet connectivity is the first priority. With employees now working at-home their at-home workspace now has to function as an extension of the company office. This requires connectivity solutions that have the ability to keep up with their competing network usage since in many cases they may be sharing the network with their spouses and kids. To improve communications and maximize productivity employees will need enough bandwidth and speeds to be able to access and deploy the business applications and services they need. Business-grade and Dedicated Internet solutions will provide a strong foundation that will help to sustain a seamless remote and hybrid work model, reducing lag time and increasing download and upload speeds.
To ensure network connectivity, providers like Execulink also offer solutions to help maximize speed and reliability and offer a network connection if your primary Internet goes down. Hybrid Bonded Internet and LTE Backup can enhance your connection and give you peace of mind.
LTE Backup Solution
Having your business' Internet go down will halt your operations, but it could also affect your bottom line or your company's reputation.  Although different Internet types have varying degrees of reliability, no Internet hardware is 100% immune to severe weather, construction accidents, or cyber-attacks.  Any of these things could leave your essential business tools like point-of-sale computers practically useless. Having an LTE Backup solution is an excellent choice to maintain your network to avoid interruptions. It's a hardware solution that can get you back up and running seamlessly.
Execulink's LTE Backup solution uses a cellular gateway coupled with a SIM card to provide an alternate method of access to the Internet using Mobile networks.  The failover kicks in when your primary connection goes down so that you never have to worry about downtime again. It's perfect for businesses that require 24/7 Internet to function and it will keep your devices connected.
Hybrid Bonded Internet
Successful emergent innovations in the digital business landscape have become a daily occurrence. The "Internet of Things" is swiftly becoming the new milestone for growth, sustainability, and success for businesses – with uptime, bandwidth, and quality of service playing an essential role for prosperity and profit.  Whether your business needs consistent uptime, better quality bandwidth, or confidence in your overnight backup, Hybrid Bonding can make those needs a reality!
Hybrid Bonding utilizes services such as DSL, Cable, Wireless, Fibre, or even Mobile Data and bonds multiple lines into a single managed access. Whether it's Fibre with Cable, multiple DSL lines, or a combination of all of the above; the bonding hardware brings together these services to provide a high quality, single-IP, redundant solution for your business.
Wi-Fi
Strong, reliable business Wi-Fi connectivity is more important now than ever before, whether you work out of your home or in the office. Businesses require flexibility and Wi-Fi gives them the freedom to access the Internet from anywhere within the signal range. It allows users to move their devices around without losing connection and access other devices that are connected to their network. The mobility Wi-Fi offers to your employees will drive employee productivity and collaboration.
There are obvious benefits of having Wi-Fi internally to conduct business but benefits extend to your customers as well. Offering Wi-Fi access to your customers when they visit your business will increase your customer experience and satisfaction, while also increasing your sales.
Execulink's Complete Wi-Fi Solution, the Premium Router, and Mesh Wi-Fi Node have the technology built in to overcome connection issues in smaller spaces like your home office. This router and node combination allows for a higher quality Wi-Fi signal in your home or business with faster speeds, improved Wi-Fi coverage, and increased stability for video calls.
Creating a strong Wi-Fi connection in a larger business setting is possible with Access Points. Execulink uses Ubiquiti Access Points to increase coverage beyond 1000 sq. ft. This is useful if you have a voice-over IP solution, you can walk around the whole building without any dropped calls.
Unified Communications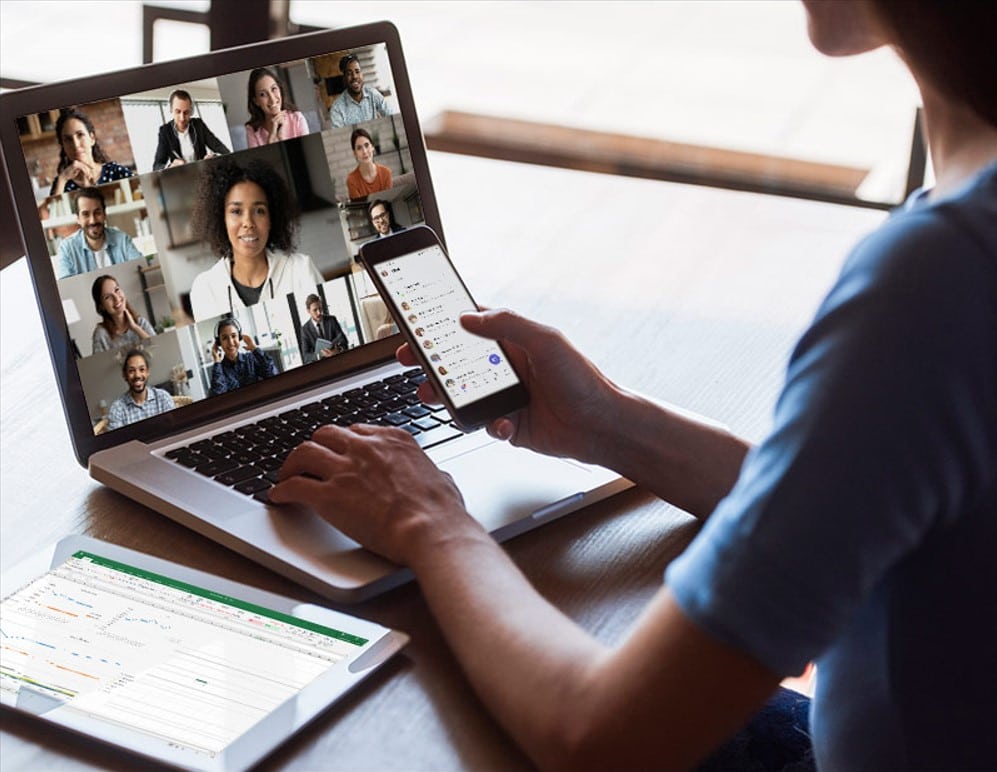 As businesses continue to adjust to the new normal, they are increasingly seeing the value in reliable communications systems that can adapt to their changing business needs. Now more than ever, it's important to have the right business phone systems in place. As a primary source of communication between your employees, co-workers, and customers, if the phone system goes down or cannot adapt, it will have a massive impact on your productivity, customer satisfaction, and brand reputation.
Direct Routing for Microsoft Teams
Microsoft Teams is a collaboration app within the Microsoft 365 suite of software and services. It's designed for teamwork that combines instant messaging, voice, video, and file-sharing in real-time. With the number of employees now working remotely and communicating across different locations, many businesses are adopting Microsoft Teams and their advanced voice and calling features.
Calling was introduced in 2018 as a new communication feature enabling organizations to use their Teams platform as their primary business phone system with full PBX voice calling capabilities. By adding voice and PBX capabilities to Teams it allows businesses to standardize their voice services across all regions to lower costs, reduce complexity, and provide a consistent experience.
Execulink's Direct Routing enables voice connectivity between your customers and employees through access to the PSTN (Public Switched Telephone Network) with the help of a secure, hosted Session Border Controller. Certified Session Border Controllers are a firewall for VoIP and provide a layer of security and protection from attacks, breaches, and Distributed Denial of Service (DDOS) while providing Quality of Service (QoS) between multiple networks. Unlike other providers, Execulink leverages a geographically redundant SBC network hosted on Canadian soil to connect to a Microsoft Teams PBX.
There are many benefits of Direct Routing but many businesses opt for Direct Routing over Microsoft Calling Plans because it enables customers to choose their own telecom provider to host their PBX, allowing for greater affordability and flexibility with calling plans.
Hosted PBX
A Hosted PBX (Private Branch Exchange) is an Internet-based or cloud-based phone system that is hosted off-site. It allows you to make calls using the Internet rather than relying on copper wires or fibre optics to make a connection as many traditional analog phones do. Your phones are physically on-site, but they connect to secure cloud servers through a new or existing Internet connection.
Routing calls through the Internet allows for multiple/concurrent calls without worrying about individual lines. The potential number of concurrent calls is based on your Internet bandwidth. The better your bandwidth, the more calls you can have simultaneously. To give you an example, a typical voice DSL connection allows for 7-8 concurrent calls, whereas a Fibre voice connection can provide 100+.
A hosted phone service provider like Execulink can review your call capacity expectations with you and provide a dedicated voice connection so you never have to worry about how many "lines" you have!
Business Network Solutions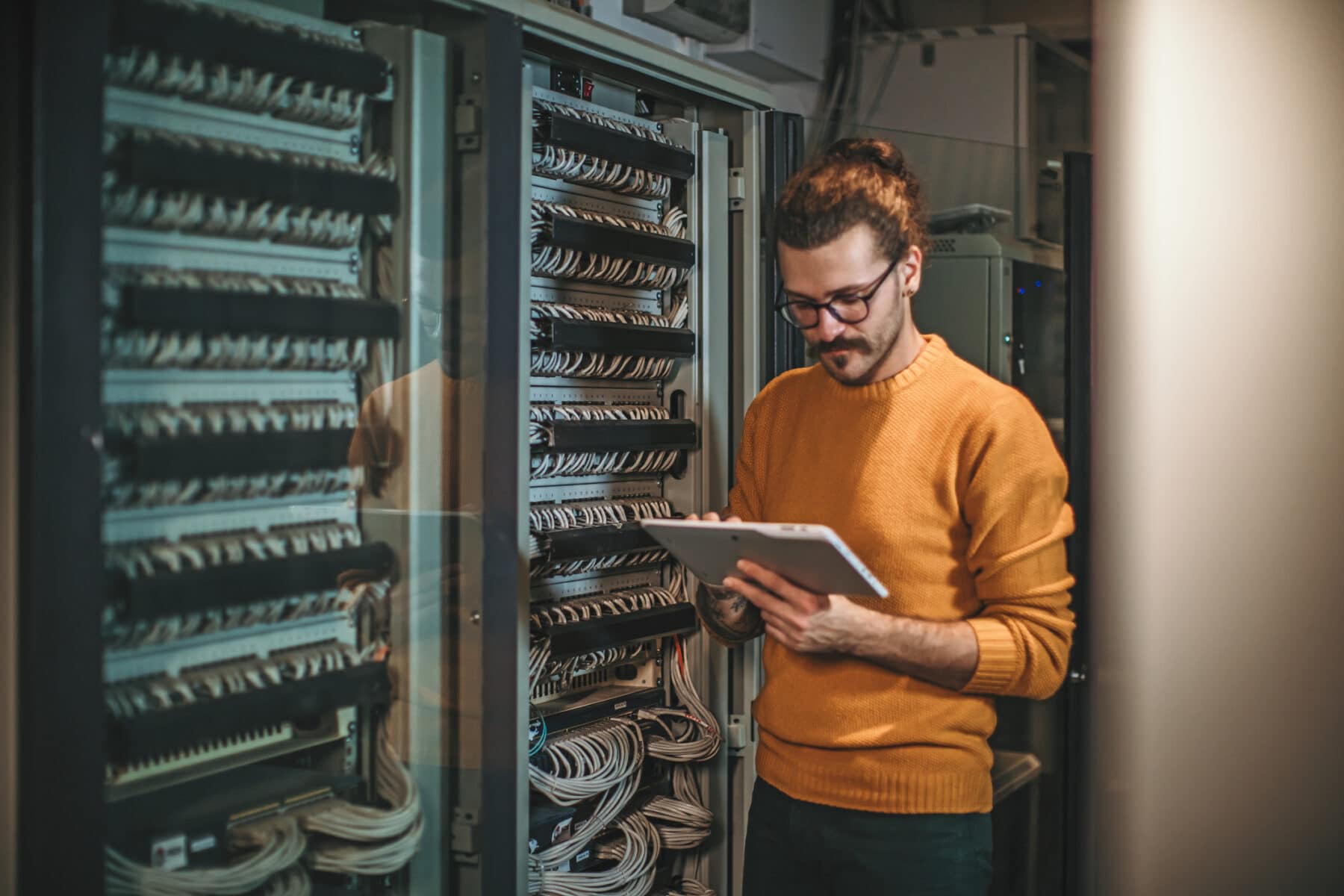 Networks are the backbone of businesses today that enable the interconnectivity and support of different types of applications, devices, and people within an organization. They are used to transmit, receive and exchange data, voice, and video traffic so employees, suppliers, and customers can share resources and communicate.  In today's business landscape, organizations have moved to a remote or hybrid workplace, with employees communicating across different locations and even time zones. Networks can be used to link thousands of users within one organization or multi-site locations spread across the globe, giving them access to a centralized network as if they were all operating from one space.
Virtual Private Network
A Virtual Private Network (VPN) is a secure and reliable method of sharing information across multiple computer networks. With employees working remotely, they're using their own personal networks rather than the protected network supplied by their organization. This creates an opportunity for sensitive data to be intercepted or stolen. Utilizing a VPN connects remote users through their business' private network or a third-party VPN service, effectively avoiding the potential for data theft; anyone intercepting the encrypted data won't be able to read it.
An additional bonus to Virtual Private Networks is the ability to access an organization's Intranet and resources safely and from anywhere. If your company uses shared files or hosted resources, a VPN will allow connected users to access and utilize everything they'd usually be able to access while in the office.
IP-VPN
Internet Protocol Virtual Private Network (IP VPN) is very similar to a VPN, connecting to your main network across an ISP, but the main difference is that it uses multiprotocol label switching (MPLS) technology to prioritize Internet traffic and avoid public gateways to increase security. This guarantees that mission-critical applications always get the bandwidth needed while less important traffic waits in line.
Prioritizing Internet traffic will help to better serve VoIP, video conferencing, and cloud services. If your business has multiple employees and branches that require remote and secure access to your company intranet to share sensitive data, an IP VPN is a great solution.
Local Area Network (LAN)
A Local Area Network includes both wired and wireless connections (WLAN) that are designed around multiple users within a single building or between buildings in close proximity like schools and campuses. LANs connect groups of computers/devices and enables them to connect to web servers and internal servers so users can access, share files and resources over a single Internet connection.
Transparent Local Area Network (Transparent LAN)
A Transparent LAN Service connects multiple Local Area Networks through an Ethernet service so they can share the same network without complex protocol conversion, carrier equipment, or expensive dedicated facilities. Transparent LAN service can be configured in multiple configurations including point-to-point or multipoint-to-multipoint arrangements. It is designed to increase network manageability by making separate LANs look like one single network.
Wide Area Network (WAN)
A Wide Area Network is a bit more complex than a LAN. A WAN connects Local Area Networks (LAN) and other types of networks together across a larger geographic area. A WAN allows organizations with offices in distant locations to transmit data between networks, essentially allowing them to access data and connect devices as if they were all in the same place as long as they have access to the established WAN. It's designed to interconnect, communicate and share resources from site to site, centralizing your company's IT infrastructure.
Private Wide Area Network (PWAN)
There are two options when choosing a WAN – Public and Private WAN. A WAN commonly utilizes the Internet, which is a public network to form a connection. While this is a viable option, public networks are more vulnerable to cyber-attacks, delays, and disconnections due to sharing with the wider population. If you are a multi-site organization that hosts and shares business-critical data connecting through a public network is probably not for you. In this case, a Private Wide Area Network (PWAN) may be the right choice.
A Private Wide Area Network uses a dedicated connection that prioritizes private Internet traffic and data between multiple locations with a secure path for the exchange of information, delivery of services and applications without risking security and reliability. If your organization operates or plans to operate a multi-site business in geographically dispersed locations, and you need to secure your business data, PWAN was specifically designed to deliver privacy, centralized networks, and boost business productivity.
Execulink's Private-WAN is a high-quality, high-performance, and fully managed private network solution. Businesses can quickly expand and connect new and existing networks from their head office, branch sites, and data centers into a single, secure solution. As their organization expands and migrates to cloud and managed services they get the uptime, reliability, and flexibility they need regardless of their site locations.
Colocation
Data Center Colocation or "colo" is a practice of outsourcing in-house server equipment in a third-party data center where shared space is rented to store hardware related to data storage and other equipment. Typically the customer supplies the servers and other equipment needed to run their daily operations and the colo provider rents them a secure, monitored space with service options that guarantee a certain amount of bandwidth and uptime, ongoing maintenance, support, and power.
When you outsource your Data Centre to a colocation facility you can streamline your operations and focus your resources and efforts on your core business tasks. Small businesses gain access to a large IT department without the capital investment that many simply cannot afford. Medium to large enterprises can expand their infrastructure capacity as their business data grows and technology advances, increasing the availability and performance of their applications.
Whether your business is small or large colocation enables you and/or your IT staff to focus on your core business objectives and innovation, without having to worry about the costly logistics and infrastructure that goes along with building an in-house data center.
The pandemic has shone a light on the importance of tech preparedness. It's up to businesses to maintain and evolve their new digital transformation as the role of technology in business continues to expand to build a healthier business now and in the future.
Call us at 1-877-561-6771 today or visit our Business Solutions page to find the right technology and tools for your business.