How to Get Fast Cottage Internet
September 3, 2020 Category: Residential Services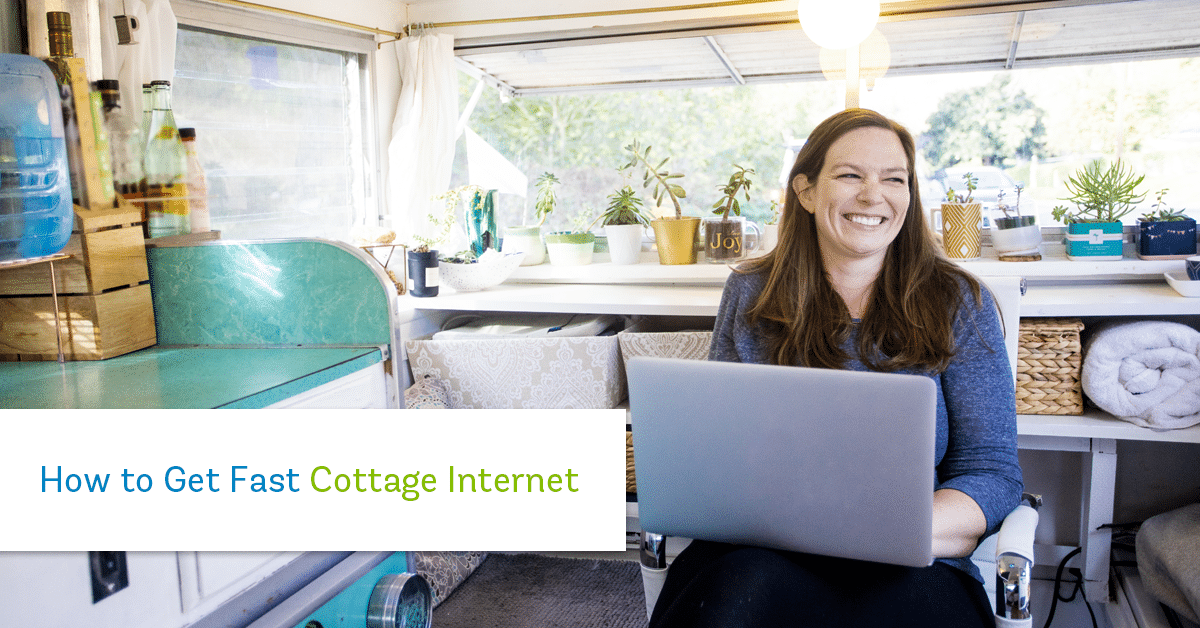 Click here to see Execulink's Home Internet options

The Internet plays a pivotal role in our lives and therefore having fast speeds is critical. During the summer it can be tempting to get out of the city and head to the cottage to relax, have fun on the water, and maybe even get a little work done. Yet when it comes to Internet connectivity, cottage country can also experience disrupted service, buffering, and lost signals. This can be incredibly frustrating for people who want the best of both worlds – some time away from the hustle and bustle of life in the city while still getting access to high-speed Internet. The quest for reliable Internet service has been challenging in these areas, with many facing connectivity issues.
Having the ability to access Internet at the cottage can allow a family to stream their favourite movie or give a business-owner the flexibility to have a video conference meeting with their employees. While nearby towns have places (libraries, coffee shops, etc.) that may allow patrons to access the Internet, this can be inconvenient. Our world is becoming more digital as banking, healthcare, and education move online. Therefore, participating in this online activity depends on a fast Internet connection.
The good news is high-speed Internet doesn't have to be a myth – even in cottage country. In fact, the Canadian Radio-television and Telecom Commission announced broadband Internet as a basic right for people across the country and are working towards a goal of 90% of Canadians having access to high-speed Internet by 2021.
At Execulink, we provide high-speed Internet service across southern Ontario. We understand how important it is to our customers to receive reliable service wherever they are without interruption. We offer 24/7 customer support to help get your Internet running as fast as possible.
A) Find the Right Type of Internet Technology
To get fast Internet in cottage country, you need to choose the right type of Internet technology. Large Internet service providers (ISP) sometimes don't offer many Internet options to those in rural areas. While, other ISPs like Execulink specialize in getting Internet setup and connected in remote, underserved areas. These providers are pro at tackling the unique challenges that can arise when connecting these areas to a network.
Discover your best Internet option by determining the benefits and limitations:
Cable Internet
Cable Internet is an option in cottage country which uses the same wires that your cable television uses in order to run broadband Internet. This type of Internet has fast speeds and can handle streaming, uploading large files, online gaming, etc. Although, since you share broadband with others in your neighbourhood, using the network can slow down your connection especially during peak hours.
DSL Internet
DSL is available wherever there are phone lines which exist in most places across the province. Depending on where the phone towers are located it may provide remote areas with Internet connectivity. Although, how fast the speeds are can depend on several factors including the proximity of the cottage to the phone towers. Yet, an advantage of DSL is that the amount of people using the Internet simultaneously often doesn't affect the speeds. This type is Internet is also very fast (although fibre is faster) and can support small to mid-sized families. Keep in mind that if you choose DSL then you will require a high-quality modem.
Fibre Internet
This type of Internet is optimal for cottages because it has a Fibre optic technology which means speed won't diminish even if you're further away from the source of the service. Fibre Internet is often praised for its fast speeds and reliable connection.  For day-to-day use including online gaming, livestreaming, and loading websites this type of Internet will be a delightfully smooth experience. As part of our Fibre Project, we are working to service rural areas that are part of cottage country including Kettle Point, Long Point and Turkey Point.
Satellite Internet
Satellite is another type of Internet that is often accessible in cottage country. However, due to satellites being located thousands of miles away in space, this can cause latency issues making it slow and unreliable compared to fibre Internet. Also, if there are weather issues such as thunderstorms or heavy rain then satellite Internet is often negatively affected.
Hotspots
Hotspots are another option for getting high-speed Internet in cottage country. They rely on either your mobile device or another hotspot device. However, if your mobile device isn't getting any service then they won't work properly. These hotspot devices also have data limits which means you may get hit with overage fees.
B) Limit the Number of Devices Online
Depending on the type of Internet you choose, try not to overload your network by having multiple devices connected simultaneously. More devices on the network can slow down your connection. Especially at the cottage where the Internet may already be struggling to maintain a strong signal. Start by disconnecting other devices and keep the priority devices connected. For instance, if you're streaming a movie, disconnect any other devices that aren't being used to keep the movie playing.
Speed Up Your Internet Connection at the Cottage with Execulink
Click here to see Execulink's Home Internet options

The right high-speed Internet should be able to work flawlessly wherever you are – including the cottage! Whether you're looking for faster Internet speed options for streaming and gaming or basic packages for surfing the Internet, we have the services you and your family deserve.
With 24/7 support and a wide range of Internet options to suit every lifestyle, we have the awesome services your home or business needs to stay connected to what matters the most! Call us at 1-866-706-1992 today or visit our Internet page to find the Internet package you've been looking for!