How to Use the Execulink Helps App
March 11, 2022 Category: Residential Services, Technical Support
At Execulink we strive to stay innovative – it's one of our Values! Part of that means adopting new technology to help our customers stay connected. We recently released a new app called Execulink Helps to better serve those who require technical support. There are several benefits to this app and we're going to explore them all in this blog!
Why Use Execulink Helps?
Execulink Helps will improve your experience when you require assistance from our Customer Care team. We know that your time is valuable and we want to resolve your concerns as quickly as possible. If you have the app it will make troubleshooting easier and it provides some self-help solutions! Your Internet connection is of vital importance, especially if you have to work remotely or do online school. If connection issues arise, we want to get you back on track.
How Can Execulink Helps Assist Me?
Execulink Helps is a diagnostic tool for your Internet and Wi-Fi connection. This app is not able to run diagnostic tests for your TV, Mobility, or Phone service.  There are 4 main situations when you should consider downloading the app to get assistance:
1. Speed Issues
If you are noticing slower internet speeds the app can diagnose the cause.  When you run a network scan through Execulink Helps, you will receive your Wireless network speed results. You can also check your current Internet speed by visiting our speed test site! To learn more about what internet speed is appropriate for your home and devices check out our blog to learn more.
2. Video is Buffering or Your Games Are Choppy
The frustration that comes with a movie or game that won't load is undeniable! Luckily the Execulink Helps app can help resolve issues in your network that might be causing this.
3. Wireless (Wi-Fi) Coverage Issues
Depending on the layout of your home, your Wi-Fi network might not reach all areas or you might be experiencing occasional drops in connection. The Execulink Helps app will be able to examine your network and suggest ways to boost your signal.  You may also want to consider our Complete Wi-Fi solution which encompasses the Premium Router and Mesh Wi-Fi Nodes.  If you are on a call with our team we will be able to determine if these products are right for you!
4. Devices Dropping Off the Network
If you find that certain devices disconnect from your network or if you can't reach certain websites, Execulink Helps can suggest easy ways to fix this.
What Are the Self-Help Options?
Your time is valuable and sometimes it is preferable to resolve issues on your own without calling our Customer Care team.  Luckily, the Execulink Helps app offers self-help solutions to get your connection up to speed. Once you have downloaded the app, you can run a network test to access the assistant cards which provide suggestions to improve situations such as slow speeds, coverage issues, or buffering.
Some of the new updates to the app include the ability to trigger a speed test at any point to validate if your issue has been resolved. The app also provides tips on how to avoid issues in the future as you work to resolve them.
You may be able implement the suggestions on your own or you could require further support from our team at which point we recommend giving us a call.
Working with Execulink's Customer Care Team to Resolve Issues
Our latest update to the app provides some detailed examples of how to improve your network connection by working with our Customer Care team through the Execulink Helps app. The app allows our team to provide timely and contextual instructions during a support call. Here are some examples:
Managing the 5.8 GHz band and the 2.4 GHz band
Using the 5.8 GHz network in your home instead of the 2.4  GHz network is usually recommended because it provides an optimal Wi-Fi experience. It sends data at faster speeds. However, It's range isn't as large as the 2.4 GHz network. The 5.8 GHz network is better for streaming videos and your device will need to be closer to the router. The 2.4 GHz network is better for basic web browsing but the maximum speed is about 50 Mbps
Sometimes there can be more conflict from neighbouring Wi-Fi networks on the 2.4 GHz band, which can cause intermittent connectivity. The app will be able to identify this and our agents will make the necessary changes to improve this for you.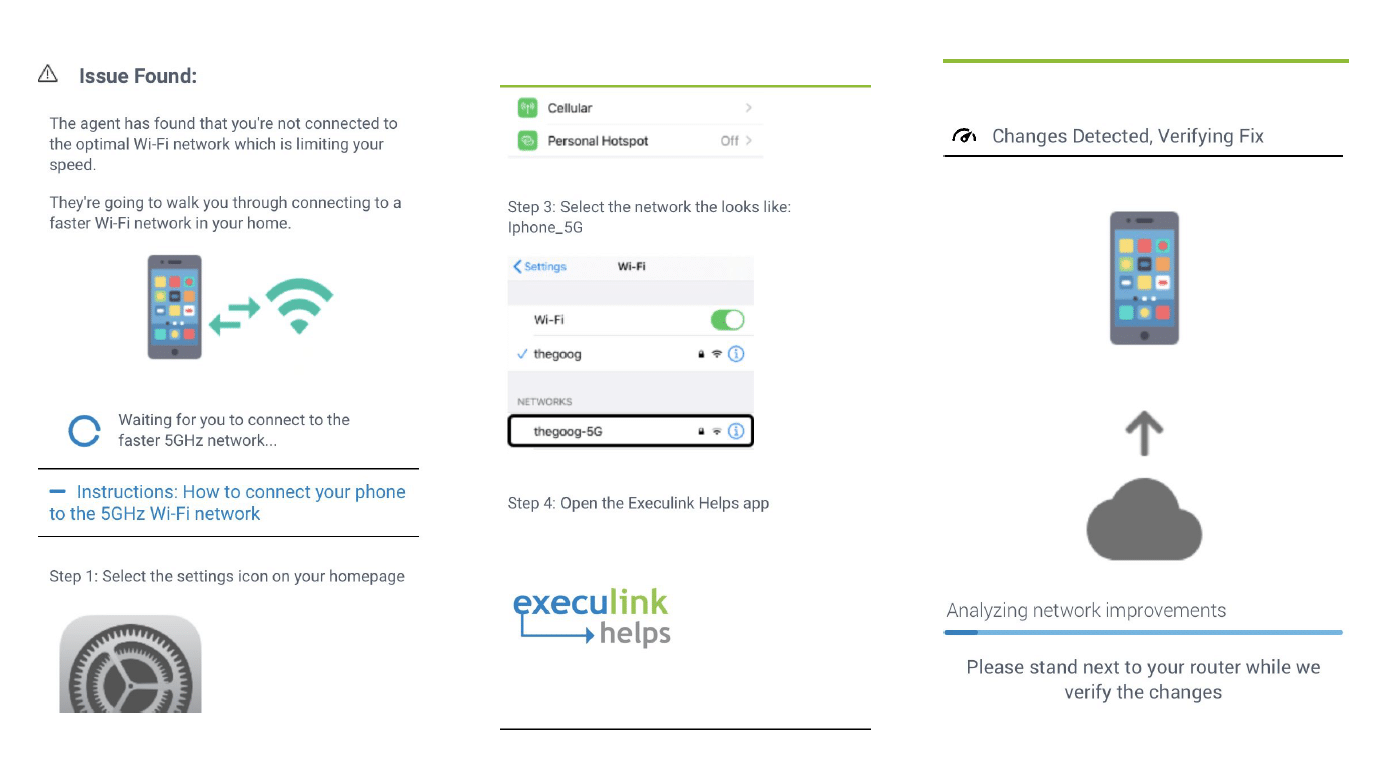 Find Dead Spots
Through the app, we will be able to guide you through a few simple steps to identify poor coverage areas in your home. A helpful interactive graph will help optimize device placement and eliminate coverage problems. We will have you walk to the problem area and the app will identify where the speeds begin to drop off and it could recommend adding a Mesh Wi-Fi Node to extend your network.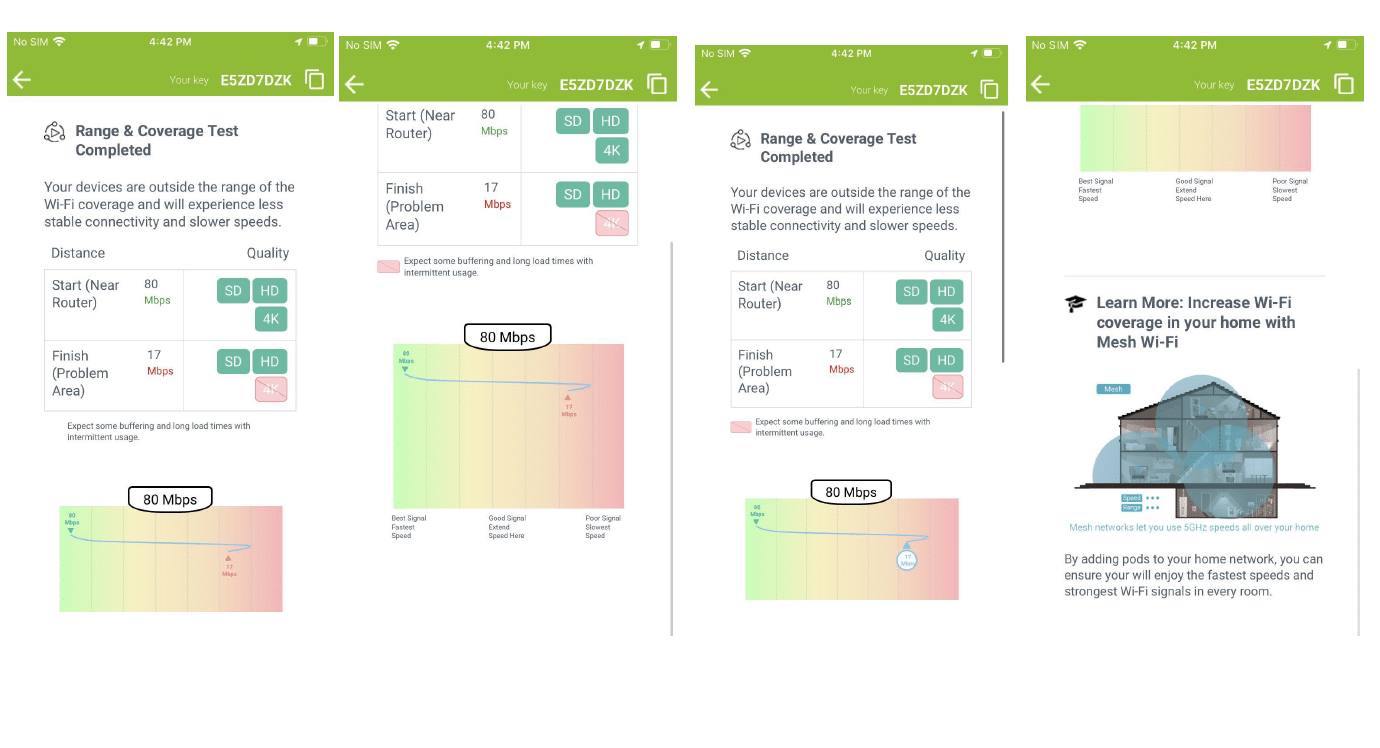 Age and Location of Router
Sometimes the issue may be that your router doesn't support the latest networking standards and limits the speed/stability of your devices. The app is able to identify this and it will recommend a newer router, such as our Premium Router, that supports 5GHz.
Execulink Helps is also able to identify if the router location is not optimal. Using the live view feature of the app our Customer Care team will be able to help improve the placement of your router away from interference sources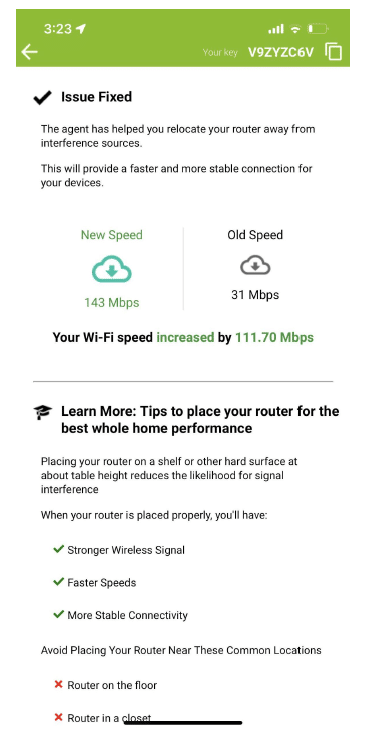 Follow These Steps to Start Using the App Today!
1. Download the App and Click "Begin"
When you open the App for the first time you will be presented with an 8-digit alpha-numeric code to share if you were on a call with us.  To test the app on your own, you can click "Next" and then "Get Wifi Network". You will need to allow the app to access your location to provide extra information about your wireless network when the scan is running.  Click "Connect to Router" to ensure the communication line between your phone and the router is open.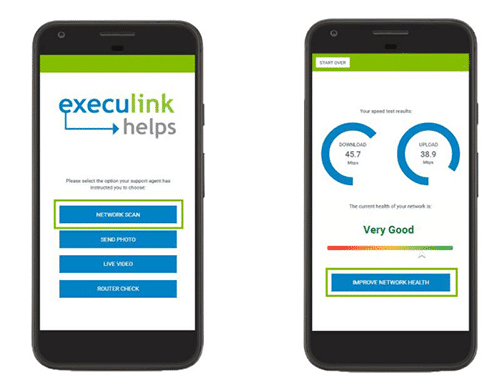 2. Select "Network Scan"
This is how the diagnosis begins.  You will need to stand about 1 meter or 3 feet away from your router before starting the scan.  It will take about two minutes and you should not leave the app or check other notifications while it's running.
3. Check Results
After the scan finishes you will have access to the results. It will provide your current wireless Internet speed.  Note that wireless speeds are expected to be about 10-20% slower than your wired speeds.
4. Improve Network if Necessary
To see the suggestions for network improvements, click the "Improve Network Health" button.  The app will present a list of options for improving your Internet connection which you might be able to do on your own.  The recommendations will be customized to your network depending on the scan's results. Examples of self-help solutions could include:
Moving the device that is having difficulty connecting to the network closer to the router to see if that improves the connection. You can also remove other electronic devices that are nearby to reduce interference such as baby monitors, microwaves, and TV boxes.
Rebooting your router to move to a Wi-Fi channel that is being used by fewer neighbours to improve Wi-Fi speeds.
Moving your router to a more central location in your home.
When Do I Need to Use Live View?
One of the awesome features of the Execulink Helps app is the live view feature which allows you to take a live video or photo of your router, modem, and computer set up so we can get a better understanding of your services. Three ways this is especially useful include:
Checking physical setup
Checking lights
Identifying a device
Having this feature will take some of the guesswork out of our conversations with you which will lead to a faster resolution!
Sounds AWESOME – How Do I Download Execulink Helps?
The app is available for download on the Google Play and Apple App store for your mobile phone or tablet. Follow the below links or you can simply search "Execulink Helps" within the app stores to give it a try on your own network.  The app is free so you don't need to pay anything extra for it!  Sometimes you will need to enter your credit card information in the App/Google Play store if it's the first time you are downloading an app, in case you decide to purchase other apps in the future.

Apple Download

Android Download

Get Started Today!
Everyday our mission is to connect you to everything that matters with the awesome and affordable experience you deserve.  To make that happen, the Execulink Helps app delivers customized solutions for your home network.  Our 24/7 support team will be there for you if you have any questions about the app or your services.  If you want to learn more about Execulink's awesome Internet plans qualify your address, give us a call at 1-866-706-1942, or send us an email at sales@execulinktelecom.ca. Whether you're looking for faster Internet speed options for streaming and gaming, or basic packages for surfing the Internet, we have the services you and your family deserve.

Click here to learn about Execulink's Home Internet options